In many ways, Twitch is the perfect platform for Limmy aka Brian Limond, the Scottish comedian whose creative output has included three books including an autobiography, two sketch shows and more digital goofs than it makes sense to mention here. Twitch and video game streaming allows Limmy to play games, interact live with his audience and give him the creative freedom to go where his mind takes him. 
At one moment he can be try harding his way through Dark Souls II, and then the next moment doing an impromptu sketch playing a cowboy builder in House Builder - a game that tasks you with renovating houses and selling them on.
Like many streamers he has recently been playing Microsoft Flight Simulator 2020, taking to the skies for his and his viewers' enjoyment.
Then on the 21st August, something magical happened while Limmy was flying around the city of Rio de Janeiro in Brazil, flying past the iconic Chris the Redeemer statue that stands at the peak of the Corcovado mountains that surround the city.
Limmy, flying in his Daher TBM 930, was taken back nine years when his breakout TV appearance, "The Limmy Show", featured a sketch with a tracksuit wearing character walking down the street, arms aloft, claiming that an unseen woman had: "turned the weans against us."

(Picture: Limmy)
The sketch was an instant classic and fans haven't forgotten it, with permutations of it appearing in his Twitch chat regularly, and Limmy couldn't help but evoke the character as he saw Christ the Redeemer.
"She's turned the weans against us!" he says in character as he flies by the statue for this first time.
Flying by a second time, you could be forgiven for thinking he was filming the sketch for the first time as "Christ the Redeemer" again shouts out, "she's turned the weans against us!"
"She's turned the weans against you mate, aye?" responds Limmy without skipping a beat.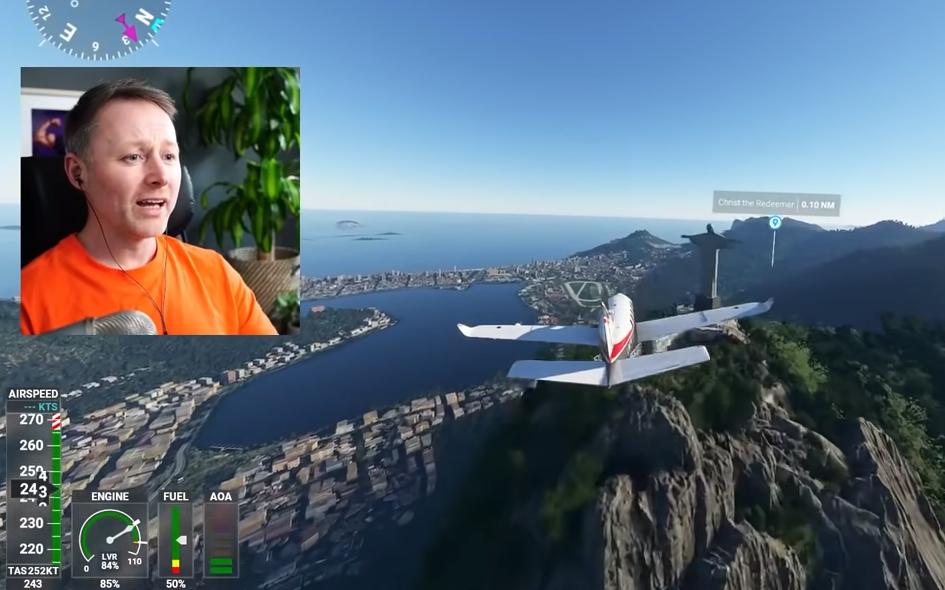 (Picture: Limmy)
The comedian, who now boasts more than 213,000 followers on Twitch, goes in for the third time, and almost crashes his plane into the iconic statue that took nine years to construct before being completed in 1931.
And while that would be fitting of the original character, Limmy managed to pull up just in time averting disaster. Limmy would subsequently upload the clip to his YouTube channel under the title, "She's turned the planes against us."
Limmy doesn't need much help generating ideas but he may have had some help from Twitter personality Sean McDonald, who back in 2016 visited Rio de Janeiro and filmed his own version of the sketch. A video that Limmy subsequently retweeted.
Limmy has gone from strength to strength on Twitch since he started streaming regularly on the platform back in 2018. His streams average over 2,700 viewers and see him play a wide variety of games, create music, and even having a natter with his viewers, in a way only Limmy can, in the platforms "Just Chatting" section.