Oculus VR is one of the pioneers of the modern VR headsets.
The company was founded back in 2012, by Palmer Luckey, Brendan Iribe, Michael Antonov and Nate Mitchell.
Their very first headset was Oculus Rift, which was successfully funded via Kickstarter campaign, which raised $2.4 million, ten times the original goal of $250,000.
Oculus quickly became quite big, and back then VR was seen as a future of gaming (it still is, but that future still looks distant), and several companies were interested in buying the company.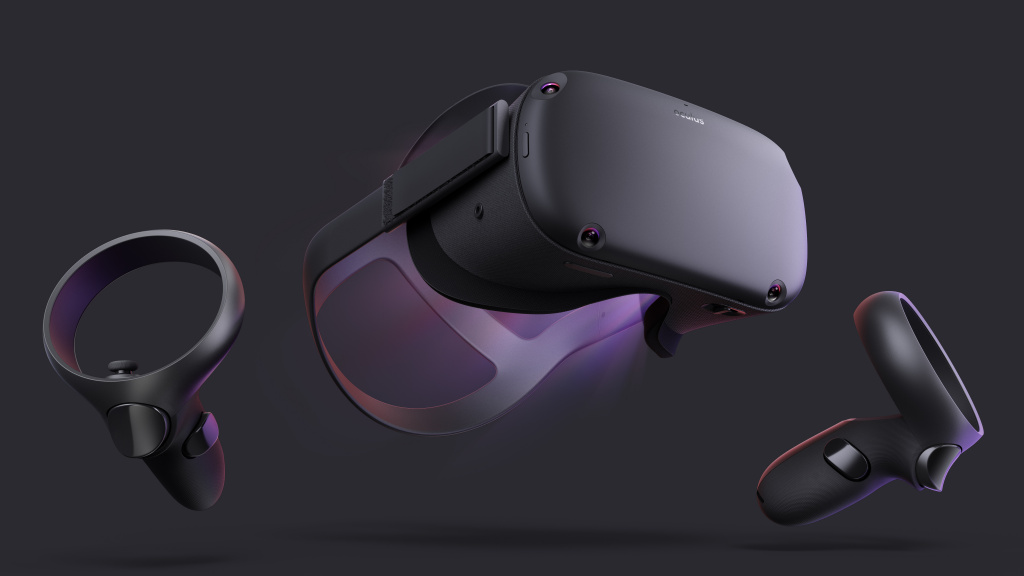 Oculus Quest (Picture: Facebook)
It was eventually acquired by Facebook in March 2014, for US$2.3 billion in cash and stock.
Their current main headsets are Oculus Quest and Oculus Rift S, and they are both quite successful. In June 2019 Oculus announced it sold $5 million worth of content for the Oculus Quest in just 2 weeks.
Although Facebook has been constantly adding social features and other Facebook-related things to the Oculus products, the key thing was that it was all optional and something you could opt for if that's something you would like to have added to your VR experience. 
But in a just few months, that will no longer be optional.
If you're an existing user and already have an Oculus account, you'll have the option to log in with Facebook and merge your Oculus and Facebook accounts.

If you're an existing user and choose not to merge your accounts, you can continue using your Oculus account for two years.

— Oculus (@oculus) August 18, 2020
This evening Oculus announced that starting from October 2020, everyone using an Oculus device for the first time will need to log in with a Facebook account.
And if someone is already an Oculus owner, and who already has an Oculus account, they will have the option to log in with Facebook and merge your Oculus and Facebook accounts.
If you don't want to merge your Oculus account with Facebook account, you will have an option to use it for two years, but after 1st January 2023, Oculus will end support for Oculus accounts.
After that, you will still be able to use our old account but without any support, and without future updates, features and functionalities.

Oculus Rift S (Picture: Facebook)
Oculus claims that "the majority of our users" are already logging into Oculus with a Facebook account to use features like chats, parties, and events.
"Giving people a single way to log into Oculus—using their Facebook account and password— will make it easier to find, connect, and play with friends in VR, " says in the announcement. "We know that social VR has so much more to offer, and this change will make it possible to integrate many of the features people know and love on Facebook. It will also allow us to introduce more Facebook powered multiplayer and social experiences coming soon in VR, like Horizon, where you can explore, play, and create worlds."
As expected, a lot of Oculus owners aren't exactly thrilled with this decision and are feeling forced to use another product they maybe don't want to use.
And while Oculus is assuring people that their privacy will be kept and that you will maintain a separate VR profile where you can choose what will you share and how will people see you, many are still being sceptical or outright angry over this forced merge.
Many are rightfully pointing out that when they bought their Oculus headsets, they didn't need to have a Facebook account and are asking if they can get their money back, and some are threatening with a lawsuit over this.
In the end, we can say that this decision is definitely controversial and that it will be interesting to see how it will influence future Oculus sales, especially sales of the new devices, given that any future Oculus headset will require a Facebook account, even if you are already an existing Oculus user.
UPDATE: Palmer Luckey, the founder of Oculus VR and designer of the Oculus Rift, posted a statement on Reddit, which you can read below:
"I am already getting heat from users and media outlets who say this policy change proves I was lying when I consistently said this wouldn't happen, or at least that it was a guarantee I wasn't in a position to make. I want to make clear that those promises were approved by Facebook in that moment and on an ongoing basis, and I really believed it would continue to be the case for a variety of reasons. In hindsight, the downvotes from people with more real-world experience than me were definitely justified."