After a tonne of leaks and speculation, Capcom officially revealed Resident Evil Village (or Resident Evil 8 if you will) to the world at Sony's PS5 future of gaming event. Now, the publisher has hinted at a Resident Evil Village demo in a new survey.
Resident Evil Village demo
Resident Evil 7 got a demo close to its launch, which gave fans a taste of the first-person horror, which turned out amazingly well. Capcom doesn't shy away from giving fans a taste of a game before release, so a Resident Evil Village demo is very likely to happen.
In a survey from Capcom, the publisher asked fans how likely they would be to try a Resident Evil 8 demo, and the answer should most certainly be "completely likely". 
This survey has several questions about the Resident Evil franchise. It also asks players which next-gen console players would be most interested in playing Resident Evil Village on.
The survey also mentions a digital-only version of the Xbox Series X, which hasn't been revealed just yet, but it does give credence to the Lockheart rumours which have been floating around for several months.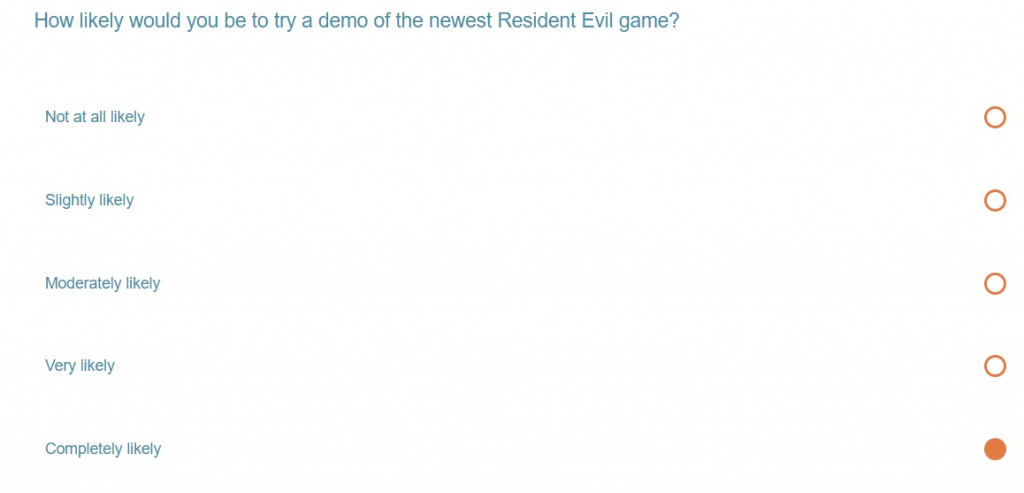 A screenshot from the Capcom survey with our answer (Picture: Capcom)
At the time of writing, it is unclear when (or even if) a Resident Evil Village demo will release. Simply posing the question doesn't mean Capcom is going to release one, but it surely does mean they are thinking about it.