It would be fair to say the Nintendo Switch has taken the gaming world by storm since launching back in early 2017. It's especially impressive following the dismal sales of the Wii U, and despite being underpowered compared to the PlayStation 4 and Xbox One, the versatility of the Switch has helped establish its own space in the market.
With so many high-profile Nintendo exclusives and quality third-party ports, it can be tough to keep up with the amount of games launching on the platform. Thankfully, we have you covered - we've dug up seven overlooked, wildly varied but equally fantastic games for you to add to your eShop wish lists, whether you're playing on the Switch or Switch Lite.
Into The Breach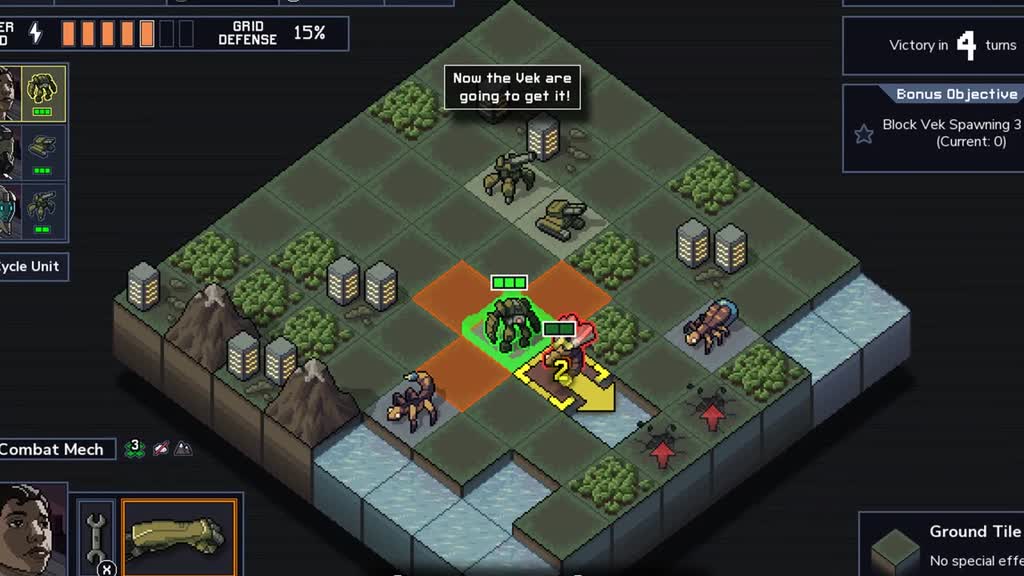 Into The Breach was one of the best games of last year (Picture: Nintendo) 
We touched on this in our recent Switch Lite feature, but Into The Breach is one of the platform's finest indie titles. This is because it's take on rogue-lite turn-based strategy is unlike anything you've played before.
Players take control of a trio of mechs, tasked with defending buildings, power lines, moving trains, and more from giant bugs that are essentially Kaiju. These monsters telegraph their moves one step prior to making them, meaning you can subtly (or not so subtly) nudge them away from your objectives or into each other.
While a tough game to explain it doesn't take long to get a handle on the basics. The difficulty comes in the hours it takes to master, offering procedurally generated levels with varying objectives, as well as a robust upgrade tree that carries from run to run.
Digimon Story: Cyber Sleuth Complete Edition
Pokemon Sword and Shield might be the biggest Switch games, but they might not be the best monster-catchers on the system.
This contender for the crown offers two full RPGs worth of capturing, training, battling and evolving creatures in a digital world. Its storyline is a lot more adult than Pokemon's now kitsch tale of "being the best there ever was", and some of the monster designs are truly epic.
If you're looking for a solid RPG to eat away your life, this could be the title for you. It's easy to spend a solid 50 to 60 hours per game.
Captain Toad's Treasure Tracker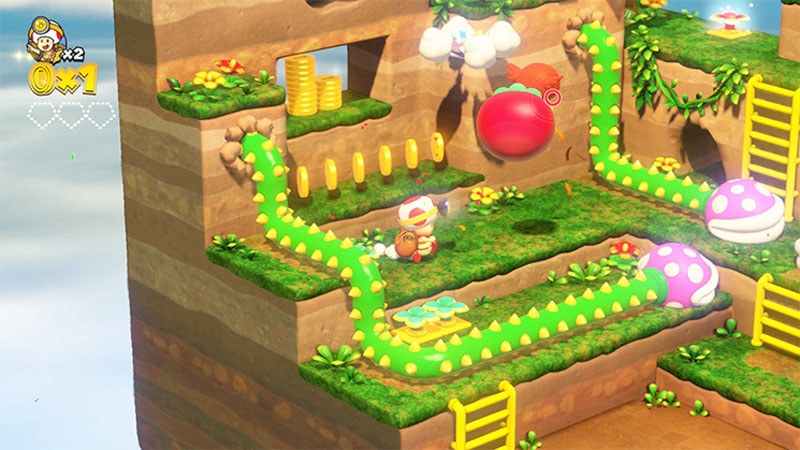 Captain Toad Treasure Tracker originally released on Wii U (Picture: Nintendo) 
In one of many overlooked Wii U titles which has found a home on Switch, this delightful little gem gives Mario's erstwhile companion Toad the chance to hog the spotlight.
Here our fungal friend navigates intricately designed dioramas, hunting out the titular treasure with nothing more than a keen eye and a shuffle. Toad can't jump, so he's left to shuffle around obstacles, throw turnips, and clear blocks on each isometric puzzle.
It's unlike anything on Switch, and the lack of platforming and minimal amount of what you could describe as "action" make it ideal to pick up and play on a lazy Sunday.
Xenoblade Chronicles 2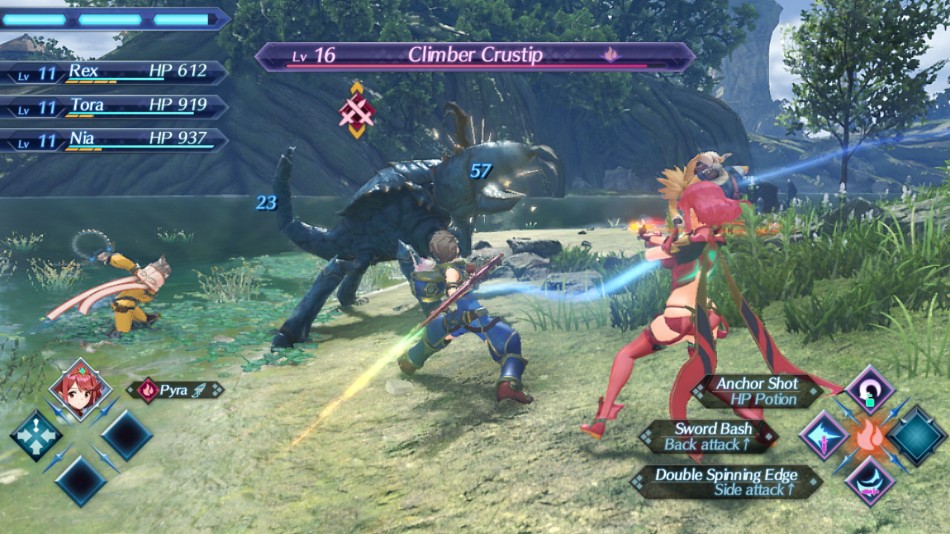 Xenoblade Chronicles 2 is a huge RPG (Picture: Nintendo) 
The Switch library is stacked with quality RPGS, and developer Monolith Soft's expansive sequel is one of the best.
In this epic, humans live on top of huge beings known as Titans high above the clouds. This open world is as interesting as it is beautiful, whether you're playing in docked mode or in handheld.
Combat takes place between party members and Blades, artificial creations that are collected throughout the story, adding a compulsive collection aspect. Short of some ridiculous costumes and questionable voice acting, there's plenty to love - and it's just as well, because there's easily one hundred hours of content here.
God Eater 3
Like Monster Hunter but feel like it wasn't quite "anime" enough for you? God Eater 3 could be the game for you.
In a world where demons are springing out of the ground and doing their best to cause chaos, you play as a gifted youngster capable of wielding a new anti-monster range of weaponry - and you're forced to do so for a totalitarian regime that keeps you under lock and key.
Of course, you can ignore the (admittedly pretty decent) story if you'd prefer. Unlike Monster Hunter, combat is swift and forgiving while still providing plenty of challenge. It offers a very similar gameplay loop to Capcom's franchise though - kill monster, carve monster into new weaponry, and kill a bigger monster.
Oh, and your weapons all have the ability to turn into guns, so there's that.
Not a Hero: Super Snazzy Edition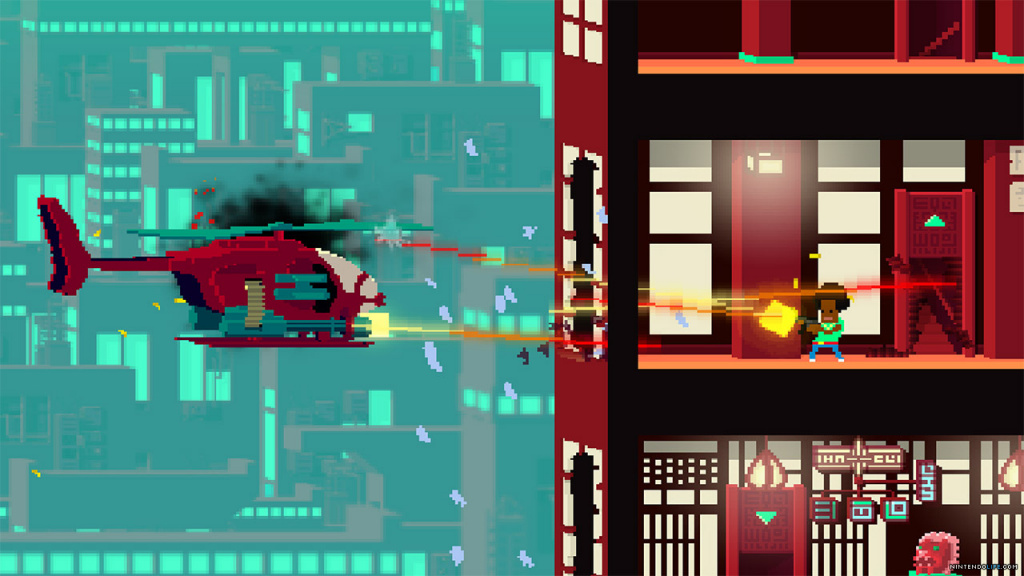 Not A Hero originally came out in 2015 (Picture: Roll7) 
Another side scroller, yes, but this one is a little different. From the developers of addictive skate sensation OlliOlli, Not A Hero casts the player as the campaign manager for an anthropomorphic bunny that's running for mayor. With us so far? Great.
We say campaign manager, but what we really mean is you're Bunnylord's (yes, that's his name) trigger man - mopping up crime and the competition in the city by hurling curse-words and bullets.
With multiple playable characters, really engaging turn-based combat and echoes of Hotline Miami, Not a Hero is hard to put down. 
Astral Chain
Platinum Games, eh? You've got to love them. The famed action-game developers, responsible for Bayonetta and Vanquish, brought their stylish third-person combat to Switch for a new IP. 
2019's Astral Chain sets players loose as a police officer in a neon-drenched city overrun by a demonic invasion - not dissimilar to a boozy Friday night in London, really. What is different, though, is humanity has developed a way to harness certain monsters to fight alongside.
Combat lacks the nuance of the developer's most famous works, but Astral Chain does offer plenty of side-missions that range from the usual hack and slash to rescuing kittens in the street.
There's our list of some games you may have missed, but what would you recommend to us? Let us know in the comments below.