Escape from Tarkov is in a closed beta for more than 3 years now, but the game is nonetheless still quite popular, especially among the Twitch streamers.
It's no wonder then that we will see the second Escape from Tarkov Twitch Rivals tournament this week.
Twitch Rivals Escape From Tarkov Showdown will feature 48 Twitch personalities from North America and Europe, split into 16 teams of three, battling for a $30,000 prize pool.
Taking part are some of Twitch's biggest stars including Benjamin "DrLupo" Lupo and Michael "shroud" Grzesiek who will be competing together in team "Just Better".
Teams will be tasked with completing Bingo cards of objectives with points awarded depending on progress.
If you are interested as well, here's how you can watch it.
Escape From Tarkov Showdown Schedule
This tournament is a 1-day event, scheduled for 24th November.
Starting time is 1:00 pm PT / 4:00 pm ET / 11:00 pm CET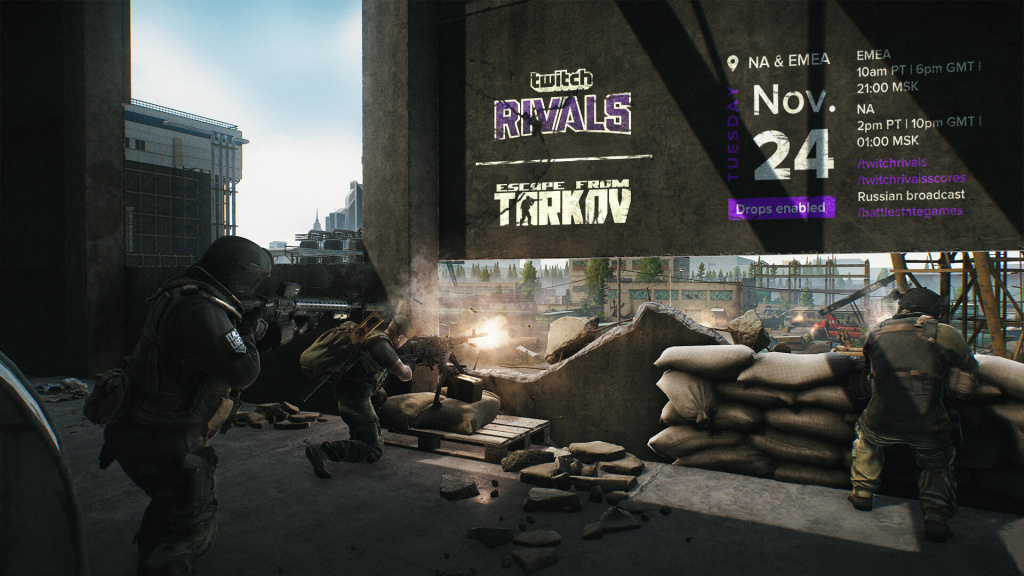 (Picture: Twitch)
Escape From Tarkov Showdown Format
Format

3.5 Hour Achievement Hunt
Teams will be given a 5x5 Bingo card with achievements in each spot of the grid
Teams will race for points in the following categories:

First Bingo
Most Bingos
Most Achievements
Format Details
A Bingo card, with squares containing specific in-game achievements, will be curated ahead of the event
This Bingo card will be shared with participants immediately before the tournament

The list of tasks will be shared with participants at least 24 hours before the tournament

When a task is completed, that square is "filled"
A "Bingo" is 5 adjacent filled squares (horizontal, vertical, diagonal)
All games are played on public servers
Players will be given max level accounts.
Escape From Tarkov Showdown Prize Pool
The tournament will feature a $30,000 prize pool, and the rewards will be split among the teams as follows:
1st place - $6,000
2nd place - $4,800
3rd place - $3,000
4th place - $2,400
5th-6th place - $1,800
7th-8th place -  $1,200
9th-12th place - $1,050
13th-16th place - $900
Escape From Tarkov Showdown teams
Twitch Rivals: Escape From Tarkov Showdown is an online, cross-regional competition, and it will feature 48 invited streamers from North America and Europe.
Just Better
Team LVNDMARK
596 Deadly Marks
Deadlyslob
DanGheesling
Markstrom
Chad Squad
AnneMunition
MisMagpie
BazingaThatB
Moistness
RedOpz
Pestily
Slushpuppy
Team actionjaxon
Craysin
actionjaxon
JayDreame
Team Baddie
KiiNGS
TheReeferRaptor
Baddie
Fathers Of Factory
Pepega Team 6
GeeksEh
Veritas
JesseKazam
The Radar Raiders
DestroyerProject
Gingerliness
JeepoTV
Team Sharptooth
ArsynTV
theAtlasfamily
Sharptooth
Team Swagger
KEKWCOMMANDOS
BakeeZy
Anton
KaptainKayyy
Team Mad_Ruski
legitaero
Mad_Ruski
Ironfists_tv
Team Jenntacles
Fishpastee
Vanarambaion
jenntacles
Team Morloft
MapleSyrupJunkie
ultimatekc_
Morloft

 
Escape From Tarkov Showdown Stream: How to watch

(Picture:  Battlestate Games)
The event will be broadcasted on the official Twitch Rivals channel as well as on the Twitch Rivals Scores channel.
The official channel of the developer Battlestate Games will feature a Russian language stream.
Additionally, all participating streamers will be streaming on their Twitch channels.
Escape From Tarkov Showdown Twitch Drops: How to get
The tournament will feature Twitch Drops as well, which you can earn by watching the event.
All contestants will have Drops enabled on their live streams, drops will be given in the following way:
    -  For completion of each task from Bingo, card viewers will get a Common drop
    - For each line, column, or diagonal row viewers will get a Rare drop
    - For the whole table, they will get a Legendary drop