In February, the leading esports company in India, NODWIN Gaming, expanded to South Africa. With the expansion came some fantastic esports action for South African fans to enjoy via the Inkosi Super Cup series.
Now, the Umzansi Esports Spring League has been announced with a massive prize pool, and NODWIN Gaming also revealed its expansion into Sub-Saharan Africa.
Umzansi Esports Spring League and expansion
Firstly, NODWIN Gaming announced the continuation of its plans for 2020 by launching the Umzansi Esports League in Africa. This league, running for two seasons, features a massive combined prize pool of R1 million.
This is over 50,000 Euro at the current Euro to Rand exchange rate, which a life-changing amount of money for South Africans, and Sub-Saharan Africa. 
The titles in the Umzansi Esports are:
CS:GO
Tekken 7
FIFA 20
PUBG Mobile
The Inkosi Super Cup and Grandslam series in South Africa was a great success for the company. Due to the current COVID-19 global pandemic, however, NODWIN has decided to continue with its digital push, thereby expanding to the rest of Sub-Saharan Africa.
Akshat Rathee, the MD and Founder of NODWIN Gaming, talks about the expansion: "The African continent is catching the wind and we are extremely happy with the response so far.
"Inkosi laid the basic foundation of a model that serves us potential in and around the markets of the region in the coming times."
Unfortunately, due to the pandemic, NODWIN has decided to delay the LAN finals for 2020, with the company explaining they will reevaluate the situation in early 2021. 
The Umzansi Esports Spring League, however, will kick off very soon. The league will start on 24th July 2020, culminating in finals this October, before a short seasonal break.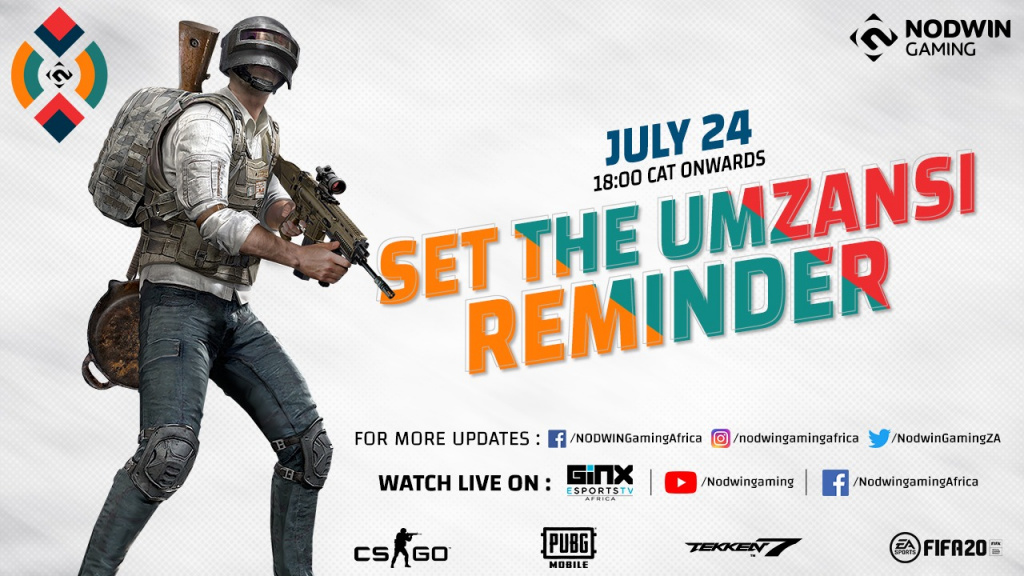 Don't miss a moment of the Umzansi Esports League action (Picture: NODWIN Gaming)
The teams in the Umzansi Esports League will see contenders qualify through both weekly and monthly cup systems via the Inkosi Super Cup series, as well as a "last chance" qualifier. 
NODWIN Gaming South Africa's Merlin Wiedeking comments: "Umzansi is the next important step in on our mission to elevate the African Esports market and to build a sustainable ecosystem for players at home instead of having to go abroad."
Umzansi Esports Spring League on GINX Esports TV Africa
You can catch all the action starting on 24th July on GINX Esports TV Africa. For South Africans, it will be broadcasted on DSTV channel 127.
Expect a host of new live matches, shows designed with the African esports fan in mind, and weekly highlights packages from the Umzansi Esports Spring League.