The latest batch of Warframe redeem codes has arrived, waiting for players to use them and collect their free rewards, including Glyph, items, and much more!
Warframe is a popular cooperative third-person action game that is set in a sci-fi world. Players can choose their own characters and explore the world while fighting the enemies. Now, there will be times when you will need to spend your money to get your favourite items.
Since it is not possible for everyone, you can get your hands on some free stuff by redeeming the Warframe codes released from time to time. We have listed all the working redeem codes available at the moment that you can use to get free Glyph, items and more.
Warframe latest promo codes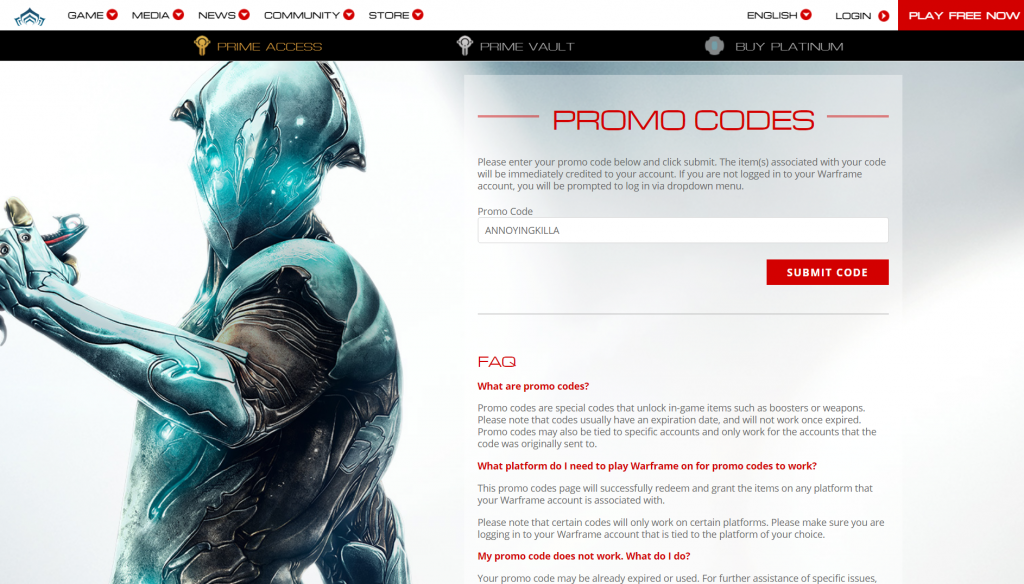 Warframe promo codes are released via the game's social media handles, discord server, and more. Also, make sure to redeem these codes as early as possible since most of them are time-limited.
Iflynn - Iflynn Glyph
R/Warframe - R/Warframe Glyph
Relentlesszen - Relentlesszen Glyph
PARVOS - Golden Hand Decoration
AdmiralBahroo - AdmiralBahroo Glyph
AnnoyingKillah - AnnoyingKillah Glyph
AshiSogiTenno - AshiSogiTenno Glyph
Bricky - Bricky Glyph
Brozime - Brozime Glyph
BurnBxx - BurnBxx Glyph
Bwana - Bwana Glyph
CGsKnackie - CGsKnackie Glyph
Char - Char Glyph
CohhCarnage - CohhCarnage Glyph
DanielTheDemon - DanielTheDemon Glyph
Deejayknight - Deejayknight Glyph
DeuceTheGamer - DeuceTheGamer Glyph
DimitriV2 - DimitriV2 Glyph
DjTechLive - DjTechLive Glyph
DKDiamantes - DKDiamantes Glyph
ElDanker - ElDanker Glyph
ExtraCredits - ExtraCredits Glyph
FromThe70s - FromThe70s Glyph
Frozenballz - Frozenballz Glyph
Gara - Gara Glyph
Golden - Golden Glyph
GrindHardSquad - GrindHardSquad Glyph
H3DSH0T - H3DSH0T Glyph
Homiinvocado - Homiinvocado Glyph
JoeyZero - JoeyZero Glyph
KingGothaLion - KingGothaLion Glyph
LeyzarGamingViews - LeyzarGamingViews Glyph
LilLexi - LilLexi Glyph
LynxAria - LynxAria Glyph
Makarimorph - Makarimorph Glyph
MCGamerCZ - MCGamerCZ Glyph
MikeTheBard - MikeTheBard Glyph
Mogamu - Mogamu Glyph
MrWarframeGuy - MrWarframeGuy Glyph
OriginalWickedFun - OriginalWickedFun Glyph
ProfessorBroman - ProfessorBroman Glyph
Rahetalius - Rahetalius Glyph
Reddit - Reddit Glyph
Sherpa - Sherpa Glyph
Shul - Shul Glyph
SkillUp - SkillUp Glyph
Strippin - Strippin Glyph
TacticalPotato - TacticalPotato Glyph
TeaWrex - TeaWrex Glyph
TotalN3wb - TotalN3wb Glyph
Triburos - Triburos Glyph
UnrealYuki - UnrealYuki Glyph
VAMP6X6X6X - VAMP6X6X6X Glyph
Vernoc - Vernoc Glyph
VoltTheHero - VoltTheHero Glyph
VVhiteAngel - VVhiteAngel Glyph
Wanderbots - Wanderbots Glyph
Avelna - Avelna Glyph
DayJobo - Dayjobo Glyph
DNexus - Dnexus Glyph
IISlip - IISlip Glyph
PARVOS - Golden Hand Decoration
How to redeem Warframe promo codes
If you are new to the game and don't know how to redeem Warframe promo codes, we have listed below the steps that you can follow to claim free rewards:
Copy a code from the above list and go to the official Warframe Promo Code Redemption website.
Login to your account and paste the code under the Promo Code section.
Click on Submit Code and head over to the game to claim your reward.