Xbox Game Pass will have 20 Bethesda games available from Friday 12th March, adding Dishonored, Doom, Fallout and more. 
Announced during a roundtable conversation between Bethesda and Microsoft to detail their acquisition deal, the two companies announced a whole bunch of Bethesda titles will be arriving on Xbox Game Pass. 
This adds to a strong line-up of Bethesda titles already available on Xbox Game Pass, which includes Wolfenstein: Youngblood, The Elder Scrolls V: Skyrim Special Edition, The Elder Scrolls Online, Doom Eternal, Rage 2, Fallout New Vegas, Fallout 76 and Dishonored 2.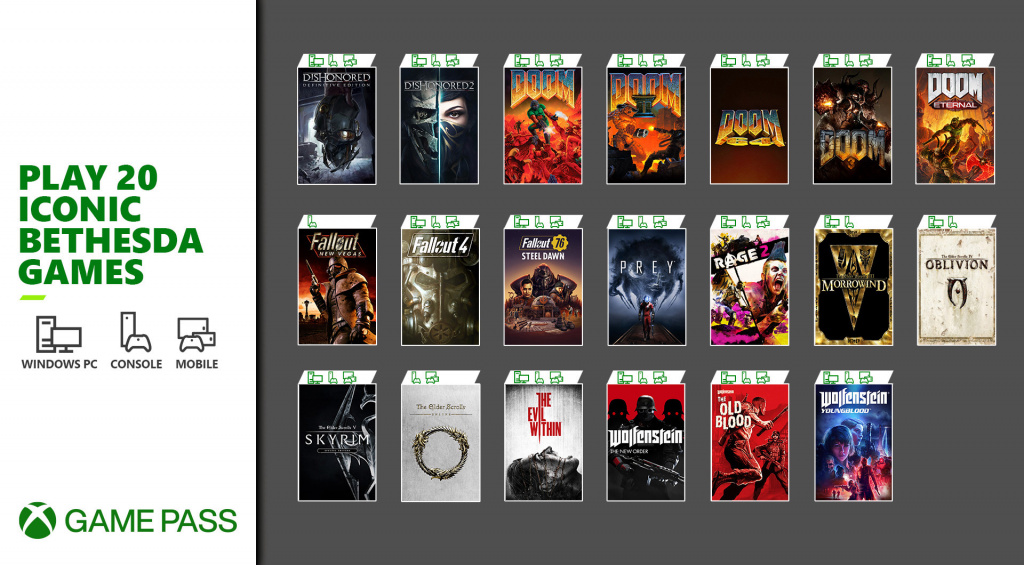 Xbox Game Pass is one of the best deals around (Picture: Microsoft) 
An Xbox blog post also states some of these games will benefit from an FPS boost on Xbox Series X/S, promising more details will arrive soon. 
You can check out the full list of Bethesda titles below. 
Bethesda games on Xbox Game Pass
Dishonored Definitive Edition (Console, PC, Cloud)
Dishonored 2 (Console, PC, Cloud)
Doom 1993 (Console, PC, Cloud)
Doom II (Console, PC, Cloud)
Doom 3 (Console, PC, Cloud)
Doom 64 (Console, PC, Cloud)
Doom Eternal (Console, PC, Cloud)
The Elder Scrolls III: Morrowind (Console, PC)
The Elder Scrolls IV: Oblivion (Console, PC)
The Elder Scrolls V: Skyrim Special Edition (Console, PC, Cloud)
The Elder Scrolls Online (Cloud, Console)
The Evil Within (Console, PC, Cloud)
Fallout 4 (Console, PC, Cloud)
Fallout 76 (Console, PC, Cloud)
Fallout New Vegas (Console)
Prey (Console, PC, Cloud)
Rage 2 (Console, PC, Cloud)
Wolfenstein: The New Order (Console, PC, Cloud)
Wolfenstein: The Old Blood (Console, PC, Cloud)
Wolfenstein: Youngblood (Console, PC, Cloud)