In terms of popularity, there might not be a game that can match Among Us as of right now. A meteoric rise that started with high-profile Twitch streamers playing it, Among Us has seen tremendous success over the past couple of months. The game even saw Democratic House Candidate Alexandria Ocasio-Cortez team up with streamers like Pokimane and DrLupo earlier in the week.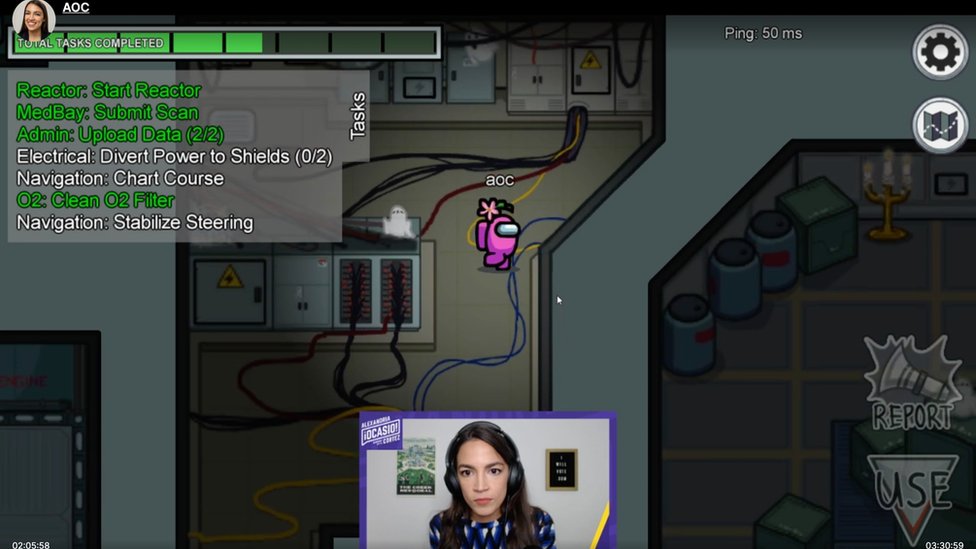 Alexandria Ocasio-Cortez (AOC) was the latest to try out Among Us live on stream. (Picture: Twitch)
While Among Us has had a pretty roadblock-free experience so far, that changed this week with an influx of hackers.
InnerSloth, the developing studio for Among Us, provided an update today about the situation and what players should do in the meantime. 
InnerSloth advises Among Us community about hacking issue 
Up to this point, Among Us hasn't seen much in the way of hackers. It's actually been fairly strange, as it seems like every big multiplayer game nowadays is dealing with some sort of hacking problem.
However, that all changed when all of a sudden, Among Us saw a huge influx of hackers. InnerSloth sent out a tweet soon after this discovery, advising the player base to either play private matches or only with trusted individuals. 
Reminder!! Please play private games or with people that you trust!!! We're doing what we can!!

— InnerSloth (@InnerslothDevs) October 23, 2020
Players are experiencing a hack unlike anything the game has seen before. It seems that a group of spammers is compromising the game by promoting the Eric Loris YouTube channel. Hundreds of player reports have come in that state their match has been bombarded with chat messages promoting the channel and President Donald Trump's 2020 campaign.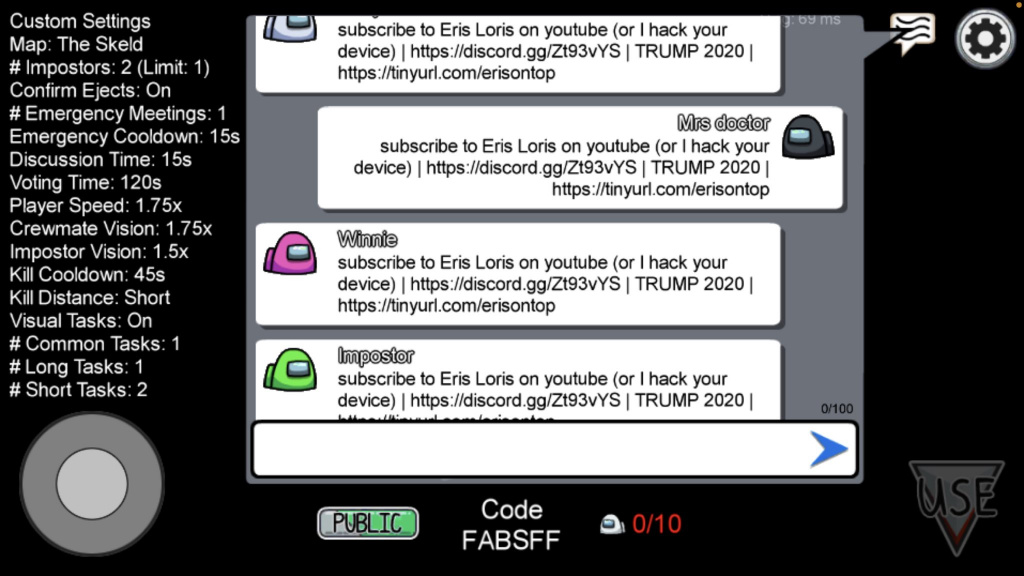 An example of the chat log from a recent Among Us match. (Picture: HomeGirlV1 on Twitter)
Eurogamer supposedly interviewed the creator of the hack but no clear answer was given on how the group is managing to infiltrate so many matches at the same time. However, the creator did state they recruited several other hackers to help propogate the attack.
This is clearly a scary situation for Among Us as a whole. The spammed messages are claiming that they will hack the user's device if they don't visit the Eric Loris channel. Less-informed players could see this and simply stop playing the game. 
The developers stated they're doing what they can but didn't provide an update on when the issue could be resolved. Although, if other games are to be taken as an example, this won't require a simple patch to fix. It could take days or weeks of updates to fully implement a proper anti-cheat that will stop any hacks from entering live matches. 
This is an ongoing story so we'll be sure to update this story if any developments are announced.