The first big Assassin's Creed Valhalla expansion, Wrath of the Druids, is finally here!
Eivor is going to Ireland and there's a lot of new adventures awaiting us on the island.
Unlike the main game, the focus of the expansion will be on working with local people and helping them achieve their goals, as well as establishing trade routes, as Vikings never really managed to fully conquer the island.
These trading routes will be our focus in this article.
In order to establish good connections between different parts of Ireland and enable trading, we will need to capture various trade posts scattered across the island.
Conquering some of these trade posts will be story-related, like the first trade post which is a part of an early main quest "Rathdown Build Up".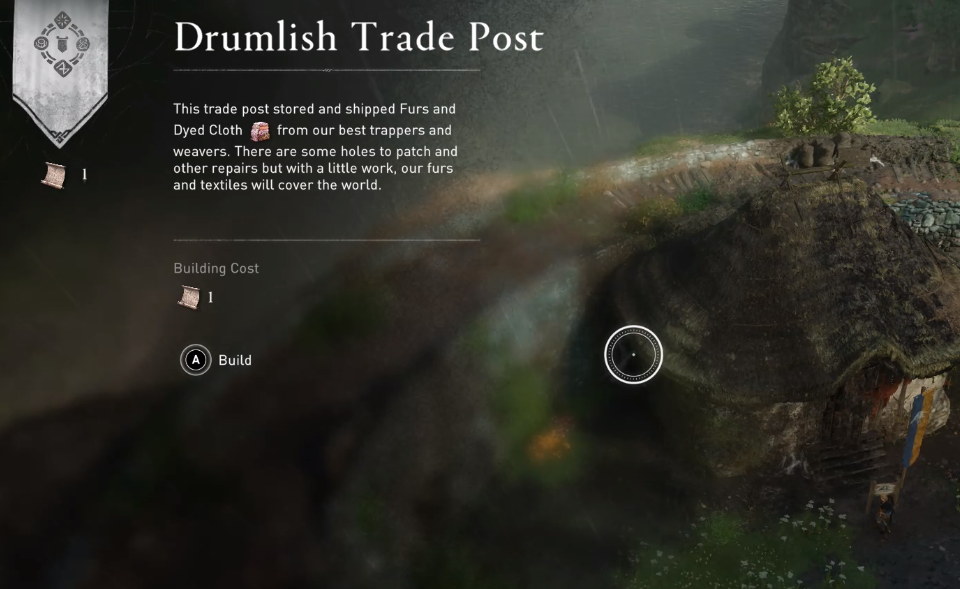 (Picture: Ubisoft)
Others will be optional, but quite essential as each of these posts will provide you with important resources which you will need in order to get the best weapons and armour. They are also needed to unlock various cosmetics, like tattoos, hairstyles, beards, and more.
Once you control a trade post, it will generate materials automatically, you don't need to do anything.
There are a number of different materials in the game, and some of the items in the game will require several different materials in order to craft them, so the best thing for you is to control as many trade posts as you can as quickly as possible.
Keep in mind that getting these trade posts under your control won't be easy, most of them are heavily guarded, and you will need to fight in order to subdue them.
With each new trade post unlocked, you will generate resources faster, which means more stuff for you to buy.
Each of these trade posts automatically produces one type of material over time (base rate is +2 per minute).
Each new trade post opens a direct route to Azar in Dublin (Fast Travel).
Gathered materials can be found in the chest in front of Azar in Dublin, so make sure to check from time to time in order to get them.
Just like the settlements, you can upgrade trade posts with Workman's Cottages, Supply Depot, Storehouse, and Raider Tent, which will provide you with even more resources, gathered at a faster rate, and with more place to store your goods.
Assassin's Creed Valhalla: Wrath of the Druids: All trade post locations
(all images courtesy of Ubisoft) 
Rathdown (Dublin)
Lisdurrow (Meath)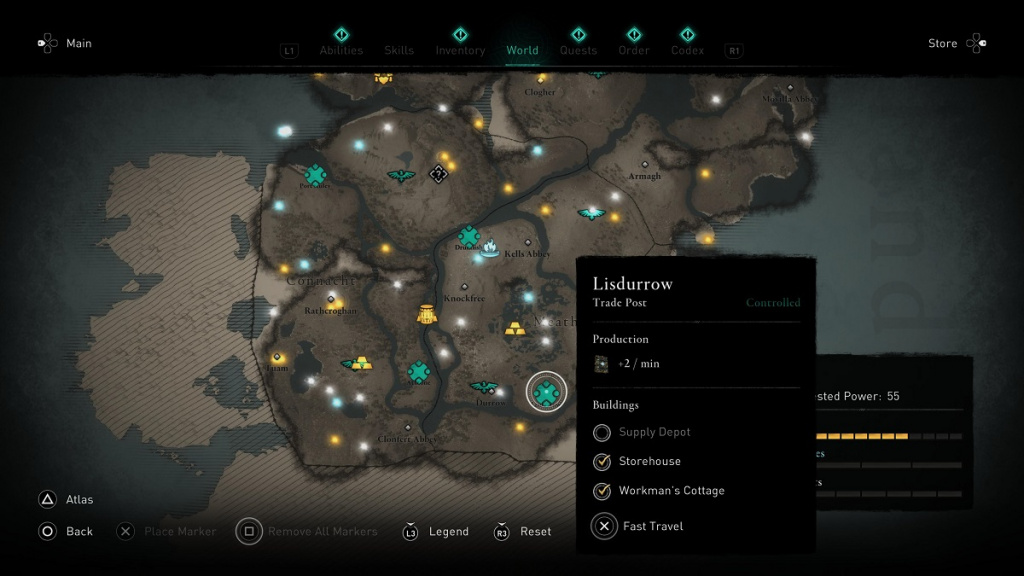 Drumlish – Meath

Ardmel (Ulster)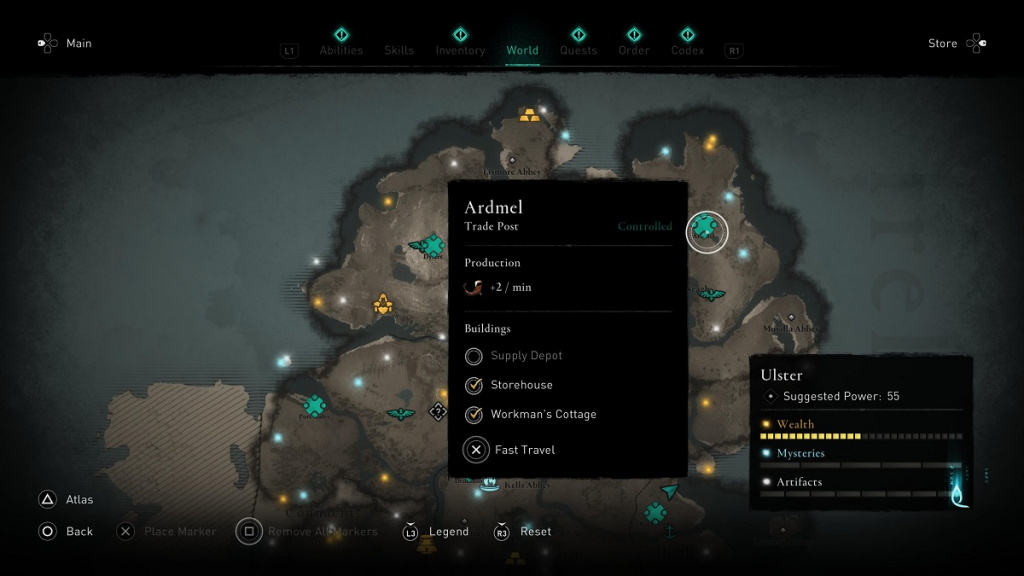 Athlone (Connacht)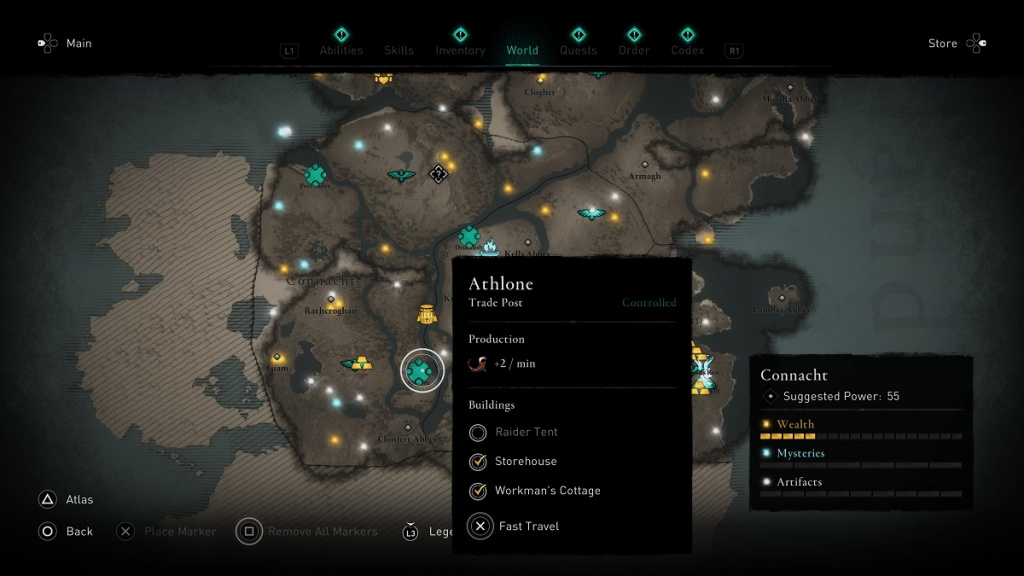 Dysert (Ulster)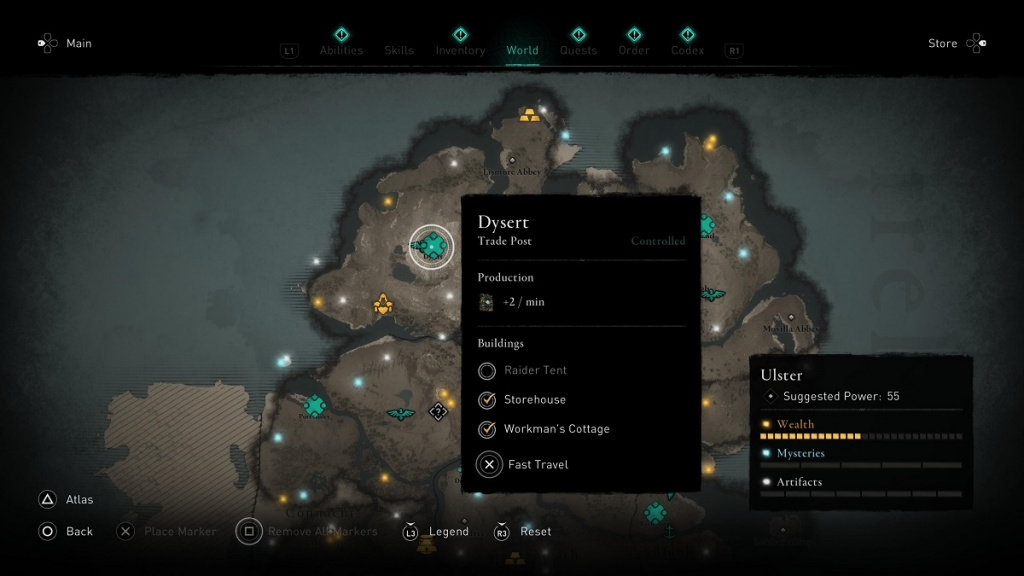 Port Auley (Connacht)