Assassin's Creed Valhalla was first publicly announced on 29th April, during the 8-hours-long stream featuring Australian digital artist Bosslogic working on an art piece as a teaser for the game.
Since then, we got two trailers, a couple of interviews, and an abundance of rumours and leaks which are revealing more details about the game. Let's check them out step by step.
Assassin's Creed: Valhalla Locations & Setting
The next instalment in the legendary series will feature Vikings for the first time. We're going back to the 9th century and the harsh times of the early middle ages. It was confirmed that Assassin's Creed Valhalla will start in Scandinavia (Present-day Norway), but from there soon we're travelling across the sea and heading to Great Britain, our new home.
Ubisoft knows that fans expect Vikings to be brutal, merciless warriors and conquerors, who invade and plunder across Britanny. But that will be just one side of the coin, and they will also be portrayed as normal people, settlers escaping the harsh environment of the north in a search for a better life.
Vikings will be neither "good" or "bad" guys, just a group of people trying to do what they think is the best for them. A big emphasis will be on Vikings' society and their relationships both inside the settlement and outside of it.
Assassin's Creed: Valhalla will explore Vikings' rich culture and mythology which means that mythological creatures are coming back to the series. That's something we've already seen in Origins and Odyssey, something that fans liked, and it will be interesting to see how it will be implemented in Valhalla, and if we will be able to interact with  Odin, Frigg, Thor, Baldr, and Týr.
Last but not least, it has been confirmed that we will be able to visit Stonehenge in Assassin's Creed: Valhalla, as well as other famous landmarks.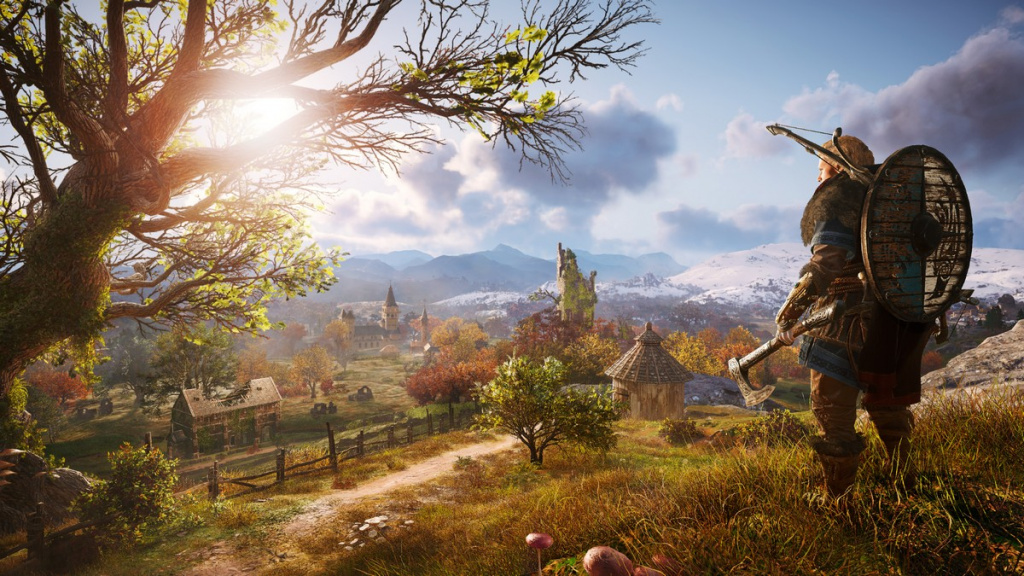 Assassin's Creed: Valhalla Gameplay
Unfortunately, we still don't know much about the gameplay. It was announced that during the Xbox Inside presentation we will see the world premiere gameplay trailer, but there was a very little of actual gameplay in Assassin's Creed Valhalla: First Look Gameplay Trailer.
What we do know is that Assassin's Creed: Valhalla will continue to build upon RPG mechanics that were introduced in Origins and Odyssey. One of the key elements of both gameplay and narrative will be our settlement. 
Village settlement hub, how developers call it, will be the central point of Assassin's Creed: Valhalla, a home for main character Eivor and his people. There, you will make big decisions and see the consequences of your actions. It will be the place you will always come back to and you will watch it change, for better or worse, along with your journey.  In its core Assassin's Creed: Valhalla is an RPG with base building mechanics.
"It's your own Viking village you'll see prosper and grow, and which your clanmates will live in," Laferrière has told to Eurogamer. "It's at the centre of our quests and the centre of the decisions you make. We want players to see the consequences of their actions."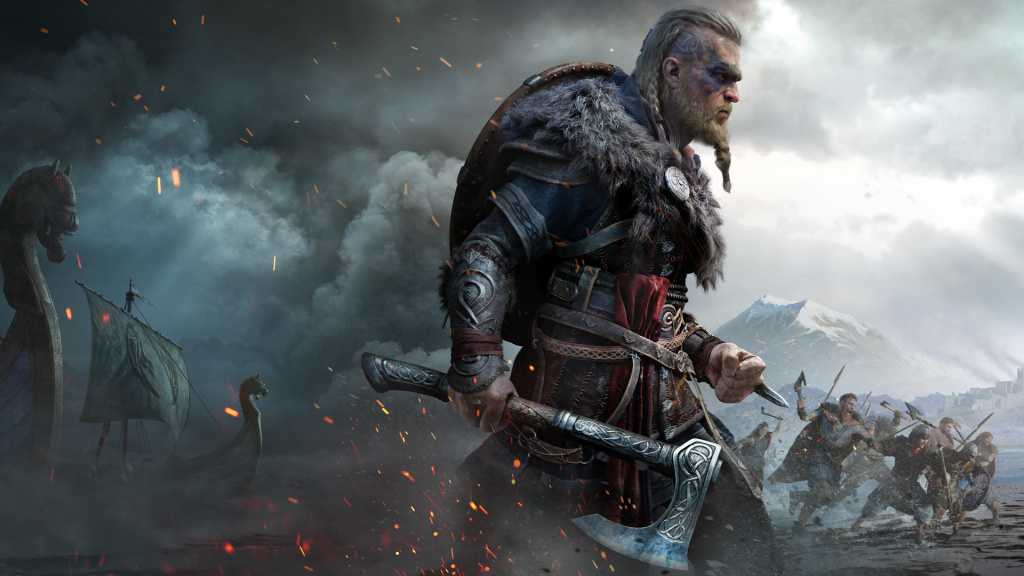 The general idea around the settlement is to make gameplay more focused, still with an open-world environment, but less wide and packed with more meaningful content. This means that Assassin's Creed: Valhalla will be shorter and smaller than Origins and Odyssey. 
Some of the main complaints people had in regard to Origins and Odyssey is that they were too bloated with low-effort content, which made them artificially huge and they mostly felt like a chore to play. Ubisoft will try to avoid this with Assassin's Creed Valhalla.
Still, that does not mean that the map will be small; the game will feature a vast and varied map featuring the four kingdoms of England.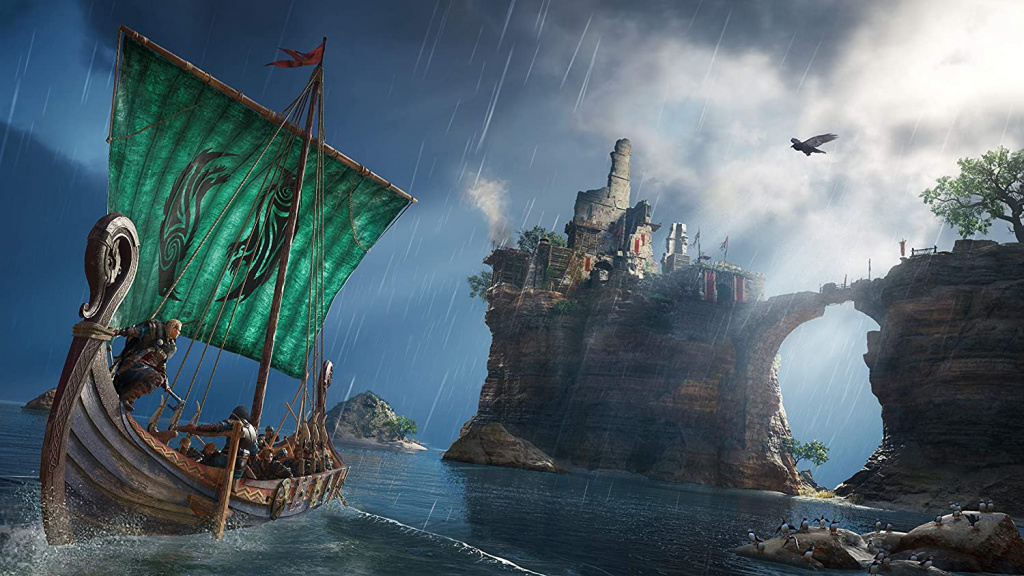 Sailing and naval battles will also make a comeback to the series, which seems ideal with how big of a role Viking Longships have in Vikings' raids.
When it comes to combat on land, there is very little information, but it is confirmed that dual wielding will be available. Assassin's Creed: Valhalla also marks the return of shields, that were previously absent in Odyssey. Fans will be happy to hear this, since the removal of shields in Odyssey wasn't a popular move. 
It is interesting to note that people have noticed several different versions of the Hidden Blade, but it is unclear if this will have any gameplay effects or is it just a part of cosmetic customisation.
As you might have noticed (and mentioned by @Jorraptor), several versions of the Hidden Blade have been shown in the #AssassinsCreedValhalla promo material

Do you expect this to just be part of the campaign or would you like the customization of the blade to be part of the game? pic.twitter.com/EQjqwgjZT9

— AccessTheAnimus (@AccessTheAnimus) May 8, 2020
Assassin's Creed: Valhalla Characters 
For now, we don't know much about the protagonist and other characters in Assassin's Creed: Valhalla. But what we know?
The main protagonist is Eivor. And although we see him as a man in the trailer, Eivor can be played as either a male or a female character, similar to Alexios and Kassandra in Odyssey, but it looks like they will share the name in Valhalla.
We don't know much about Eivor since Ubisoft don't want to spoil elements of the story, but it is confirmed that players will play a key role in shaping Eivor's personality as the game progress, with each uneasy choice and the hard decision they make.
There will be a lot of customization options, like different beards, war paints, tattoos, etc. Customisable gear will also be available. The most exciting thing is that you will be able to customize your Viking longship, probably with various carvings, sails and other decoration.
The second prominent character is, of course, King Alfred. The trailer paints him as an antagonist, but developers say he will have more nuances and complexity.
"Alfred the Great is a very important historical figure we want to treat right," lead producer Julien Laferrière says. "And to do so it's all in the subtleties and nuances you'll find."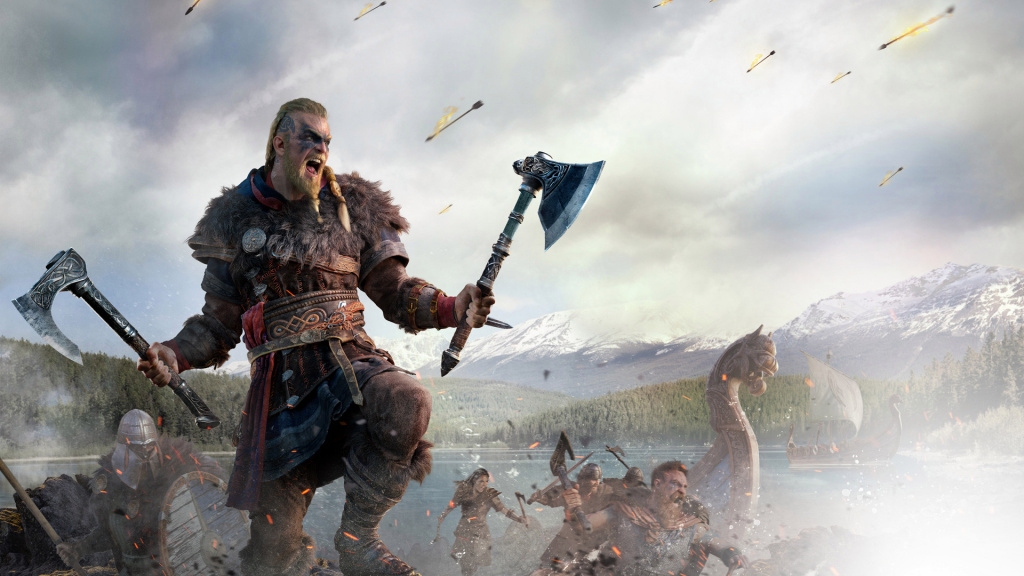 There are other characters we've seen in the trailer that might play an important role. There is this enigmatic hooded man (or god?), followed by a raven, and Eivor associates him with Norse god Odin.
And finally, we have King Alfred's military leader and advisor, who might be the real "bad guy" of the story in Assassin's Creed: Valhalla. He looks like your typical Gríma Wormtongue (the guy from the Lord of the Rings who was the chief advisor to King Théoden of Rohan), and his mischievous smile is giving an apparent impression of the "evil" guy.
Assassin's Creed: Valhalla Platforms & Release Date
We still don't have an official release date, but there are some rumours and leaks in that regard.  Reddit user u/Reqqu shared his story via Reddit, where he said that one local retail added Assassin's Creed: Valhalla for pre-order, and they've put 16 October 2020 as a release date.
He even took screenshots and have sent them to subreddit mods, so that they can confirm that he is telling the truth, but he didn't want to share them publicly because he loves that store, and he doesn't want to make them harm because of their mistake.
The last three Assassin's Creed games were all released in October, and all on Friday, which aligns with this leak.  The release date of AC: Odyssey was 5 October 2018 (Friday), AC: Origins 27 October 2017 (Friday) and AC: Syndicate 23 October 2015 (Friday). And 16 October of this year is also Friday.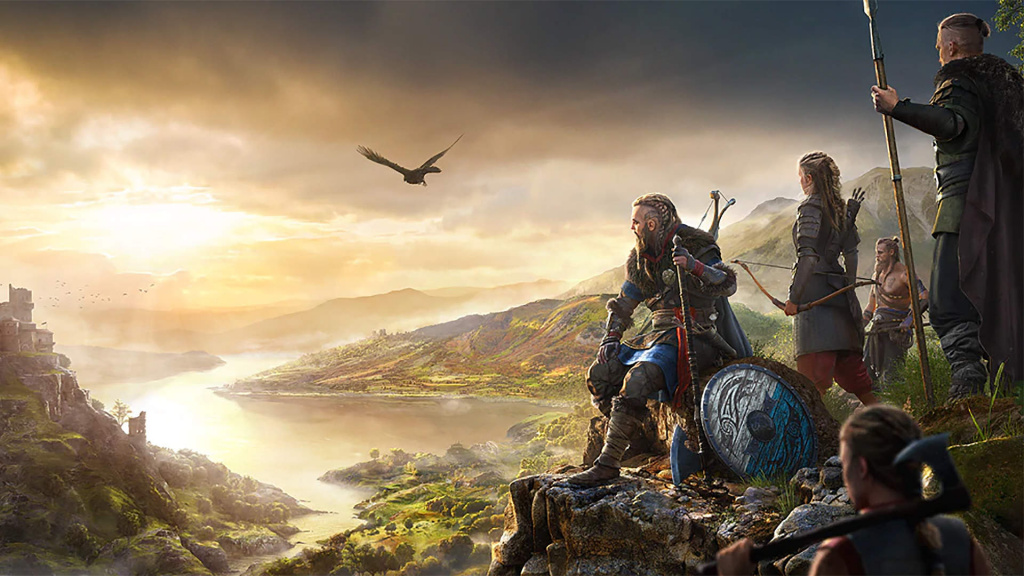 When it comes to platforms, Assassin's Creed: Valhalla on launch will be available on Xbox One, Playstation 4, PC and Stadia. For PC, the game probably won't be available on Steam, but only on Epic and Uplay instead.
And in regard to next-gen consoles, thanks to the Smart Delivery Xbox Series X system, you only need to buy the game once, and it will be available for you both on Xbox One and Xbox Series X.
We will keep things updated with fresh news, so make sure to check the article again from time to time!