The Pelington 703 is one of the sniper rifles added to the game with the launch of Black Ops Cold War, and Warzone players have fallen in love with it immediately for its amazing quickscoping possibilities.
The Pelington 703 offers high bullet velocity and aim down sight speed, and it can be quite deadly in the right hands. And with a good loadout, of course.
Given that Pelington 703 is relatively new in Warzone, players have been experimenting a lot during the first Warzone season since the Cold War release, but now for Season 2, we are fairly confident that this weapon can pose a serious threat when handled by skilled players.
If you are interested in mastering your Pelington 703 skills, take a look at this Pelington 703 Season 2 loadout.
Best Pelington 703 loadout in Warzone Season 2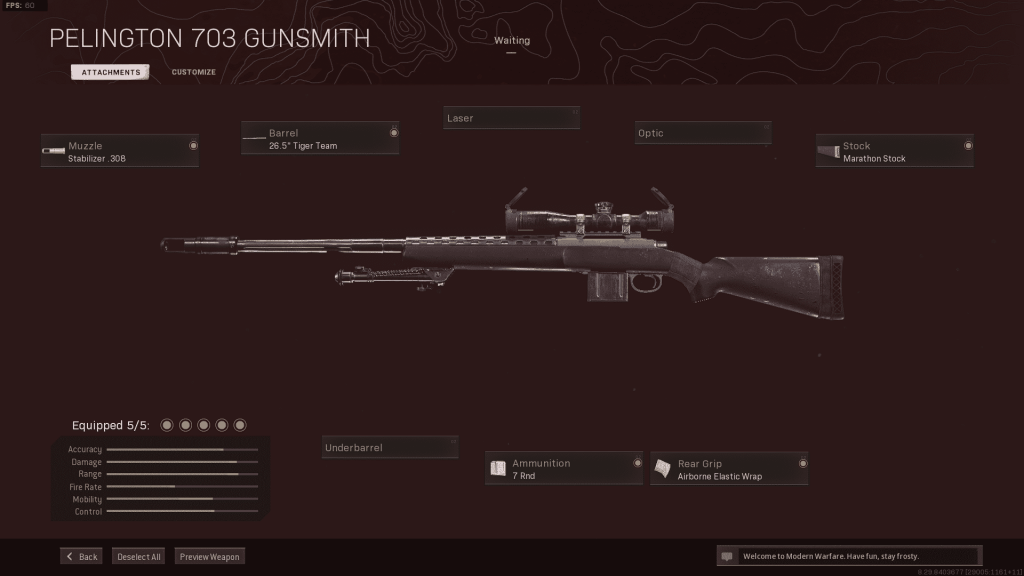 (Picture: Activision)
We recommend you to use these attachments for your Pelington 703 loadout if you want the best results in Season 2.
Muzzle: Stabilizer .308
Stabilizer .308 will increase your accuracy and it is a nice addition to this build, but you can also consider not to use Muzzle at all.
Barrel: 26.5″ Tiger Team
+50 for Bullet Velocity is the main reason why we love this Barrel, and why it should be your pick as well. Unfortunately, you will have a -40% starting ammo, so use your bullets wisely.

(Picture: Activision)
Stock: Marathon Stock
It will give you + 30% Sprint to Fire Time, which can be really useful in some clutch situations for when you need to suddenly and quickly react.
Ammunition: 7 Rnd
Ideally, you will be able to take down 2 to 3 targets before reloading. 
Rear Grip: Airborne Elastic Wrap
Flinch Resistance +90% is an unparalleled improvement that you don't want to skip. You will lose a little bit of speed, but that's within the bearable limits.
And that's it! Go try this powerful build and enjoy eliminating your enemies like they are clay pigeons with this best Pelington 703 loadout for Warzone Season 2.
If you are interested in playing some other Warzone Snipers, you should consider trying our HDR loadout or AX-50 loadout, both excellent for Warzone Season 2 meta.