Call of Duty League 2021 officially starts on 11th February with the Opening Weekend hosted by Atlanta FaZe.
The fans' expectations are high and judging by the Kickoff Classic event, we can expect some epic Cold War matches in 2021.
Will Dallas Empire manage to claim the title for the second year in a row? Will LA Thieves, the newcomers, show that they are worthy of their spot? There are so many exciting stories just waiting to be told in this season, and you will definitely not want to miss hot COD action this year.
If the premier esports teams and the best players are not enough for you, then some great rewards will make you change your mind and start watching the COD League.
Activision has prepared a bunch of in-game goodies for the COD League viewers, which will be completely free, and all you have to do is simply to watch the CDL Stage 1.
Here's our guide on how to earn the CDL Stage 1 rewards.
How to get COD League Stage 1 rewards


(Picture: Activision)
COD League Stage 1 rewards can be earned only by watching matches during Stage 1 of the COD League.
Here's what you need to do to make sure that you will get those rewards.
First things first, you need to have an Activision account and a YouTube account, since the League will be broadcasted on YouTube. 
The next thing you will want to do is to link your Activision account with your YouTube account.
You will earn rewards only if you watch CDL Stage 1 through a YouTube account that is linked with your Activision account (the one you use for Call of Duty).
How to link YouTube with Call of Duty
Open YouTube (app or the website)
Click on your profile photo and then select settings.
Select "Connected Apps" in the menu
You will see a list of various companies, find "Activision" and click on connect.
Sign in to your Activision account
And that's it, now your YouTube and Activision accounts are being connected.
When you are watching the COD League, make sure that you are logged in with the YouTube account that is linked to your Call of Duty (Activision) account, and you should get your rewards!
What are COD League Stage 1 rewards?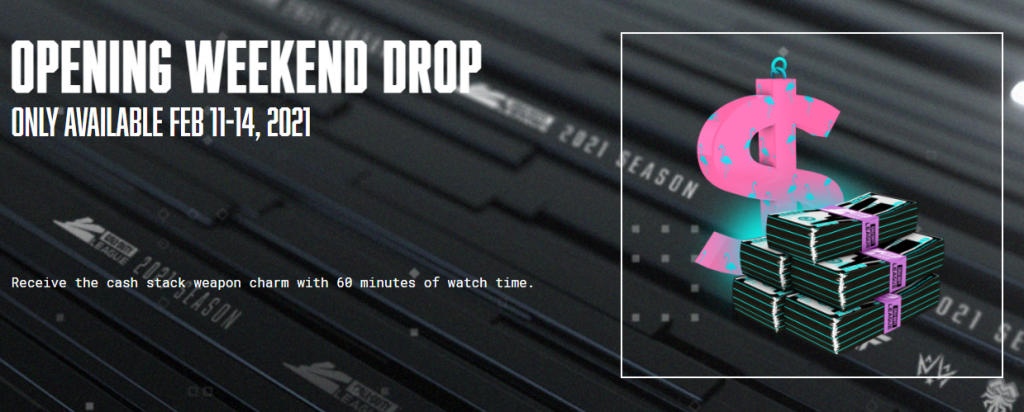 (Picture: Activision)
For the opening weekend, players will receive the cash stack weapon charm. You just need to watch the COD League matches for 60 minutes between 11th and 14th February, and the charm is yours.
For the complete Stage 1 phase, players will be able to earn Double XP and Double weapon XP tokens, that will be redeemable in Call of Duty Black Ops: Cold War and Call of Duty: Warzone.
Call of Duty League 2021 kicks off on February 11th and you can watch it live and earn rewards on the official COD League channel.