OpTic Chicago have established themselves as the team to beat for the Call of Duty League's 2021 season, after a dominating performance against LA Thieves during the Kickoff Classic event.
While there was no CDL points up for grabs, the Kickoff Classic event was a chance to see all twelve teams in action after a turbulent offseason - where rosters were changed dramatically as the league transitioned from 5v5 to 4v4.
The most anticipated match was between LA Thieves, who returned to competitive Call of Duty after being absent last year, and their rebranded rivals OpTic Chicago, who have undergone their own rebirth with original owner Hector Rodriguez back at the helm.
Despite both having heavyweight rosters, OpTic Chicago dominated from the outset. The opening Hardpoint on Garrison ended 250-136, with OpTic looking incredibly comfortable throughout.
Clinical. 3-0, GG.#GREENWALL pic.twitter.com/xD2Kjr7Q38

— OpTic Chicago (@OpTicCHI) January 25, 2021
Search and Destroy on Checkpoint was the closest LA Thieves came to turning the tide. They took some rounds but ultimately couldn't take an overall win, with Dylan "Envoy" Hannon staging some particularly impressive plays to secure the game 6-4. 
The final round of Control on Raid followed just as expected, with OpTic outclassing them at every turn to win the match with a clean 3-0 sweep. 
It was a similar result for Dallas Empire vs New York Subliners, where James "Clayster" Eubanks couldn't quite overcome his old teammates for the ideal grudge match result, losing 3-0. 
While it was certainly an impressive display from OpTic Chicago and Dallas Empire, it's still early days for all teams, with 2020's season proving there's plenty of time to turn the tide. You can check out all the results over the weekend below. 
CDL Kickoff Classic results 
New York Subliners 0-3 Dallas Empire
Seattle Surge 2-3 Los Angeles Guerrillas
Florida Mutineers 3-2 Atlanta FaZe
Paris Legion 3-2 London Royal Ravens
Minnesota ROKKR 3-2 Toronto Ultra
LA Thieves 0-3 OpTic Chicago
During the pre-season event, the groups were also announced for the 2021 season, led by last year's top two teams Dallas Empire and Atlanta FaZe. 
Unlike the 2020 season, all teams will compete at every home series event - with Atlanta FaZe staging the first starting on 11th February. 
CDL 2021 Groups
Group A
Dallas Empire
LA Thieves
Minnesota ROKKR
London Royal Ravens
New York Subliners
Seattle Surge
Group B
Atlanta FaZe
OpTic Chicago
Florida Mutineers
Toronto Ultra
LA Guerrillas
Paris Legion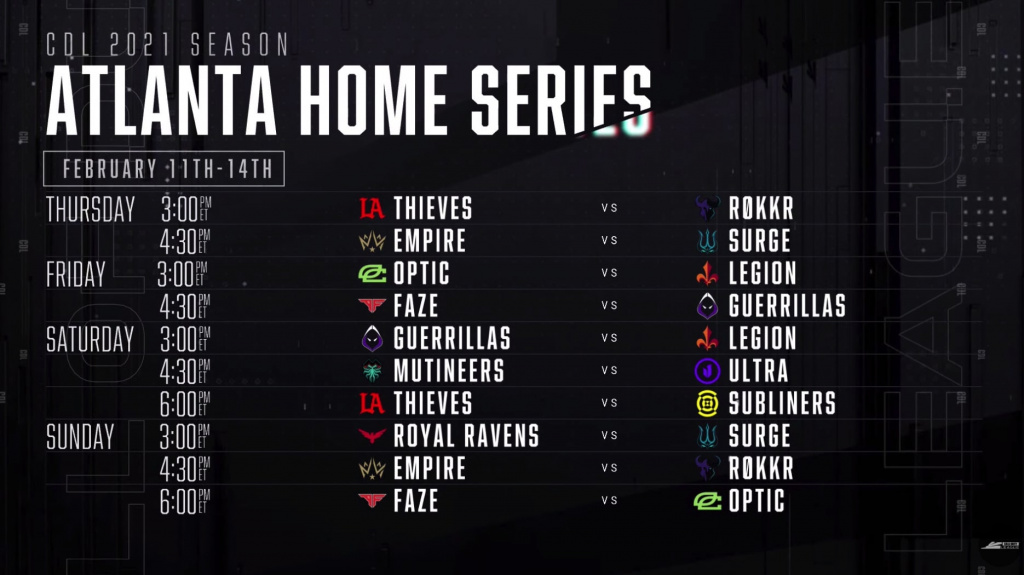 Atlanta Home Series schedule (Picture: CDL) 
The Call of Duty League 2021 season starts with the Atlanta Home Series on 11th February.