Call of Duty: Black Ops Cold War is finally here, and players are excited to try all available weapons and attachments, in order to find out which loadout suits their playstyle.
And we are especially excited to see the return of AUG.
This iconic weapon first appeared in the original Black Ops from 2010, and it is currently available in Warzone as well, but its "real" home is the Black Ops franchise, and we are happy to see it back in Black Ops Cold War.
The weapon is quite versatile and it's incredibly fun to play with it!
After some testing and tweaking, we think that we've found the perfect loadout for AUG in Black Ops Cold War, at least in this early days.
Without further ado, let's check what we think is the best build for AUG.
Best AUG Loudout in Black Ops Cold War
Muzzle: SOCOM Eliminator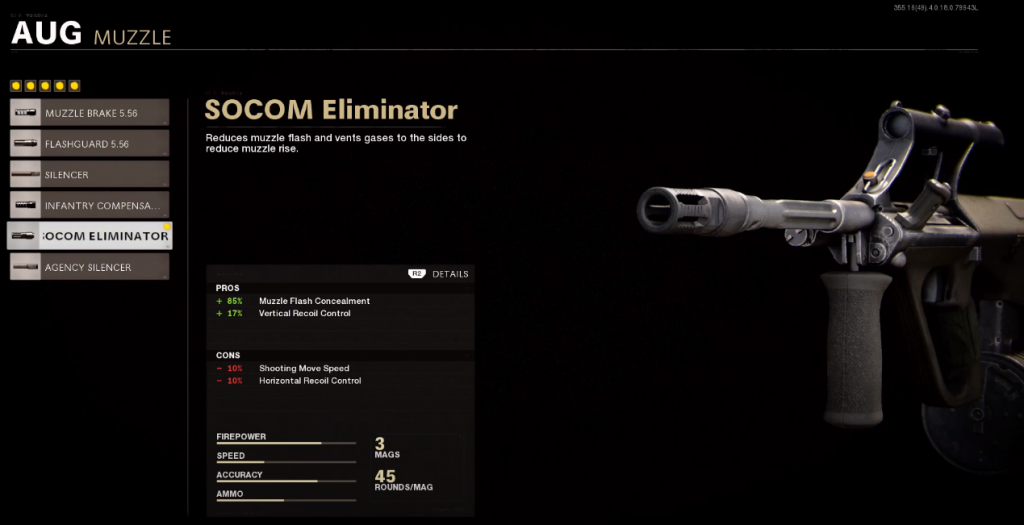 (Picture: Activision) 
- You don't want to be spotted, and with the 85% Muzzle Flash Concealment, no one will see your fire.
- Vertical Recoil Control +17% bonus will help you to better control your unpredictable weapon, but with a -10% Horizontal Recoil Control as an offset.
Barrel: 19.8" Task Force
(Picture: Activision) 
- It packs a fantastic 19% damage bonus, along with a +50% Effective Damage Range and Bullet Velocity.
- It will enable you to do some serious damage from a distance.
- Raw damage output comes at the cost of some serious Recoil Control debuffs.
Underbarrel: Field Agent Foregrip
(Picture: Activision) 
- You're losing a lot of control with the 19.8" Task Force, and that's something the Field Agent Foregrip will successfully balance out with its +10 Vertical Recoil Control and a hefty +40% bonus for Horizontal Recoil Control.
Magazine: 45 RND Drum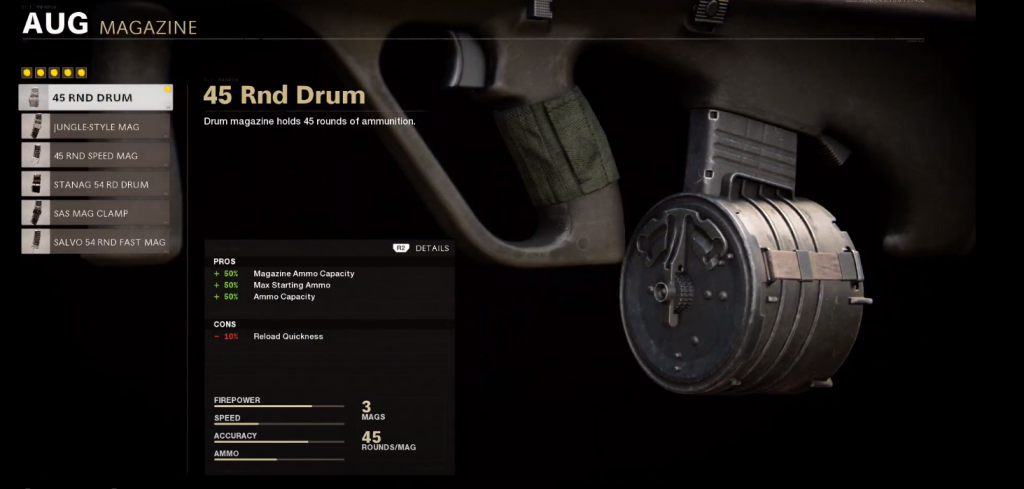 (Picture: Activision) 
- It equips your AUG with significantly more ammo, at a cost of +10% reload time.
Handle: Airborne Elastic Wrap
(Picture: Activision)
- It comes with +30% Aim Down Sight Time and an amazing 90% Flinch Resistance bonus, allowing you to basically perform drop shots on your enemies. 
 - The downside comes in the form of small mobility penalties, which you'll barely notice.
So there you have it, our AUG build.

It comes with a lot of power and potential to takeout your enemies from a relatively safe distance.
The only real downsides are your speed and shooting movement, but you will want to be more tactical with this loadout build and prepare your every move in advance in order not to get caught unprepared, and then things like shooting move speed and sprint to fire speed won't really matter.
Have fun playing Black Ops Cold War!