CWL Anaheim is right around the corner, and the world's best teams are set to battle it out for the claim of CWL Anaheim champions and their share of the $200,000 prize pool. Anaheim has historically been the place of some of the
greatest moments in CoD esports history
, and the crowd and players usually cite it as one of the best cities to play in. Here, we've compiled all you need to know about the CWL Anaheim Open.
The teams:
Going into the event, Rise look like the team to beat, as they have done the last few months. With four of the best players in the game on their side, opposing teams will certainly be looking at Rise Nation as the ones to beat. However, OpTic Gaming have also been looking incredibly capable of winning an event following last month's historical roster swaps, which saw both Karma and Formal leaving the team and new CoD players under the OpTic banner for the first time in three years. Red Reserve and Evil Geniuses will be looking to upset these teams and stake their claim as CWL Anaheim champions, but with Rise looking the way they are, we don't hold out much hope.
The format:
The 16 Pro League teams automatically qualify for Groups, whilst each group will also joined by one team from the Open bracket. The top two teams from each pool then head into the Winner's Bracket, whilst the bottom three find themselves in the Loser's Bracket. Below, you can see the groups and make your own predictions of how it will play out.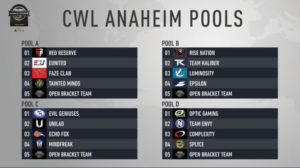 Fixtures
Friday, 15th June
10.00 PM BST
Evil Geniuses v Echo Fox eUnited v FaZe Clan UNILAD v Mindfreak Red Reserve v Tainted Minds 11.30 PM BST Rise Nation v Team Kaliber OpTic Gaming v Splyce EnVy v compLexity Luminosity v Epsilon 01.00 AM BST Red Reserve v eUnited UNILAD v Echo Fox Evil Geniuses v Mindfreak FaZe v Tainted Minds 02.30 AM BST Rise v Luminosity EnVy v Splyce OpTic v compLexity Team Kaliber v Epsilon 04.00 AM BST Red Reserve v FaZe Evil Geniuses v UNILAD Echo Fox v Mindfreak eUnited v Tainted Minds 05.30 AM BST OpTic v EnVy Team Kaliber v Luminosity compLexity v Splyce Rise v Epsilon