This weekend, nearly 200 of the world's best Call of Duty teams descend upon Anaheim, California to take part in the CWL Anaheim Open and earn their share of the $200,000 prize pool. The groups are made up of the 16 Pro League teams, seeded by their current placement in CWL Pro League Stage 2, and each group will be joined by one of the 160+ open bracket teams. From there, the top two teams in each group make the Winners Bracket, whilst the bottom three head to the Loser's bracket. Here, I've made my predictions of how the groups will look by the time matches are over. As we do not yet know the open bracket teams, these predictions will only be made based on the Pro League teams in the groups.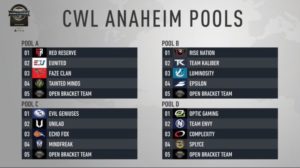 Group A
I predict:
eUnited
Red Reserve
FaZe Clan
Tainted Minds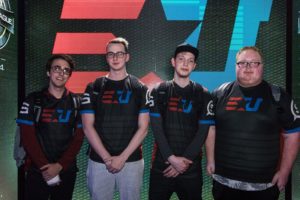 Red Reserve have looked almost flawless since picking up Matthew "Skrapz" Marshall. The SMG slayer has been one of the top players not just in Europe but worldwide in World War II, and has been added to a team that was already looking like potential title contenders. However, Red also haven't made it into an Upper Bracket yet this year, seemingly struggling in the group stages of tournaments. On the other hand, eUnited are historically quite strong in the group stage, so for that reason I see them going a flawless 3-0 and taking the top spot in Group A, with Red trailing them in second place, making Upper Bracket for the first time.. As for the Lower Bracket teams, FaZe Clan and Tainted Minds will be joined by the open bracket team. I see FaZe in third place, and would not be surprised to see the open bracket team come fourth ahead of Aussies Tainted Minds. All this considered, eUnited have been pretty inconsistent this year, so don't be shocked if they end up in third behind FaZe.
Group B
I predict:
Rise Nation
Luminosity Gaming
Team Kaliber
Epsilon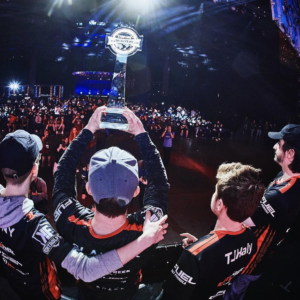 Rise Nation have been the best team in the game for a few months now, with four of the best players in the game on-side. Austin "Slasher" Liddicoat contends only with Sam "Octane" Larew" for the crown of best Assault Rifle player, whilst Peirce "Gunless" Hillman is not only the best flex player, but the best player across all roles, and the team gels incredibly well. For evidence, look no further than their easy 3-0 sweep over OpTic Gaming in the last week of the Pro League. On the other hand, both Team Kaliber and Luminosity have looked disappointing as of late; tK not living up to their abilities earlier in the game when they won themselves two Open events, and Luminosity looking significantly weaker since trading Octane to OpTic Gaming for Matthew "Formal" Piper. In my opinion, Luminosity have a much higher skill ceiling than tK, and for that reason I see them taking the second spot in Group B. Any team with Jordan "JKap" Kaplan on is guaranteed to do well, whilst Formal and John "John" Perez are both incredibly talented players, with John specifically having been praised tremendously for his performances throughout the WWII season. That leaves the perennial disappointments Epsilon Esports to finish fourth in their group. Much like Tainted Minds, it wouldn't be surprising if Epsilon actually came fifth, below the open bracket team.
Group C
I predict:
Evil Geniuses
Unilad
Echo Fox
Mindfreak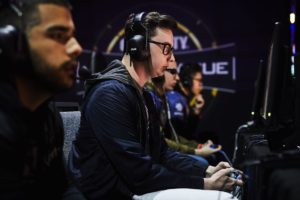 Opinions are very much up in the air with Evil Geniuses; some believe their Pro League performances are evidence of how good they are as a team, referring to them as title contenders, whilst some believe they are simply over-performing. The only team to beat Red Reserve in the opening two weeks of League play, I think Evil Geniuses are the real deal, and for that reason I see them topping their group in Anaheim. Don't forget that they came second at the recent CWL Seattle Open, so they've come incredibly close already. Unilad are a team that have turned heads since losing Skrapz, looking somehow better for the trade. Skrapz' twin brother, Bradley "Wuskin" Marshall currently has the highest K/D in the league and new pickup Zachary "Zed" Zedenyer is proving why he should have been in the Pro League all along. Expect the unexpected with this team. Whilst Echo Fox and Mindfreak have both shown at random points that they are capable of hanging with the best, it is inconsistent at best and they're unlikely to make much of an impression here in Anaheim.
Group D
I predict:
OpTic Gaming
EnVy
Splyce
compLexity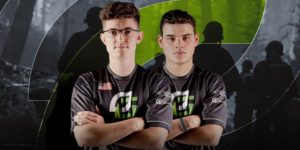 OpTic Gaming are an easy shoe-in for top of this group. It seems they're unlikely to face much competition from the other teams. Following the acquisition of Octane and Anthony "Methodz" Zinni, the team has looked relentless and completely different. With a bit more time together, this team may be unstoppable, and Anaheim will be their first test at an open event together. Picking second place, however, is much harder. Truthfully, any of the three other teams could take it. Because of that, I had to look at the individual players on the teams, and I think EnVy will end up in second. On this EnVy squad is a hard-carrying SMG in Cuyler "Huke" Garland, a very capable young gun in Jacob "Decemate" Cato, and Martin "Chino" Chino who has won two open events this year when with Team Kaliber. If these players can find their stride EnVy should easily get second place, but Splyce and compLexity are in very much similar situations, and all of these teams could comfortably finish either second or last.
Bracket play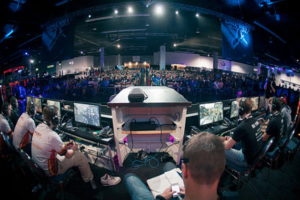 This would leave the Upper bracket looking as follows: eUnited v Unilad OpTic v Luminosity Evil Geniuses v Red Reserve Rise Nation v Team EnVy Those are some tasty matchups, especially OpTic v Luminosity where there is a whole host of storylines following them. To commit to this prediction piece I've listed below my top 8 for CWL Anaheim:
Rise Nation
Red Reserve
OpTic Gaming
Evil Geniuses
Unilad
eUnited
Team EnVy
Luminosity Gaming
Agree or disagree? Let us know what you think!