COD: Mobile players who love close-quarters combat will feel right at home with the latest Submachine Gun (SMG), which released with the COD: Mobile Season 3 Tokyo Escape Battle Pass. As with every new weapon entering the game, it's always a good idea to get started with the best loadout, and the PP19 Bizon is no different. In this guide, we will show you the best loadout for the PP19 Bizon for COD: Mobile Season 3, picking all the right attachments to get the job done.
COD Mobile Season 3: Best PP19 Bizon loadout
The PP19 Bizon can be unlocked at Tier 21 of the COD: Mobile Season 3 Battle Pass. You unlock this powerful new SMG via the free tiers, which means you don't have to open your wallet.
The PP19 Bizon is already becoming a popular gun, which some players are calling overpowered. It has a fast fire rate, great accuracy at close to medium distances, and can shred opponents in seconds. With the best PP19 Bizon loadout, picking the right attachments, you can bolster the gun's stats even further in COD: Mobile Season 3.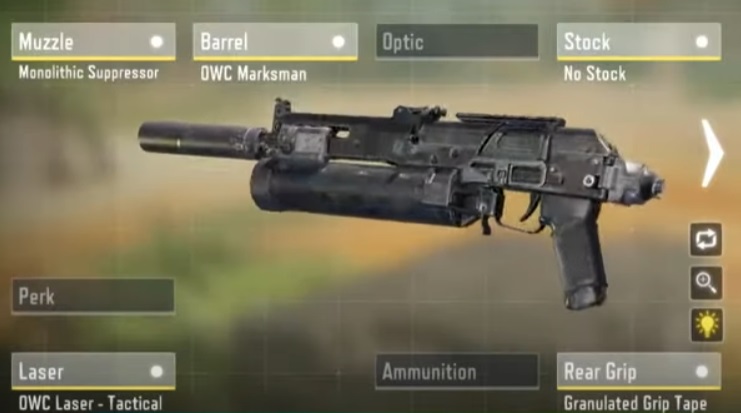 (Picture: MBJ Graphics)
The best PP19 Bizon loadout at the start of COD: Mobile Season 3 is:
Muzzle: Monolithic Suppressor
Barrel: OWC Marksman
Stock: No Stock
Laser: OWC Laser - Tactical
Rear Grip: Granulated Grip Tape
Since the PP19 Bizon already has a very fast time-to-kill rate, as well as high mobility, this best loadout for the new COD: Mobile SMG focuses on adding more range to the weapon, with fast ADS and good recoil control.
With all these attachments for the PP19 Bizon, the weapon's recoil will be easy to control and can kill opponents at 25-meter range with only four shots.
The original loadout was revealed by MBJ Graphics in the video below, showcasing the effectiveness.
So there you have it, the best loadout for the PP19 Bizon at the start of COD: Mobile Season 3.
As always, we suggest you experiment with the attachments so you can get the most out of the new SMG, picking the ones which fit your playstyle.