Call of Duty Mobile Season 2: Task Force 141 has hit the ground running and so have we because we've been winning a few Multiplayer matches on the newest map Hardhat while running and gunning with the JAK-12, the new kid on the shotgun block.
As we do it every season, we will go through the full roster of different classes in order to tell you which weapons are the ones you want to centre your loadouts around to give you the best chance at victory and, oh boy, does the JAK-12 has potential.
After Season 1: Heist where we welcomed two mid-to-range beasts like the Kilo 141 and the PPSh-41, we now are on a mission to tame a close-combat demon and we would like to share with you the best loadouts we found for the newest shotgun in COD Mobile.
Best JAK-12 loadout for COD Mobile Season 2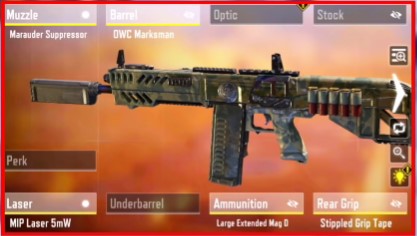 Muzzle: Marauder Suppressor
Barrel: DWC Marksman
Laser: MIP Laser 5mW
Rear Grip: Stippled Grip Tape
Ammunition: Large Extended Mag D
This build was shared by the YouTube content creator ParkerTheSlayer where we see the effectiveness of this loadout in real-time.
The Marauder Suppressor + Stippled Grip Tape helps us with recoil control while aiding our accuracy, nonetheless, this build is focused on skilful shooters as the MIP Laser 5mW can help so much with accuracy while carrying no Optic attachment.
The DWC Marksman Barrel boosts our damage output but we preferred to keep the mobility of having a medium-sized cartridge so we went on and equipped the Large Extended Mag D.
We understand that you may still want to hone your accuracy skill but don't you worry, we have another build that can cut you some slack in that department.
Alternative JAK-12 Shotgun build in COD Mobile Season 2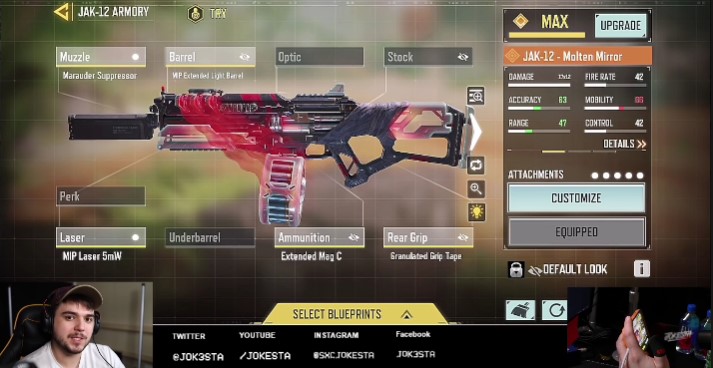 Muzzle: Marauder Suppressor
Barrel: MIP Extended Light Barrel
Laser: MIP Laser 5mW
Rear Grip: Granulated Grip Tape
Ammunition: Extended Mag C
Another big YouTube name, Jokesta, shared a different build based on the Legendary blueprint Molten Mirror that actually keeps a couple of attachments like the Marauder Suppressor and the MIP Laser 5mW from the previous build.
The key of this build is using the drum-like cartridge, Extended Mag C, that will allow us to have more opportunities to down opponents in case you miss a couple of shots.
The damage output is reinforced by the MIP Extended Light Barrel and the recoil is diminished by the Granulated Grip Tape that will allow us to use a run-and-gun playstyle which is particularly effective in flatter maps.
Regardless if you select one of these builds or you mix and create your own, we totally recommend you to check out the JAK-12 shotgun as it shows tremendous potential to become a meta weapon in the future.
Feature image courtesy of TiMi Studio Group