Big changes are coming to Call of Duty: Mobile, specifically the game's many weapons, with a patch, set to be implemented in time for Season 4, that will drastically alter the way many of them function.
The aim is to make each weapon class more distinct and for them to fulfill the roles in which they are designed. For instance, SMGs will be much improved in CQB and see an increase in mobility, while assault rifles will be more viable at range.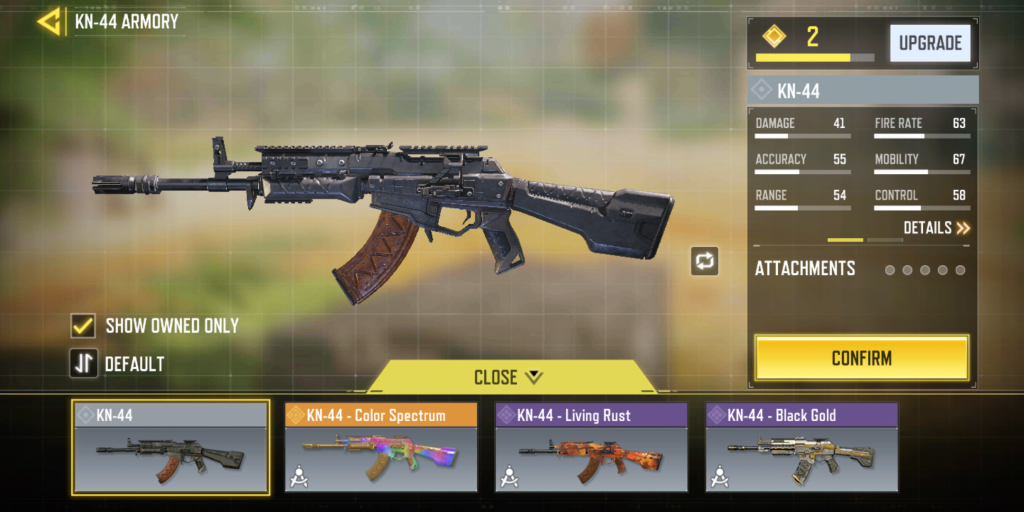 The KN-44 is just one of a huge number of weapons that will perform differently in COD:M Season 4. (Picture: Activision Blizzard)
The developers hope by changing individual weapons' core values they can align them closer to their intended role, this involves both buffing and nerfing aspects of almost every gun in the game, so your usual loadout could feel very different come Season 4.
Call of Duty: Mobile Season 4 is expected to begin on 27th May after Season 3: Tokyo Escape ends the day prior.
How each weapon class is expected to perform in COD: Mobile Season 4
This comes from the horse's mouth in a recent community update posted to the Call of Duty: Mobile subreddit.
SMGs – We aim to strengthen this type's close quarters' abilities through increased damage and mobility while optimizing bullet trajectory to ensure viability at other distances.

Assault Rifles – We aim to strengthen the range and accuracy of ARs to ensure they have a superior combat range of 15-30 meters. This is done through improved weapon type differentiation in relation to bullet trajectory, handling, and recoil.

LMGs – We aim to strengthen the accuracy and damage efficiency of LMGs to ensure that suppression is possible at 30 meters away while also strengthening their overall capabilities at different ranges.

Snipers – We aim to optimize the attributes of sniper attachments, provide more combinations of attachments, and weaken the advantages of snipers in close-range combat.

Marksman Rifles – We aim to make marksman rifles more nimble and agile by increasing movement speed via various attachments
Weapon balance changes in Season 4
Almost every weapon in the game is receiving both buffs and nerfs to its default values. The developers shared the changes of some of the game's most popular weapons.
Submachine Gun (SMG)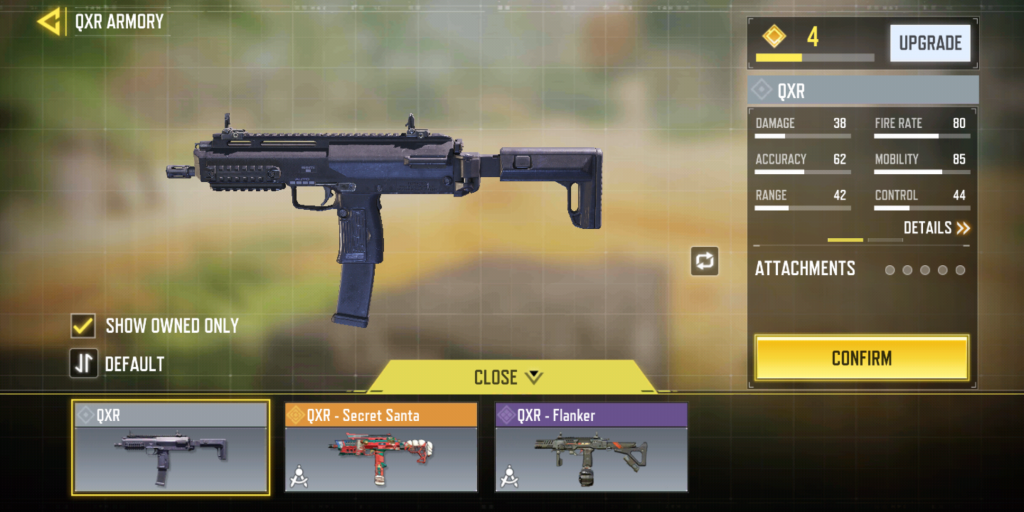 The QXR will be buffed in Season 4. (Picture: Activision Blizzard)
MSMC

Highest Damage - 0-8 meters range (increased range)
Second Highest - 8-14 meters range (increased range)
Third Highest - 14-19 meters range (increased range)
Lowest Damage - 19 meters range or further (increased range from 17m to 19m)
PDW-57

Highest Damage - 0-6 meters range (increased range)
Second Highest – 6-15 meters range (increased range)
Third Highest – 15-28 meters range (consolidated)
Lowest Damage - 28 meters range or further (same range)
HG 40

Old Stats

Highest Damage – 25 damage at 0-10 meters range

Second Highest – 23 damage at 10-24 meters range

Lowest Damage – 17 damage at 24 meters range or further

New Stats

Highest Damage – 26 damage at 0-10 meters range
Second Highest – 24 damage at 10-15 meters range
Third Highest – 20 damage at 15-25 meters range or further
Lowest Damage – 17 damage at 25 meters range or further



QXR

Highest Damage – 0-8 meters range (same as original)
Second Highest – 8-15 meters range (increased range)
Third Highest – 15-25 meters range (increased range)
Lowest Damage – 25 meters range or further (increased range from 17m to 25m)
Assault Rifles (AR)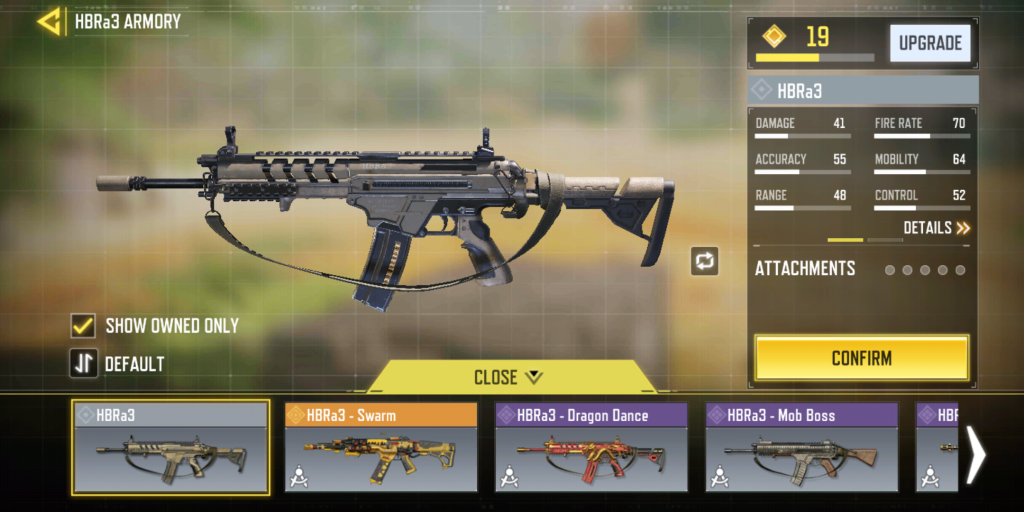 Changes to the HBRa3 in Season 4 will reduce the assault rifles effectiveness. (Picture: Activision Blizzard)
Type 25

Highest Damage – 0-10 meters range (increased range)
Second Highest – 10-17 meters range (increased range)
Third Highest – 17-25 meters range (decreased range)
Lowest Damage – 25 meters range or further (decreased range from 30m to 25m)
Increased the basic bullet spread (base weapon)
Light Barrel (short)

Increased bullet spread
Decreased ADS speed

Stopping Power Reload (mag)

Increased spread
Decreased the negative effects of reload speed
HBRa3

Highest Damage – 0-13 meters range (increased range)
Second Highest – 13-25 meters range (consolidated range)
Lowest Damage – 25 meters range or further (decreased range from 35m to 25m



BK57

Highest Damage – 0-18 meters range (increased range)
Second Highest – 18-30 meters range (both increased and decreased range)
Lowest Damage – 30 meters range or further (decreased range from 35m to 30m)
OWC Ranger – Decreased movement speed penalty (buff)
Elite Foregrip

Decreased movement speed penalty (buff)
Helps push the weapon from close range to medium range

ADS Speed Improved
Optimized horizontal recoil, which increases bullet spread

KN-44

Highest Damage – 0-20 meters range (same range)
Second Highest – 20-33 meters range (decreased range)
Lowest Damage – 33 meters range or further (decreased range from 40m to 30m)
Strike Stock – ADS Movement Speed penalty increased (nerf)
OWC Marksman

ADS Movement speed penalty decreased (buff)
Movement speed penalty decreased (buff)

Reload Speed slightly increased
Increased the damage magnification above the waist of enemies
Optimized horizontal recoil, which results in a slight bullet spread increase

Man-O-War

Damage increased at the closest range (stronger in close combat)
ADS speed increased (nerf - takes longer to ADS)
Accuracy enhanced
Light-machine gun (LMG)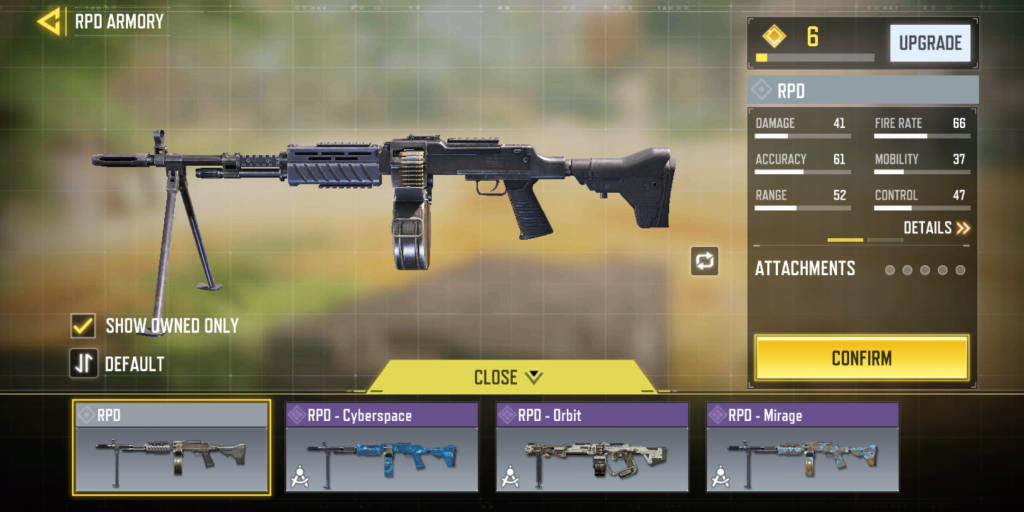 LMGs, like the RPD, will perform differently in Season 4. (Picture: Activision Blizzard)
RPD

Old Stats

Highest Damage – 26 damage at 0-10 meters range
Second Highest – 21 damage at 10-45 meters range
Lowest Damage – 20 damage at 45 meters range or further

New Stats

Highest Damage – 31 damage at 0-20 meters range
Second Highest – 23 damage at 20-55 meters range
Lowest Damage – 18 damage at 55 meters range or further



M4LMG

Old Stats

Highest Damage – 31 damage at 0-10 meters range
Second Highest – 24 damage at 10-30 meters range
Third Highest – 22 damage at 30-50 meters range
Lowest Damage – 21 damage at 50 meters range or further

New Stats

Highest Damage – 32 damage at 0-20 meters range
Second Highest – 23 damage at 20-55 meters range
Lowest Damage – 19 damage at 50 meters range or further
More about the CoD Mobile Season 4: