While there's still no official word on the leaked EMP scorestreak, Activision has shared a tonne of exciting information with COD: Mobile fans, including a playlist update, details on the Knights Divided event, challenges and rewards you will be able to acquire. Here's everything you need to know about the upcoming COD: Mobile content. 
COD: Mobile playlist update
COD: Mobile Season 12 is far from over, and there's a whole lot of modes for players to look forward to, from the Hackney Yard Night Mode, to the first-of-its-kind Knights Divided event and more. 
First up, take a look at the COD: Mobile playlist update shared by Activision in a Community Update post on Reddit, and mark your calendars for all the action coming your way.
11/11 to 11/22 - Going Dark TDM
11/11 to 11/22 - Hardcore Collection
11/18 to 11/24 ~ Secondary School Playlist
11/18 - Two New Seasonal Challenges
11/20 to 11/26 - Fight Against the Clock Playlist
11/20 to 12/04 - Knights Divided Featured Event
11/23 to 12/01 - 10v10 Collection 
11/25 - 12/03 - Hackney Yard 24/7
Please note: All dates above are in UTC time. Coming up next is Attack of the Undead and a Seasonal Challenge, where players will be able to grab the .50 GS hand cannon, also known as the Desert Eagle.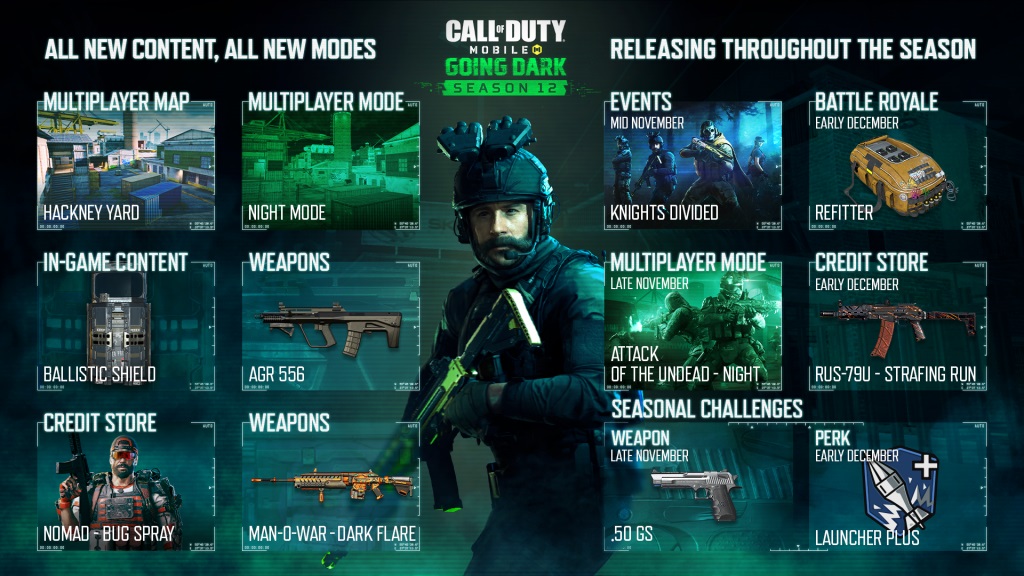 (Picture: Activision)
Activision will share more details in the coming weeks. However, there's already the big Knights Divided event to play right now.
Launching alongside Hackney Yard 24/7 on 25th November is the Hack The Yard event, which will allow you to earn rewards such as the Type 25 - Dark Light and a few others not yet confirmed by the developer.
Knights Divided details
Knights Divided is a featured event for COD Mobile Season 12, and will see players choose a side between Red and Blue. Players will choose a side and go on a race to "conquer new territory", earning rewards in the process. 
Activision explains: "If you've been reading the comics (found in the Battle Pass section of the game) you'll know that Ghost, Captain Price, and the rest of the crew are getting ready to face off against Mace and the Knights. Knights Divided asks you to pick a side in that upcoming battle, fight for territories, and push your faction to victory."
Check out some key details for the COD: Mobile Knights Divided event below:
Every 24 hours a new territory will be surface, with only 1 territory open at a time.
Each territory will have a task associated with it. Take on the task to earn points for your faction.
The faction with the most points when a territory closes will claim that territory.
Each player and faction will receive various rewards through leaderboards, milestones, and of course through which-ever faction wins it all.
Activision revealed the Knights Divided event for COD: Mobile will last 15 days, ending on 4th December 2020.
You will be able to earn some great rewards in the Knights Divided event, including:
Razorback - Ruby or Sapphire,
Lotus - Schism 
Elite PMC - Ultramarine or Red Curtain.
Further, Activision promises dozens of other rewards from charms to frames, calling cards and weapons. 
COD: Mobile Seasonal Challenges & Rewards
There are two new Season Challenges now live for COD: Mobile, with some great rewards to unlock. 
Read more: New COD Mobile scorestreak EMP Systems leaked
Check out details on both Seasonal Challenges as per Activision's COD: Mobile playlist update on 19th November. 
Total Savage
This six-part seasonal challenge is for those who excel at Multiplayer! Do you regularly get medals like or Berserker, Merciless, Ruthless, Relentless, Brutal? Then this challenge will be a walk in the park for you, but for everyone else this challenge requires some luck, skill, and serious survival abilities.
If you aren't familiar, those are all medals that are kill X number of enemies without dying. Best of luck holding down an area and reaping in those kills without going down (Scavenger perk recommended).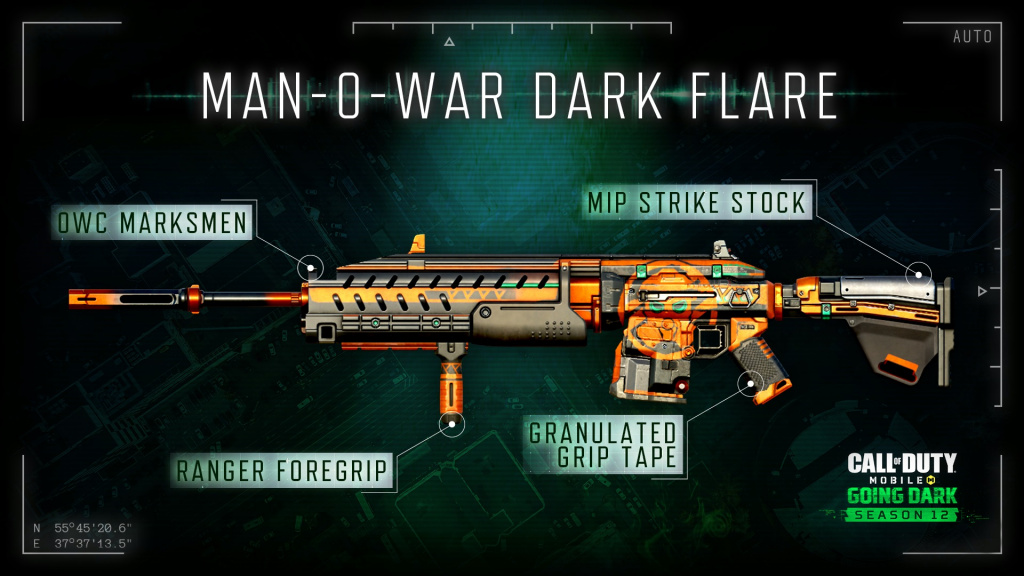 (Picture: Activision)
Here are some of the main rewards you can snag in this challenge:
(Uncommon) KN-44 - Alarm
(Rare) RUS-79U – Bronze Arrow
(Rare) Calling Card – Gun Rattler
Over 10,000 Battle Pass XP
Prime Loadout
This eight-part seasonal challenge wants you to jump into Battle Royale and complete a wide variety of different tasks. Some tasks ask you to take out enemies with specific types of weapons or even just rarities, while others ask you to get kills using Nomad – Bug Spray (currently available in the Credit Store).
For all of these tasks you have a few rewards available to snag:
(Uncommon) Ninja – Alarm
(Uncommon) PDW-57 - Alarm
(Rare) Helicopter – Bronze Arrow
(Rare) Javier Salazar – Bronze Arrow
A significant amount of Weapon XP and BP XP
Apart from all the new content which we can look forward to playing, Activision also noted they are taking community feedback into account. The developer is looking into some reported bugs and potential fixes.