The info dump doesn't stop for Bungie, as the hype machine is at full gear with the impending release of The Witch Queen Destiny 2 expansion on 22nd February.
On the latest This Week at Bungie, the developers not only detailed everything fans can expect of the forthcoming weapon crafting system but also unveiled a brand new way for players to earn more powerful weapons moving forward -- Origin Traits.
These are unique perks that will be tied to activity completions, something we've never seen implemented on Destiny before. Let's break it all down. 
What are Origin Traits in Destiny 2?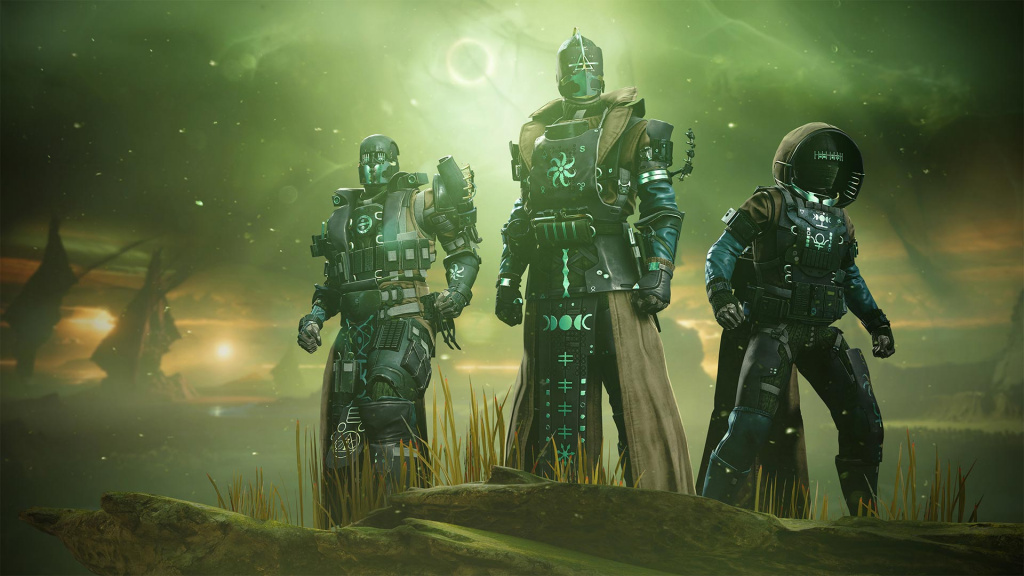 First off, as we mentioned, the Origin Traits are activity or foundry specific perks found in weapons. Instead of replacing any of the perks a gun can have in its first two columns, a third one will be added.
For activities, this means guns that drop from Gambit, Vanguard (Strikes and Battlegrounds), and Crucible will have specific traits. Furthermore, Nightfall, Iron Banner, and Trials of Osiris will boast unique traits too.
With the release of The Witch Queen, the world loot pool will be refreshed, with guns from four different vendors, or foundries, these are:
If you acquire a weapon from a Legendary Engram drop not tied to any of the activities mentioned above, it'll come with a Foundry Trait. 
It's worth mentioning that even if you get a weapon from playing an activity, there's a slight chance it can come with two selectable traits. An example is if you get an Omolon weapon from Gambit, it might come with both the activity and the foundry trait.
Finally, the pursuit weapon, which is the one players can get by levelling their ranks with Zavala (Vanguard), The Drifter (Gambit), and Shaxx (Crucible) will come with the three activity traits, as it can be acquired via all of them.
How to get Origin Traits
Well, as we stated, you don't have to do anything in particular to get weapons dropping with Origin Traits. Simply play the game and you'll start seeing guns with three columns instead of two.
Of course, the traits you have are dependent on the activities you like to play. This leads us to the next topic.
How many Origin Traits are there?
According to Bungie, The Witch Queen and Season 16 will ship with 14 initial traits. For upcoming seasons, they are targetting delivering three new traits, spread out across different activities such as raids, dungeons, or seasonal events.
What do Origin Traits do
We don't know the full details of all 14, but Bungie did share some information regarding at least half of them. Check them out down below.
Trials of Osiris: Alacrity: Gain increased reload, stability, aim assist, and range when you are the last living member of your fireteam or running solo. 
+20 reload, +20 stability, +10 aim assist, +10 range. 
"Solo" includes solo Lost Sectors and Rumble, for example. 
Nightfall Strikes: Stunning Recovery: Stunning a Champion partially refills your magazine, triggers health regeneration, and improves recovery for a short duration.  
Grants 60 health instantly, and +40 recovery for 3s. 
Crucible: One Quiet Moment: Grants increased reload speed when out of combat. 
+40 reload stat when out of combat (haven't dealt or received damage in 4s). 
Strikes: Vanguard's Vindication: Final blows with this weapon grant a small amount of health.  
Suros: Suros Synergy: Reloading grants this weapon bonus handling and reduces incoming flinch for a short time. 
+40 handling, 20% flinch resistance for 6s after reloading. 
Häkke: Häkke Breach Armaments: This weapon deals increased damage against vehicles, turrets, barricades, and Stasis crystals. 
"Turrets" includes Stasis Turrets. +15% to vehicles, +30% to structures and turrets. 
Omolon: Omolon Fluid Dynamics: This weapon has increased reload speed and stability for the top half of the magazine. 
Stability: max +20, reload: max +30, reduces as the magazine gets lower. 
Veist: Veist Stinger: Chance on damage to partially refill this weapon's magazine. 
As soon as we get details on all Origin Traits, we'll be sure to update.
Featured image courtesy of Bungie.
---
For more Destiny 2 news, be sure to check out our dedicated section or take a look at some of our Guides & Tutorials just below:
Weekly Updates - Destiny 2 Weekly Reset | Destiny 2 Weekly Challenges | Destiny 2 Xur Location This Week | Destiny 2 Trials of Osiris Map & Rewards This Week | Destiny 2 Lost Sector Rotation |
Upcoming Updates - Destiny 2 Season 19 Release Date | Destiny 2 The Dawning Event 2022| Destiny 2 Lightfall Release Date | Everything We Know About 'Destiny 2 The Final Shape'
Exotics, Catalyst & God Rolls - Alter of Reflection Catalyst Quest | Austringer God Roll | Calus Midi Tool God Roll | Dead Man's Tale God Roll | Fixed Odds God Roll | Hawkmoon God Roll | How To Get Come To Pass | How To Get Dawn Chorus | How To Get Omnioculus | How To Get Star-Eater Scales | Mechabre God Roll | Osteo Striga Catalyst | Riptide God Roll | Queens and Worms Quest
Game Guides - Destiny 2 Redeem Codes | How To Unlock All Subclasses | Memories of Ruin Puzzle Solution| Strikes Guide | Where To Farm Cabal | Where To Farm Fallen | Where To Farm Hive | Where To Farm Scorn | Where To Farm Vex | How To Get 100k Nightfall Score | 
Raid Guides - Master King's Fall Totem Challenge Explained |