Valve recently released a major update with a shiny new seasonal Battle Pass, entitled, Aghanim's Labyrinth: The Continuum Conundrum." So naturally, the Battle Pass is feature-rich, boasting heaps of new content, including the return of Cavern Crawl, Weekly Quests, the Aghanim's Labyrinth event game, and all-new coveted treasures rewards.
The present Dota 2 Battle Pass is undoubtedly worth raving over as Valve recently introduced a brand-new Arcana Bundle for Drow Ranger and a new Dragon's Blood-inspired Persona for Mirana.
In this article, we'll detail everything you need to know about Aghanim's Labyrinth Event Game, Weekly Quests and all available cosmetic rewards, such as the Immortal Treasures, Ageless Heirlooms and Aghanim's Continuum Collection.
Dota 2 Aghanim's Labyrinth Event Game
The latest Dota 2 Battle Pass update returns with another instalment of the Aghanim's Labyrinth custom game mode. All Dota 2 players can play the event game; however, Battle Pass owners can unlock an exclusive roster of legacy heroes by levelling up their Battle Pass.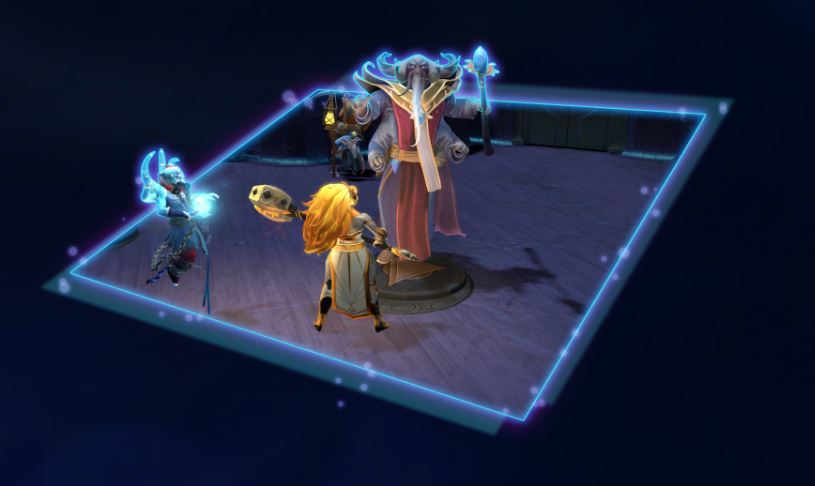 According to the Dota 2 blog post, "Aghanim's attempt to use the Continuum Device has made a mash of the multiverse, and his famed powers are now diluted amongst a gang of alter-Aghanims lost inside the Continuum Vault."
Followingly, teams of four players will be tasked with exploring The Continuum Vault and "confront a source of ageless, primal evil" in search of the "lesser Aghanims." Also, the event game includes brand-new Event Rooms with loads of "tantalizing and strange choices."
Players that battle through the Vault in search of Aghanim's lost alter egos can also find Arcane Fragments that they can use to gain special powers, blessings or unlock legacy heroes to join the fight.
Dota 2 pro players Jerax, Arteezy, Abed and Cr1t already bested Aghanim's Labyrinth on their first attempt. You can watch their game in the video embedded below.
Dota 2 Aghanim's Labyrinth Battle Pass Weekly Quests
Battle Pass owners can earn Battle Points by playing Dota 2 and completing various Weekly Quests, which operate similarly to previous Battle Passes.
"As you claim stars for your tasks, you'll earn allotments of that week's available total." Once 18 stars for a week are reached, players can haul in four Aghanim's Helping Hand rewards."
Dota 2 Aghanim's Labyrinth Battle Pass Rewards
Of course, levelling up the Dota 2 Battle Pass will unlock rewards, including Immortal Treasures, Battle Pass treasures, hero taunts, sprays, and in-game effects.
New Aghanim's Immortal Treasures 
The Aghanim's Labyrinth Continuum Conundrum Battle Pass boasts 11 new Immortal Treasures. These include single-item cosmetics for the following heroes, Lone Druid, Huskar, Zeus, Underlord, Venomancer, and Naga Siren.

There is also a Rare Immortal item for Omniknight, a Very Rare item for Zeus and Huskar, and Ultra Rare for Doom. Battle Pass owners that are lucky can also unlock a Cosmically Rare digital Aegis of Champions replica, which can be equipped on any hero.
New Aghanim's Ageless Heirlooms
Ten new sets are reminiscent of previous events like the fan-favourite Diretide and Wrath of the Mo'Rokai in the Aghanim's Ageless Heirloom Chest collection.

The collection includes complete, common rarity sets for Anti-Mage, Abaddon, Mirana, Pugna, Sniper, Templar Assassin, Windranger and a Rare set for Sand King, Very Rare for clockwork, and Ultra Rare for Shadow Fiend.
New Aghanim's Continuum Collection
The Continuum Collection contains common rarity sets for Drow Ranger, Axe, Ogre Magi, Nyx Assassin, Puck, and Tusk. In addition, players can also unlock a Rare set for Disruptor and an Ultra Rare for Witch Doctor.

If they are lucky, players can also unlock the Cosmically Rare digital Aegis of Champions replica.
New Drow Ranger Arcana and Mirana Persona
There is also an all-new Drow Ranger Arcana Bundle, entitled "Dread Retribution," which can be unlocked at Battle Pass Level 333. The Arcana Bundle also comes with a second alternative style, "Master of Madness."
In addition, there is also a new "Mirana of Nightsilver" persona style modelled after the  Dota: Dragon's Blood anime series, which can be unlocked at Battle Pass Level 135.
At Level 235, there is another unlockable bundle called "Mirana's Dark Moon Armor."
Hoodwink Tomo'kan Incarnate Prestige Bundle
Battle Pass owners can also unlock a new prestige bundle for Hoodwink at Battle Pass Level 277 called "Tomo'kan Incarnate." The bundle is the first Hoodwink skin in Dota 2 and features an alternative Japanese style to the default skin with ambient effects.
The official blog post reads, "Displeased with the disruptions of the natural course and rampant ill effect on the mistwoods, a primaeval nature deity found the perfect vessel to empower to unleash an unstoppable force of renewal upon the land."
And then lastly, there is also Cavern Crawl sets for Treant Protector, Faceless Void and Bounty Hunter.
And that's it! You can learn more about the Battle Pass and the Aghanim's Labyrinth: Continuum Conundrum update here. 
Don't forget to check out our dedicated Dota 2 section featuring news, updates, esports coverage, and more.
All featured images and videos courtesy of Valve.