The latest Dota 2 Battle Pass is finally here and returns with another seasonal event, called "
Aghanim's Labyrinth
: The Continuum Conundrum." Indeed, many Dota 2 players will be familiar with Aghanim The Mighty, who debuted in the first "Aghanim's Labyrinth" custom event about a year ago.
Beyond this, the new Dota 2 Battle Pass boasts heaps of features, including Cavern Crawl, new weekly quests, and new assistant recommendations. There are also all-new coveted rewards, such as a new Dragon's Blood Mirana Persona and fate-altering Drow Ranger Arcana skin.
How to get the Drow Ranger Dread Retribution Arcana
The Drow Ranger "Dread Retribution Arcana"  can be unlocked by levelling up the Dota 2 Aghanim's Labyrinth Battle Pass to Level 333.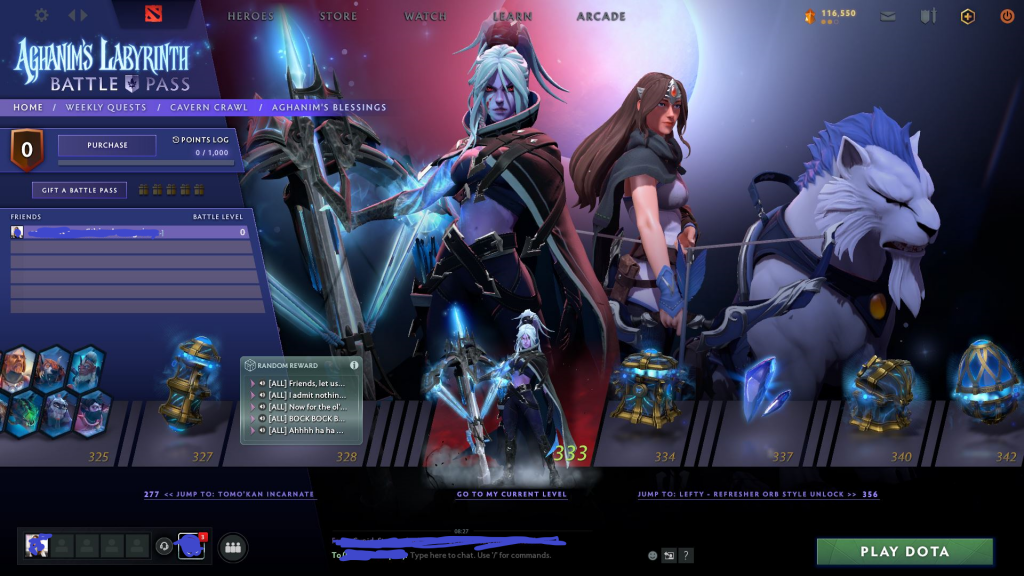 The Arcana Bundle for Drow Ranger includes several changes outlined below.
New character model and pedestal
Similarly to all previous Arcana Bundles, the Drow Ranger Dread Retribution Arcana style features a complete character remodelling that follows the "dark transformation of her mind." It also perfectly fits the new "blood trail Traxex stalks."
New custom animations and effects
The Dread Retribution Arcana includes a complete set of animations and ambient effects, including new effects for all of Drow Ranger's abilities, such as Frost Arrow, Gust, Multishot, and Marksmanship.
New custom hero assets
The Arcana also includes brand-new Revenge indicators, a custom channelling bar for Multishot, Hero Portrait, Ability Icons, a minimap icon, and new item icons for Hurricane Pike, Satanic, and Daedalus for the Drow Ranger Arcana skin.

The Dread Retribution Arcana also comes with a new custom kill effect for Drow's victims, a new deny effect, and unique effects for Forcestaff and Lifesteal.
Over 800 new voice lines
The Arcana Bundle for Drow Ranger includes over 800 entirely new voice lines by the original actor, including unique responses for victims of her revenge.
Unlockable "Master of Madness" style
Arcana owners can unlock a second alternative style, called "Master of Madness," after earning 100 Arcana Progress Points. Players can earn points by killing Revenge Targets in Dota 2 matches.
When Drow Ranger is killed, her slayer will be marked as her Revenge Target. Killing the Revenge Target and then winning the match will award one point, and a Flawless Victories (wins with zero deaths) awards three points.
How to get the Mirana of Nightsilver Persona
In addition to the Drow Ranger Arcana, Battle Pass owners can also unlock a new persona for Mirana, called "Mirana of Nightsilver," by levelling up the Battle Pass to Level 135. At Level 235, there is another unlockable bundle, called "Mirana's Dark Moon Armor."
This persona is based on the Dota 2 Netflix Original Series, Dota: Dragon's Blood, and complements the recently added Marci Dota 2 hero and Dragon Knight Davion of Dragon Hold persona.
How much does the Dota 2 Battle Pass cost?
In addition to the bundles mentioned above, upgrading the Dota 2 Battle Pass will also earn players additional Immortal Treasures, a Hoodwink Prestige Bundle, Battle Pass treasures, hero taunts, and more.
We've outlined the cost of the Battle Pass below.
Level 1 Bundle - USD 7.49
Level 50 Bundle - USD 26.99
Level 100 Bundle - USD 41.99
Purchasing the Level 50 or Level 100 Bundles will save you 4% or 19% on the levels bought, respectively. Therefore, the Drow Ranger Arcana Bundle will cost roughly USD 160, and the Mirana Persona will cost about USD 50.
You can learn more about the Battle Pass and the Aghanim's Labyrinth: Continuum Conundrum event here.
Don't forget to check out our dedicated Dota 2 section featuring news, updates, esports coverage, and more.
All featured images and videos courtesy of Valve.