Sparking Arrow Gaming set a new professional record in the Upper Division of the China Dota Pro Circuit. Already down one game in a very lopsided matchup, SAG chose to catch Team Aster off guard by taking their safelane Tower before the creep waves even met.
Treants from Nature's Prophet are used to tank the Tower while Abbadon applies Curse of Avernus to boost everyone's attack speed. Lil' Shredder from Snapfire lowers the Tower's armour while Luna's Lunar Blessing aura increases the whole team's physical damage. That combo gives just enough damage to take out a Tower before the game even begins.
The strategy debuted last week in the $35 North America Amateur Dota 2 League. AD2L is a very far cry from the Dota Pro Circuit; the two teams were fighting for shares of the $205,000 prize pool. Despite taking a very early Tower, SAG's highly specialized draft was forced to forfeit at 13 minutes.
Sparking Arrow Gaming are the least experienced team in the CN Upper Division, and their opponents Team Aster were the runners-up of last season. SAG earned their spot through Winter's Lower Division, so a victory was very unlikely. Sparking Arrow chose history over victory.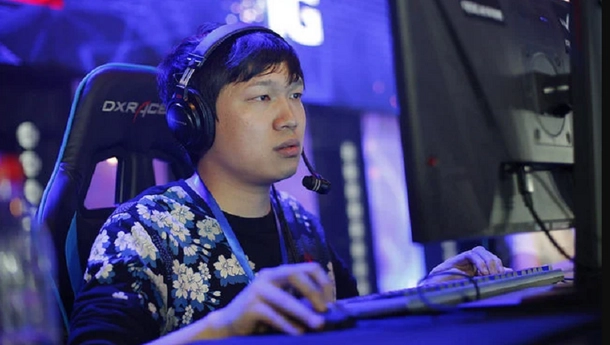 SAG captain Xiao "XCJ" Chaojian drafted a four Hero combo to guarantee the early push. (Picture: Chinese Dota Association)
Aster participated in The Singapore Major last month but dropped out at 9th place. Unfortunately, their superstar soft support Ye "Borax" Zhibiao was arrested for soliciting a prostitute just days before the Major. He's rejoined the squad since and has greatly contributed to their regional dominance.
Team Aster currently leads the China DPC with a perfect 4-0 match record. SAG mirrors their performance at 0-4.