Legendary
Dota 2
organization Alliance recently came under fire with
allegations of cheating
for using a coach,  Peter "PPD" Dager, during
DreamLeague Season 15
, aka Season 2 of DPC's Western Europe Upper Division. This essentially makes Dota 2 a six-man game as the coach can watch the mini-map, make informed calls, and give teams an advantage. Using a coach during a match (after drafting) is not something developer Valve wants, and multiple pro teams have voiced their concerns. Now, both DreamHack and ESL has come out to make a statement on the Dota 2 coaching rules.
Dota 2 coaching rules reverted by ESL and DH
It turns out the ESL One Eastern Europe Season 2 was also using the same, updated rules. DreamHack communicated this massive, gaming-changing rule change via one paragraph in an email...
Following a whole lot of backlash from pro Dota 2 players and teams regarding this coaching rule change, both ESL and DreamHack have no reverted back the rule.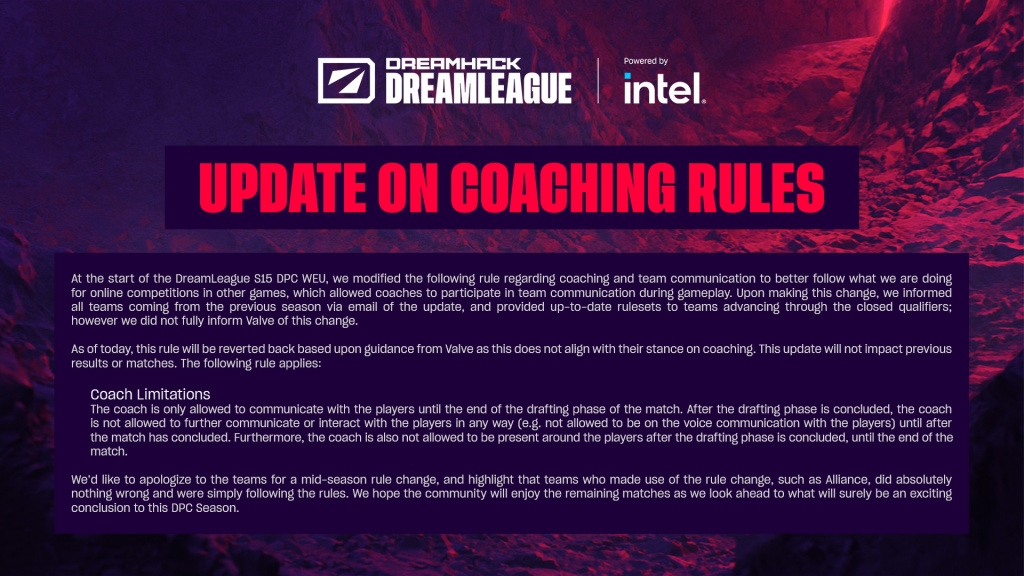 (Picture: DreamHack)
Starting with DreamHack's response, the tournament organizer noted how Alliance did nothing wrong, as they were simply following the updated Dota 2 coaching rules.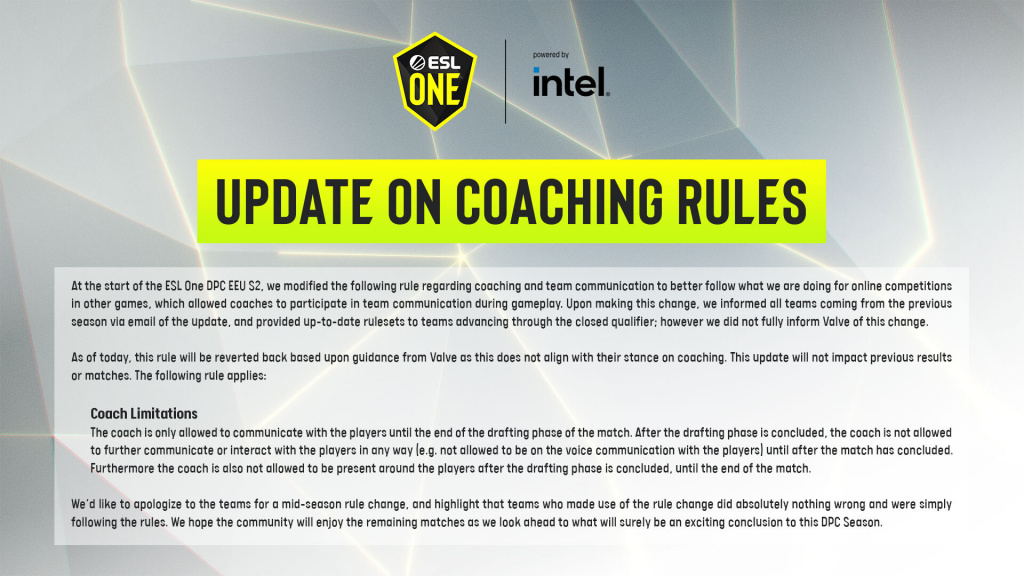 (Picture: ESL)
As you can see above, ESL made largely the same statement, and also reverted back the Dota 2 coaching rules.
Both tournament organizers reverted back these rules following guidance from Valve, as the rule change didn't align with Valve's stance on coaching in Dota 2.
So what exactly is the Dota 2 coaching rule right now, since there has been a lot of confusions? The paragraph below explains what pro Dota 2 team coaches are allowed to do:
"The coach is only allowed to communicate with the players until the end of the drafting phase of the match. After the drafting phase is concluded, the coach is not allowed to further communicate or interact with the players in any way until after the match has concluded. Furthermore, the coach is not allowed to be present around the players after the drafting phase has concluded, until the end of the match."
Basically, it is the same as it has always been. However, one has to think about the impact the controversial coaching rule change by DreamHack and ESL had on the DPC Season 2. 
Team Secret's Matthew Bailey shared his opinion on Twitter.
Previous match results will not be affected by this change. There are roughly two weeks of matches to go for both DreamLeague Season 15 and ESL One Season 2.
For more on Dota 2, check out our dedicated section filled with news and much more.