See the image from Valve above? There are only five Meepos, just as a
Dota 2
team should only have five players. That's the premise of the cheating allegations against famous esports organization Alliance during
DreamLeague Season 15
, aka Season 2 of DPC's European Upper Division. The Dota 2 esports world is buzzing right now, questioning if what Alliance did should be considered cheating.
Update: DreamHack has come out to say Alliance did nothing wrong, and following guidance from Valve, the Dota 2 coaching rule has been reverted back.
Original story below.
Did Alliance cheat in the DPC?
This question isn't as easy as it seems. First and foremost, Alliance didn't cheat in the traditional sense of the word, for example using hacks or watching streams from another team's perspective.
Instead, behind the Alliance squad sat Peter "PPD" Dager, who called out instructions to the team during their match against BRAME in DreamLeague Season 15. This Reddit thread details the incident.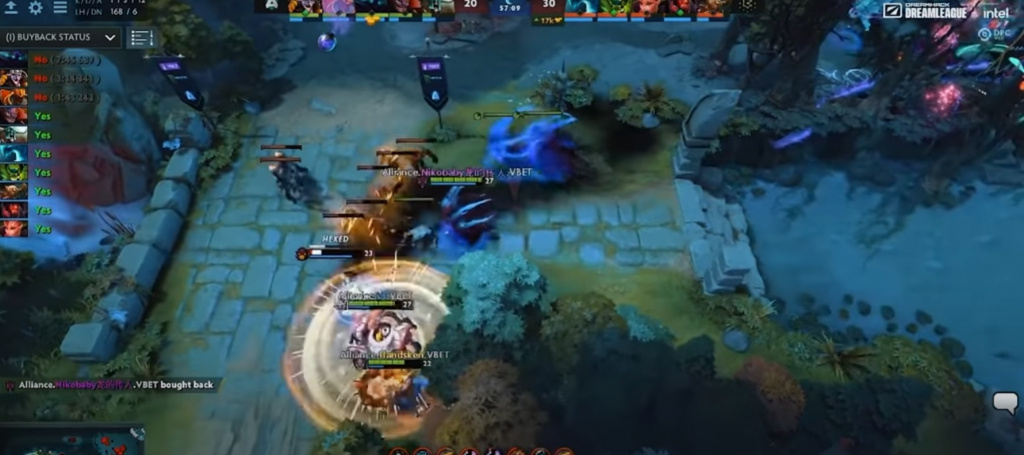 (Picture: Alliance)
In the video below, you can hear PPD's callout, with a player reacting. So what's wrong with that? Well, coaches are not allowed in Dota 2 esports matches after the drafting phase, or so we all thought.
This essentially makes Dota 2 a six-man game as the coach can watch the mini-map, make informed calls, and give teams an advantage.
However, to answer the question "did Alliance cheat?" we need to know the full story, which entails a change in rules from organizer DreamHack.
According to multiple pro players, this big coaching change wasn't in the official DreamLeague Season 15 rulebook. However, it was apparently communicated via one paragraph in an email.
OG's JMR Luna explained the situation on Twitter and noted how the coaching discussion has been ongoing for quite some time.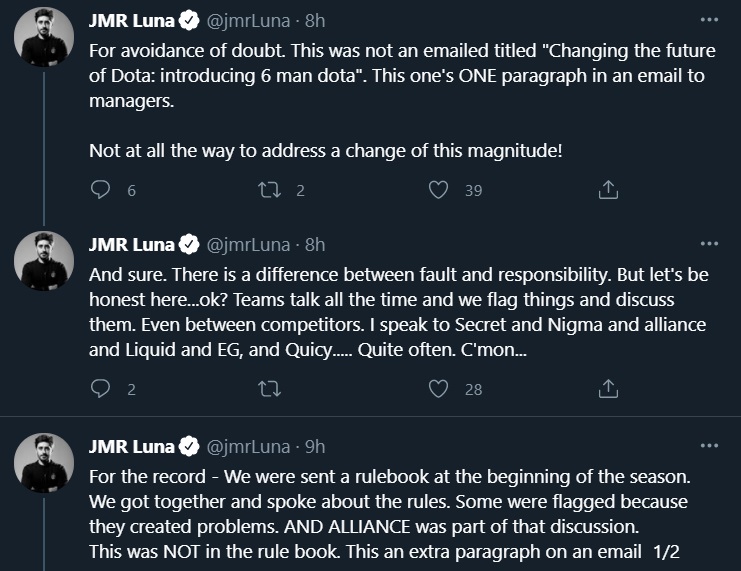 (Picture: JMR Luna via Twitter)
In short, Alliance didn't cheat and followed the updated rules. However, many fans and players are not happy, since other teams in the DreamLeague Season 15 DPC event didn't use a coach in such a manner, giving Alliance an advantage.
In a lengthy TwitLonger post, OG's Ceb came out to discuss the topic of coaching in Dota 2 esports and gave his two cents about the Alliance ordeal.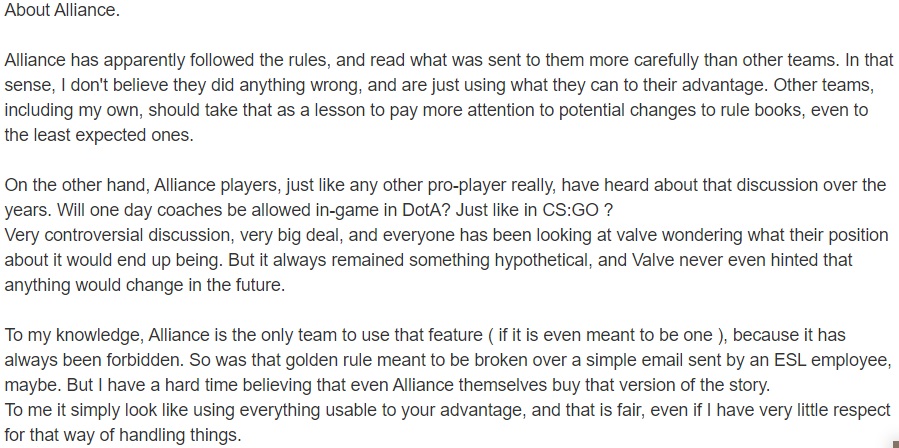 (Picture: TwitLonger via Ceb)
It's a good read, where Ceb discusses just how much impact having a coach during a game can have, so we urge Dota 2 fans to read the full post.
Alliance is currently sitting at the top of the DreamLeague Season 15 leaderboard, and have secured themselves a spot at the next Dota 2 Major leading into The International 10.
The takeaway here is that Alliance technically didn't cheat but did have an advantage over other Dota 2 pro teams due to a change in rules most teams were seemingly unaware of.
This is a developing story. Alliance has not made an official statement at the time of writing.
For more on Dota 2, check out our dedicated section filled with news and much more.