Both the
ESL One Los Angeles
and Birmingham tournaments had to be
moved entirely online
in March due to the COVID-19 pandemic. Since then, we've seen some incredible Dota 2 esports from ESL One Los Angeles, and now, it is time for ESL One Birmingham.
Here's everything you need to know about ESL One Birmingham Online, including the schedule, format, prize pool, teams and how-to-watch, so you don't miss a second of the Dota 2 esports action.
About ESL Birmingham Online
The ESL Birmingham Online tournament is split into four regional leagues, each with their own prize pool, depending on how big each league is.
The Europe/CIS league is by far the biggest, featuring a total of 16 teams, including the likes of two-time TI winning champions, OG, as well as top contenders such as Team Secret, Nigma, and more.
The ESL One Birmingham online regional leagues give Dota 2 fans a chance to watch top teams compete, despite the COVID-19 pandemic.
With the change to online regional leagues, the ESL One Birmingham Online doesn't form part of the Dota Pro Circuit (DPC) events, as Valve is still figuring out how to handle the DPC, and even delayed The International 2020. 
Team Nigma fans might have gotten a bit worried their team wouldn't get an invite to ESL One Birmingham Online. However, on 18th May, Nigma announced they would be the final invited team.
Teams
Each of the ESL One Birmingham Online regional leagues features most of the top teams from the region. However, not all leagues have the same number of teams participating:
Europe/CIS - 16 teams
China - 8 teams
North/South America - 6 teams
Southeast Asia - 6 teams
With the recently completed regional qualifiers, we now know the rest of the teams competing at ESL One Birmingham Online.
Europe/CIS qualifiers:
Aggressive Mode
Team Unique
North/South America qualifiers:
China qualifiers:
SEA qualifiers:
All the regions are stacked with some of the best teams out there, which means we are definitely in for some fantastic Dota 2 esports, especially with a nice prize pool up for grabs in each region.
Prize pool
With four regional leagues in ESL One Birmingham online, and different sizes for the leagues, there are also different prize pools, with the European/CIS having by far the biggest of the lot.
Europe/CIS - $200,000
China - $55,000
North/South America - $40,000
Southeast Asia - $40,000
A total of $335,000 is up for grabs in ESL One Birmingham 2020.
Format
Despite there being different numbers of teams in the regional tournament, ESL One Birmingham Online follows the same format across regions. 
There will be a group stage, with a round-robin format, and all matches are best-of-three.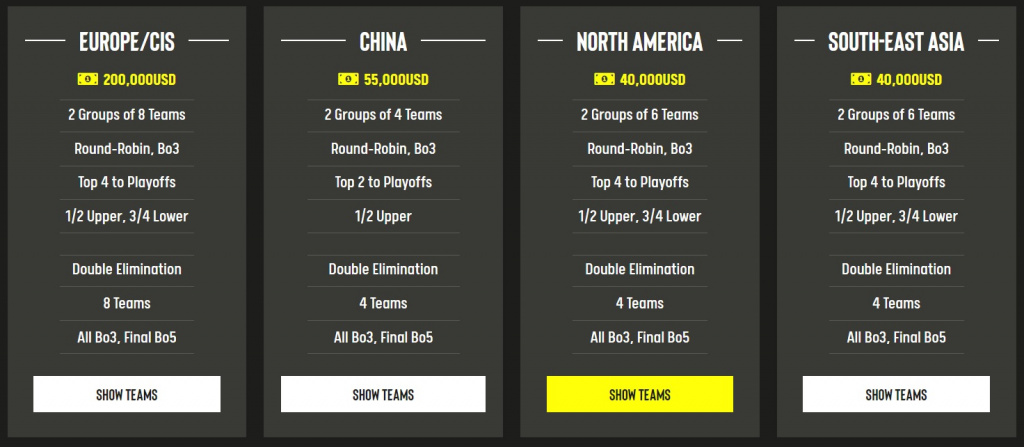 The ESL One Birmingham Online format (Picture: ESL)
This is followed with a double-elimination bracket, with all matches being best-of-three, with the exception of the grand finals in each region, which will be best-of-five. 
Schedule
The ESL One Birmingham Online tournament series will run from 21st May to 7th June 2020.
On 21st May, the SEA group stage kicks off, followed by the Europe/CIS group stage on 24th May. The North/South American group stage begins on 25th May, while the China group stage begins on 26th May.
All grand finals are scheduled to take place on 7th June, with the exception of the SEA regional tournament, which ends on 31st May.
At the time of writing, specific start times and matchups for each region is unknown. However, you can expect the ESL One Birmingham Online SEA group stage matches to start at 09:00 CET.
ESL One Birmingham Online: How-to-watch
The ESL One Birmingham Online Dota 2 esports tournament will be broadcasted on Twitch.tv as well as a multistream on the ESL website.