During the Wild Card round-robin stage of the
WePlay AniMajor
, Team Secret and Team Nigma were forced to replay an identical match with all the same heroes after the servers crashed mid-game. This incident was quite serious, as it would determine which team moved on to the Group Stage of the all-important Major. It is because of this incident that fans are now calling on Valve to add a Dota 2 rollback feature.
WePlay AniMajor rematch debacle
First up, you should know that in the Secret vs Nigma match (Nigma won the first game), in the second game, Nigma was quite far ahead when the servers crashed. If Nigma won the 2nd game, they would get into the Group Stage of the WePlay AniMajor.
The match ended with Secret winning the rematch, and due to the 1-1 scoreline, Nigma had to play a tiebreaker which they ended up winning against Invictus Gaming, sending the Chinese powerhouse squad packing.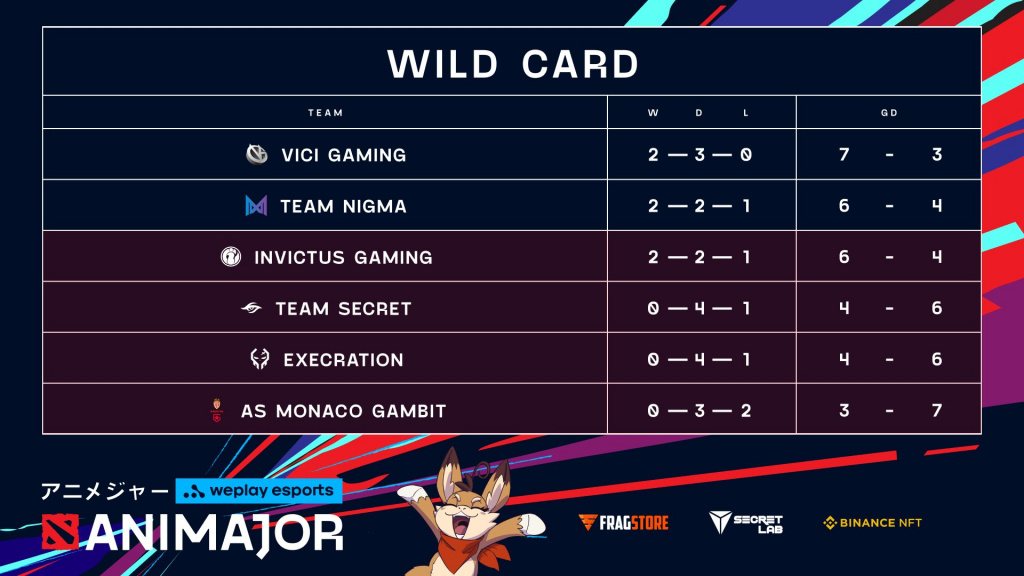 (Picture: WePlay)
While Team Secret offered to completely remake the game with new drafts, it wasn't up to the teams nor the tournament organizers. Instead, Valve stepped in themselves and forced an identical rematch, as teams had to use the same hero draft, starting items and lane positions.
For the record, we offered a complete remake with new drafts but ultimately the decision was taken by Valve and we have no say in it.

F

— Team Secret (@teamsecret) June 3, 2021
With the WePlay AniMajor being the last shot for teams to get enough DPC points to qualify for The International 10, this is a very serious issue.
That's why fans are calling for a Dota 2 rollback feature so an incident such as this one never occurs again.
Fans call for Dota 2 rollback feature
It's 2021, and Dota 2 still does not have a rollback feature, where teams can continue where they left off after a server crash. There's also no ability to play on LAN, as teams need to connect to a server even if they are sitting next to each other.
With The International 10 having, by far, the biggest prize pool for a single tournament in esports history at $40,018,195 USD, fans are concerned that an incident such as the Nigma vs Secret forced rematch could happen during the massive tournament.
On Reddit, fans are speaking out about the issue and calling on Valve for a rollback feature to be added to Dota 2, and we can't blame them.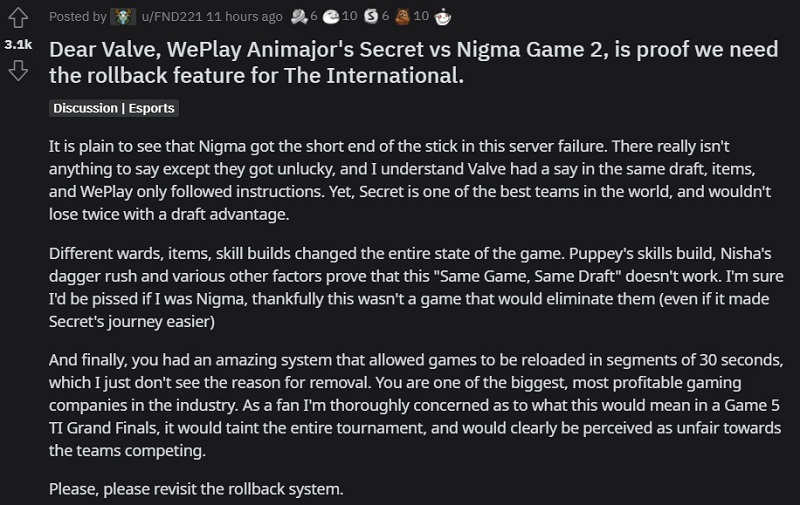 (Picture: Reddit)
Without a rollback feature, if server crashes do occur, we could see the same incident happen even during the grand finals of The International 10, where teams are fighting for a life-changing amount of money.
Dota 2 had somewhat of a rollback feature until 2015 when the game moved over to the Source 2 engine. This replay takeover feature allowed for rollbacks when something bad, such as a server crash or players disconnecting mid-fight, happened.
While Valve has not made an official response to these requests at the time of writing, clearly, there's a need for a Dota 2 rollback feature, especially with so much money on the line.
Don't forget to check out our dedicated section for Dota 2, featuring news, updates, esports and more.