From 21st to 23rd May, the
OGA Dota PIT Online Europe/CIS
playoffs will take place. With the dust settling over the group stage, we've already seen some excellent Dota 2 esports take place.
Here's what you need to know about the OGA Dota PIT Online Europe/CIS playoffs, including group stage results, how-to-watch, matchups, and schedule.
Group stage results
The final matches of the OGA Dota PIT Online group stage completed on 20th May late in the evening, as we saw two teams eliminated from the tournament.
The bottom team from each group which got eliminated from the tournament are:
Both HellRaisers and Team Spirit get $1,500 for their troubles.
In the group stage, we saw two teams stand above the rest in their respective groups. In Group A, the two-time TI winning team, OG, went undefeated with a 4-0 score (8-1 game score), only dropping one game against FlyToMoon. 
In Group B, we saw Team Secret absolutely dominate the competition, going 4-0 in match score, with a frightening 8-0 game score. Yes, Team Secret is looking incredibly strong going into the OGA Dota PIT Online Europe/CIS playoffs, not dropping a single match.
OGA Dota PIT Online playoffs & schedule
With some of the top teams in the Europe/CIS regions competing, the OGA Dota PIT Online playoffs are something no Dota 2 esports fan should miss out on. 
The playoffs take place from 21st to 23rd May 2020, starting at 10:00 CET (UK time) each day. 
On the first day, we will see two upper bracket matches take place, as well as two lower bracket matches where two more teams will be eliminated.
Check out the OGA Dota PIT Online playoffs scheduled for 21st May below. All times are in UK time (CET or GMT+1)
OG versus Ninjas in Pyjamas - Upper Bracket - 10:00
Team Secret versus Alliance - Upper Bracket - 13:00
FlyToMoon versus Team Liquid - Lower Bracket - 16:00
Virtus.Pro versus Viking.GG - Lower Bracket - 19:00
The playoffs will feature a double-elimination bracket with the first round of matches determined by standings from the group stage.
All matches are best-of-three, with the exception of best-of-five grand finals.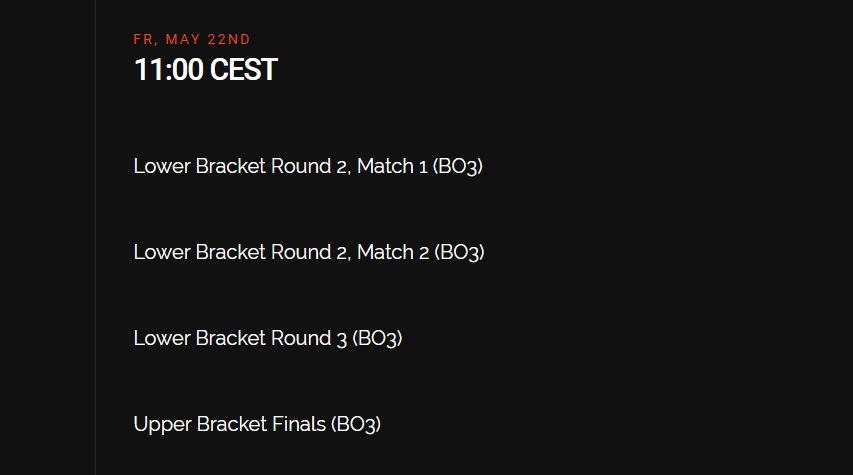 Matches for 22nd May have not yet been determined (Picture: OGA PIT)
Keep in mind the match schedule could change slightly during the course of each day, depending on how quickly the previous matches open up.
OGA Dota PIT Online - How to watch
There will be official English, Russian and Chinese broadcasts for the OGA Dota PIT Online 2020 Europe/CIS tournament.
The Streams: