The Lands Between of Elden Ring is filled with wondrous content for players of all experience levels to enjoy. A challenging and immersive title, Elden Ring offers a wide variety of gameplay thanks to ten different starting classes for players to select from.
Different classes have different stats, abilities, and starting items, so you'll want to choose wisely when starting your game. Specific weapons will be available for some classes, with varying levels of effectiveness.
If you're still in the early onset or are just looking for some further weapons information, this is the right place to be. Check out this detailed guide outlining all Elden Ring weapon types in the ultra-popular RPG.
Elden Ring weapon types - All weapons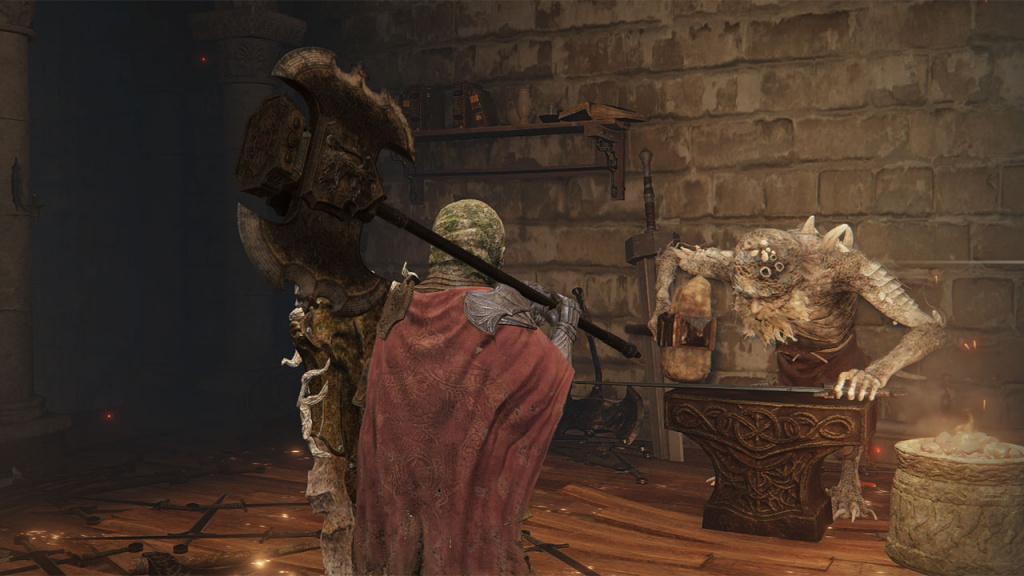 In total, there are 30 different weapons types for players to use, each boasting its own strengths and weaknesses. Some weapons are for close-range combat, others for greater distances.
Certain weapons also require a high Dexterity stat to be able to wield, limiting them to certain build types. Here's the full list of all weapon types available in Elden Ring.
Axes
Axes are heavy weapons that can be wielded with one hand. They are best used in close-range combat and provide a wide variety of attacks, including hard-to-read ones, making them excellent in PvP.

Ballistas
Ballistas are unconventional ballistic devices that fire Greatbolts to break an enemy's stance for more effective upcoming attacks. Players can take advantage of Ballistas' long-range attacks, and use them to fire Greatbolts from afar, so they can avoid close combat.

Bows
Bows are long-range Weapons that can be used to inflict damage on hostile characters from great distances. They grant no guard protection, so players may always keep their distance from close combat. Bows require Arrows in order to be used.

Claws
Claws are equipped on both hands and excel in fast, close-range combat. They are lightweight pieces that feature innate Bleed, and players usually wear them on high-Dexterity Builds.

Colossal Swords
Colossal Swords replace Ultra Greatswords from the Souls series, and usually weigh a lot, swing slowly, but deal tremendous damage. They usually require lots of Strength to wield, and some players prefer to 2-hand-wield them.

Colossal Weapons
Colossal Weapons are heavy weapons that require the player to have high Strength. They are capable of inflicting massive damage to enemies but are slow, making their wielder vulnerable to enemy attacks.

Crossbows
Crossbows deal more damage than Bows but are slower to reload, harder to aim, and have less range. They are capable of dealing massive damage from medium-range. Crossbows require bolts in order to be used.
Curved Greatswords
Curved Greatswords are capable of slash-based attacks, allowing players to deal large amounts of damage against enemies. These Greatswords also sacrifice mobility, making the wielder vulnerable to Enemy and Bosses' attacks.

Curved Swords
Curved Swords specialize in Slash-based attacks, capable of inflicting a decent amount of damage towards hostile characters without sacrificing mobility. They can also attack much quicker than many other melee Weapons in Elden Ring, making them excellent against fast-moving opponents.

Daggers
Daggers have an extremely short range but make up for it with fast attack speed and high Critical Damage, allowing them to perform devastating Backstabs and Ripostes. If you plan to play a stealthy character or one that Backstabs and Parries often, then this is a good weapon to select.
Fists 
Fists are equipped on both hands and excel in short-range combat, allowing players to perform fast and rapid attacks that can quickly eliminate hostile Enemies.

Flails
Flails have a long reach and can inflict single powerful strikes against hostile characters, but they are rather slow.

Greataxes
Greataxes can deal large amounts of damage and can easily break guards,  but have slow attacks, leaving players vulnerable. Players will be required high Strength stats to wield Greataxes property.

Greatbows
Greatbows allow players to attack enemies from long distances. They require Arrows in order to be used and grant no guard protection, so players may always keep their distance from close combat.

Great Spears
Using Great Spears allow players to deliver devastating blows from longer distances at the expense of attack speed and weight, as Great Spears are exceptionally heavy. These Weapons are also decent on horseback when compared to other melee weapons, because of their extraordinarily long reach.

Greatswords
Greatswords are capable of inflicting massive amounts of damage, but sacrifice mobility, making the player vulnerable and open to enemy and boss attacks. High risk, high reward is the name of the game with these weapons, but they can pancake many enemies, allowing players to finish them off unscathed.

Halberds
Halberds are a nice balance between moderate damage and long reach, combining straight thrusting attacks and wide swinging strikes.

Hammers
Hammers can deal powerful, but slow attacks against Enemies and Bosses. Hammers are known for their effectiveness against heavily armored enemies as well as destroying shields and breaking guards.

Heavy Thrusting Swords
Heavy Thrusting Swords focus on piercing attacks and are best used to counter or follow-up an enemy's attack. Extra weight packs extra physical attack power, and still allows players to use this weapon with a Shield.

Katanas
Katanas specialize in mid-range combat and are capable of inflicting slash and thrust attacks, as well as the Hemorrhage Status Effect. Many players choose this weapon type for its unique move-set.

Light Bows
Light Bows deal damage from afar without the need for Magic Spells. Light Bows fire quickly but don't deal lots of damage. Players need Arrows to use Bows, so make sure to purchase or craft and equip them.

Reapers
Reapers have a long reach and a unique sweeping moveset. These weapons are particularly useful for sneaking damage behind shields when swung with proper spacing.
Sacred Seals
Sacred Seals are used to cast Incantations and are usually tied to the Faith stat. Sacred Seals cannot be Upgraded with Ashes of War.
Spears
Spears allow players to engage in melee combat from a safe distance, keeping them out of harm's way. They are also some of the most useful melee Weapons on horseback, due to their long-range ability.

Straight Swords
Straight Swords are reliable weapons that provide a balance between slashing and thrusting attacks. Straight Swords are some of the easiest weapons to use and work well when combined with a Shield, allowing for quick follow-up attacks after Blocking.
Thrusting Swords
Thrusting Swords strike a balance between moderate damage, fast attacks, and good reach while piercing and slashing Enemies.
Torches
Torches deal little damage but can be used to ward off unwanted beasts while dealing small amounts of Fire Damage on them.

Twinblades
The Twinblade scales primarily with Strength and Dexterity is a good Weapon for melee players who want to perform fast slashes that spin in a larger area of effect.

Warhammer
Warhammers are designed to perform slow, heavy attacks that can inflict a large amount of damage. They are effective against heavily armored Enemies and can destroy their shields. Players will need high Strength stats in order to use Warhammers properly.

Whips
Whips usually inflict little to moderate damage and perform poorly against heavily armored enemies, but they do have a long reach.

Make sure to check out the rest of our dedicated Elden Ring page for all the latest guides, game updates, and more.
Featured image courtesy of FromSoftware.