With the ceremony in just over a month, the last set of finalists for the Esports Awards 2019 were revealed last night with the focus of the nominations on the players, tournaments and organisations in the 'pro' subsection. 
Esports Organisation of the Year sees fan favourite and last year's finalist FaZe Clan absent from the list, as well as TSM, Envy, OpTic Gaming and less surprisingly Echo Fox. Down from ten organisations last year, eight finalists will be up for the award this time around: 100 Thieves, Cloud9, eUnited, Fnatic, G2 Esports, NRG Esports, Team Liquid and Team Vitality.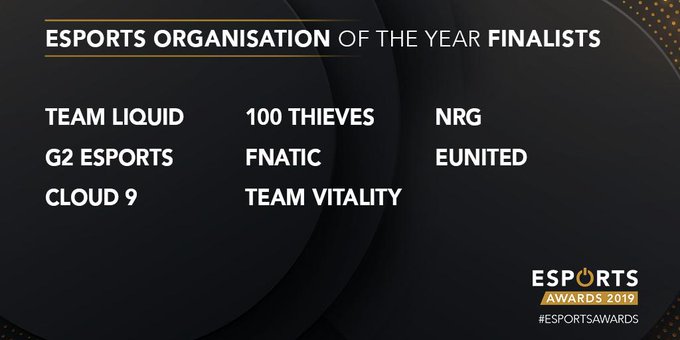 Categories for players and rookies are split into PC and Console. Esports PC Player of the Year sees three G2 players in contention, with League of Legends' Rasmus "Caps" Winther and Luka "Perkz" Perković and Rainbow Six Siege's Niclas "Pengu" Mouritzen making up a quarter of nominees. The full category of nominees and the other categories' finalists can be found below: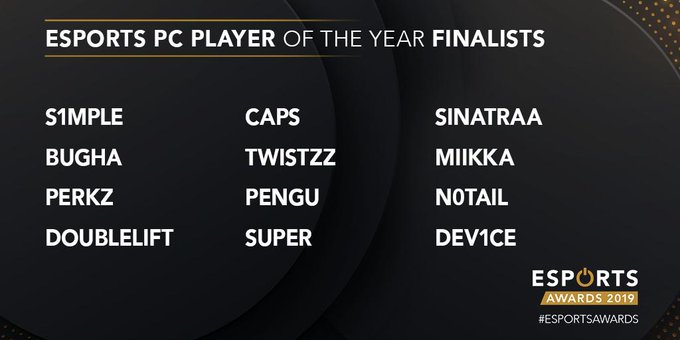 Oleksandr "s1mple" Kostyliev
Kyle "Bugha" Giersdorf
Luka "Perkz" Perković
Yiliang "Doublelift" Peng
Rasmus "Caps" Winther
Russel "Twistzz" Van Dulken
Niclas "Pengu" Mouritzen
Matthew "super" DeLisi
Jay "sinatraa" Won
Topias Miikka "Topson" Taavitsainen
Johan "N0tail" Sundstein
Nicolai "dev1ce" Reedtz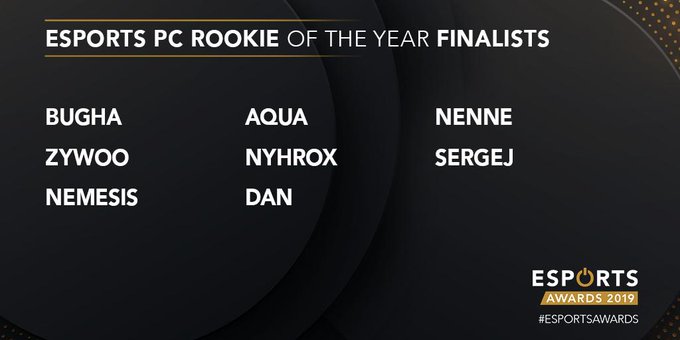 Kyle "Bugha" Giersdorf
Matheiu "ZywOo" Herbaut
Tim "Nemesis" Lipovšek
David "aqua" Wang
Emil "nyhrox" Bergquist Pedersen
Danila "dan" Dontsov
Yeon-kwan "Nenne" Jeong
Jere "sergej" Salo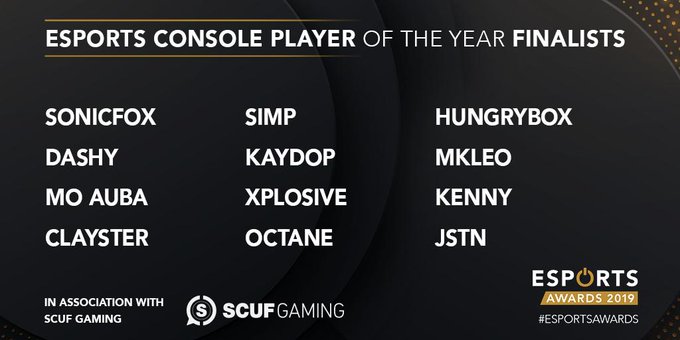 Dominique "SonicFox" McLean
Brandon "Dashy" Otell
Mohammed "Mo Auba" Harkous
James "Clayster" Eubanks
Chris "Simp" Lehr
Alexandre "Kaydrop" Courant
Gilbert "Xplosive" Rojo
Sam "Octane" Larew
Juan "Hungrybox" Debiedma
Leonardo "MKLeo" Lopez Perez
Kenneth "Kenny" Williams
Justin "jstn" Morales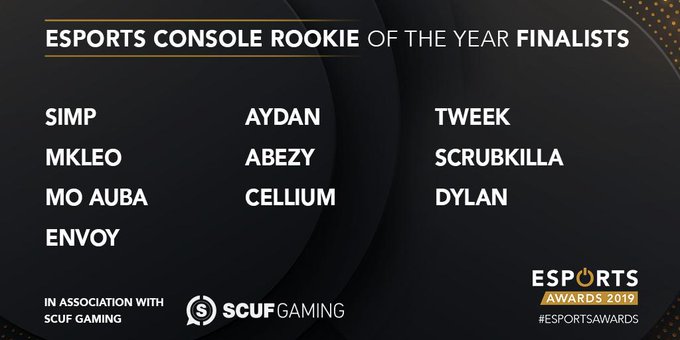 Chris "Simp" Lehr
Leonardo "MKLeo" Lopez Perez
Mohammed "Mo Auba" Harkous
Dylan "Envoy" Hannon
Aydan "Aydan" Conrad
Tyler "aBeZy" Pharris
McArthur "Cellium" Jovel
Gavin "Tweek" Dempsey
Kyle "Scrub Killa" Robertson
Dylan "Dylan" Henderson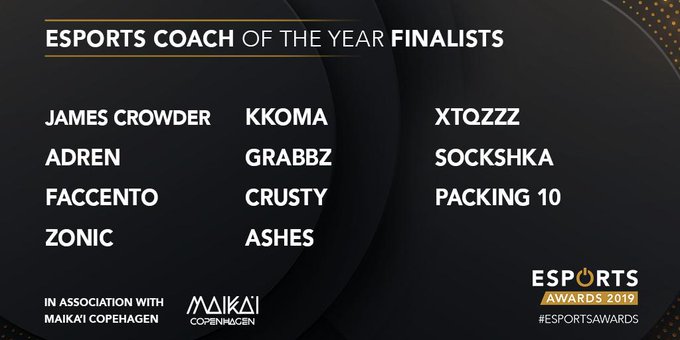 James Crowder
Eric "adreN" Hoag
Brice "Faccento" Faccento
Danny "zonic" Sørensen
Kim "kkOma" Jeong-gyun
Fabian "GrabbZ" Lohmann
Dae-hee "Crusty" Park
Nick "Ashes" Ridgeway
Rémy "XTQZZZ" Quoniam
Titouan "Sockshka" Merloz
Mike "Packing10" Szklanny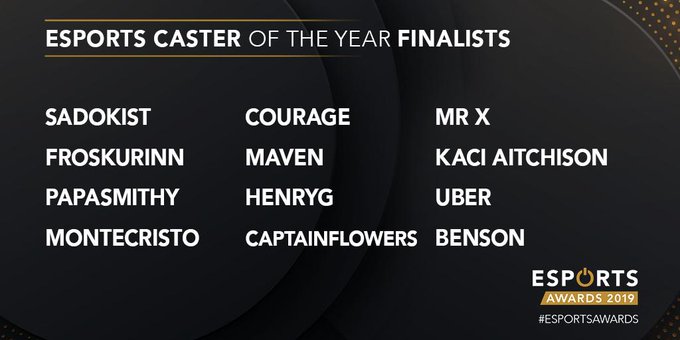 Matthew "Sadokist" Trivett
Indiana "Froskurinn" Black
Chris "PapaSmithy" Smith
Christoper "MonteCristo" Mykles
Jack "Courage" Dunlop
Clint "Maven" Evans
Henry "HenryG" Greer
Clayton "CaptainFlowers" Raines
Matt "Mr X" Morello
Kaci Aitchison
Mitch "Uber" Leslie
Ben "Benson" Bowe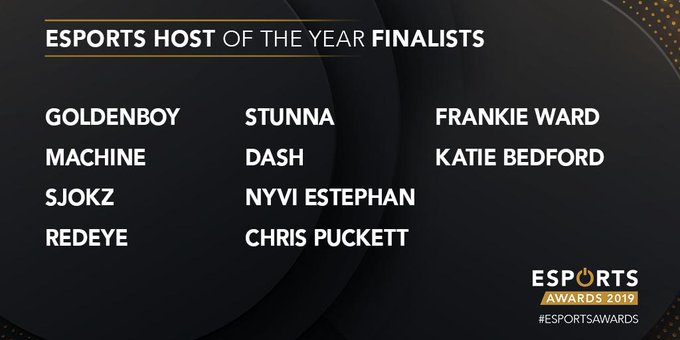 Alex "Goldenboy" Mendez
Alex "Machine" Richardson
Eefje "Sjokz" Depoortere
Paul "Redeye" Chaloner
Tres "stunna" Saranthus
James "Dash" Patterson
Nyvi Estephan
Chris Puckett
Frankie Ward
Katie Bedford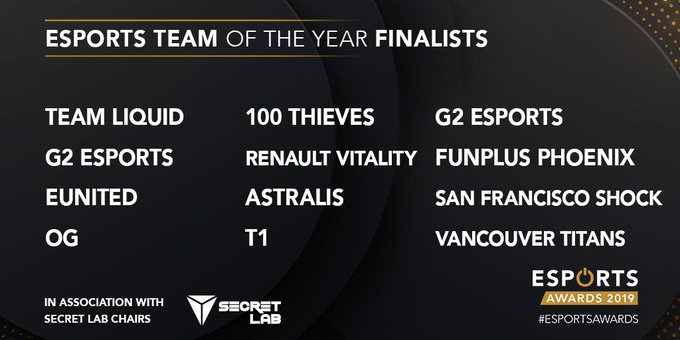 Team Liquid
G2 Esports
eUnited
OG
100 Thieves
Renault Vitality
Astralis
T1
G2 Esports
Funplus Phoenix
San Francisco Shock
Vancouver Titans
Previous rounds of finalists have seen more than their fair share of controversy. A photographer was removed from the Esports Photographer of the Year category following allegations of sexual assault while individuals who were not nominated this year questioned why they were not on the '"esports journalism" radar'.
The Esports Awards 2019 will be broadcast live on Twitch on Saturday 16th November from Arlington, Texas.