Making connections is vital in any industry and in esports, it is no different. That is why Esports Bar has for the last three years have brought together esports business tastemakers and traditional industries leaders to deliver keynote's and work with people directly in 1-to-1 matchmaking sessions to provide insight and guidance for those that intend to, or are actively working, to develop an efficient and long-term esports business.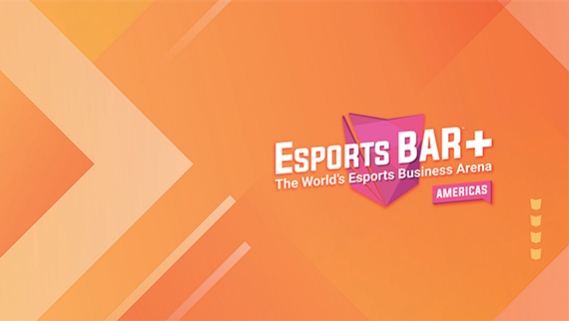 The four-day event was set to be held in Miami this year, but a certain pandemic has scuppered those plans, but that isn't stopping the team at Esports Bar who has taken the entire event and moved it online, with the upside being those that couldn't physically get to Miami now can be a part of one of the most valuable esports forums in the world.
There will be four key topics on the agenda: Monetisation, Innovation, Audiences and Investments with speakers from the world of gaming and esports including Stephy Bau CEO of Init Esports, Nathan Lindberg of Twitch, and Andre Fluellen Ex-NFL player and now founder of the Beyond the Game Network.
The event kicks off and runs from September 22nd-25th, here is everything you need to know ahead of what is set to be a valuable and fun time for anyone with an interest in the business side of esports.
Who will be there?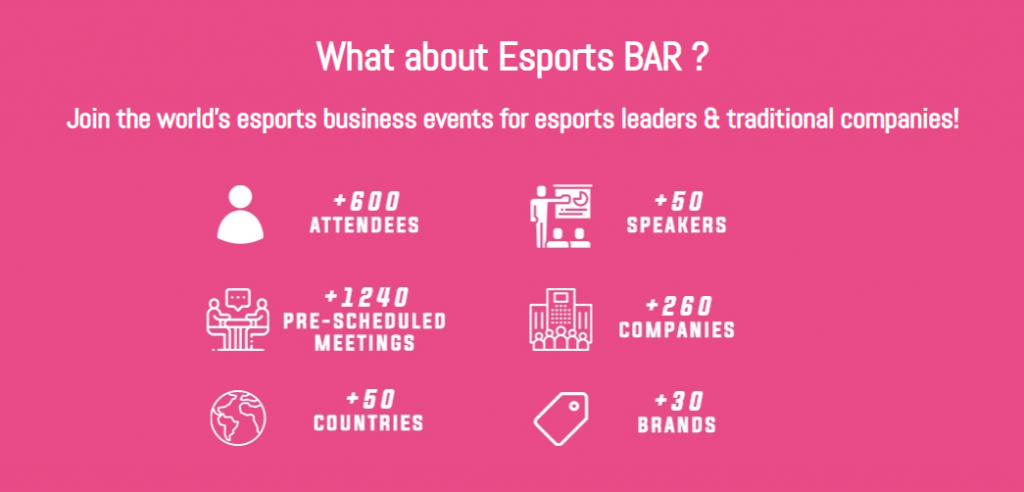 There will be a wide range of industry figures and traditional business leaders over the four days delivering keynotes and also available as part of Esports Bar's unique one-to-one matchmaking giving those in attendance the chance to connect and ask questions to those with in-depth knowledge of the business of esports with influential personalities from game publishers, brands, professional teams and media and streaming platform among the attendees.
Attendees include:
Malte Barth - BITKRAFT Esports Ventures 
Stephy Bau - Init Esports Inc
Kevin Baxpehler - Remagine Ventures
Arnd Benninghoff - MTGx
Stephen Bradley - Deloitte Consulting LLP
Robb Chiarini - Gamers.Vote
Matthieu Dallon - Trust Esport Ventures
Ivan Danishevesky - Esports Charts
Robbie Douek - Blast
Andre Fluellen - Beyond The Game Network LLC
Philip Hübner - Challengermode AB
Philippe Laurent - easylive.io
Spike Laurie - Hiro Capital
Peter Levin - Griffin Gaming Partners
Nathan Lindberg - Twitch
Lara Lunardi - Inven Global 
Phil Ranta - Wormhole Labs, Inc.
Remer Rietkerk - Newzoo
Adam Salim - MentorCruise
Tobias Seck - The Esports Observer 
Karol Severin - MIDiA Research
Chris Smith - BIG Esports
Tatiana Tacca - Momentum Worldwide
Julian Tan - Formula 1
Johnny Ward - The Esports Agency
Brian Zwerner - Beyond The Game Network
What topics will be covered?
There will be four main topics being covered during the four-day event. 
Monetisation: 
Followed by the attention and spending of consumers, especially younger ones, esports presents exciting and potentially unique opportunities to brands, esports companies, leagues, publishers and media.
However, how to make the most out of the esports industry? What are the commercial opportunities that esports have? How are brands monetising their businesses? How can agencies help to activate brand image in the esports industry?
Innovation:
Nowhere has the impact of digital technology been felt more keenly than in the gaming world, where it has dramatically changed how products and services are developed and managed—and how the industry connects with audiences. It's no different in esports; the industry keeps growing at a fast pace and innovation can drive esports mainstream to make it bigger and better than it already is.
Discover how esports can lead the entertainment industry in terms of innovation.
Investments: 
What are the key factors of investments in esports? How do different regions around the globe address investments in the esports market? Is there a winning model to invest in esports? What are the VCs perspectives?
And since content consumption changed, product adaptations have become necessary. Esports leagues have had to adapt in a way that emphasises their digital-first nature. Why? Typically, competitive video games are played offline in a studio or arena environment. That is where Innovation comes in.
Audiences: 
The Esports industry has burst into the mainstream, transforming from a vibrant niche to a central form of entertainment around the world. While esports may have once stood for a subset of sports culture, during the coronavirus crisis esports has filled the void of sports shutdown. And since content consumption has changed, product adaptations have been necessary. So how is esports dealing with the changing habits of audiences?
When is it?
The four-day event takes place between 22-25 September 2020.
How can I take part?
Attending the online Esports Bar is easy, just register your interest on the website, and choose one of the two packs.
The Forum Delegates Pass will give you access to all the conferences, as well as opportunities to network and use of the exclusive Esport BAR Networking app.
Gain even more access including, at least 12 pre-scheduled 1-to-1 meetings with the VIP Pack, which gives you everything the Delegate Pass does plus the opportunity to make last business connections with thought leaders in the esport industry.