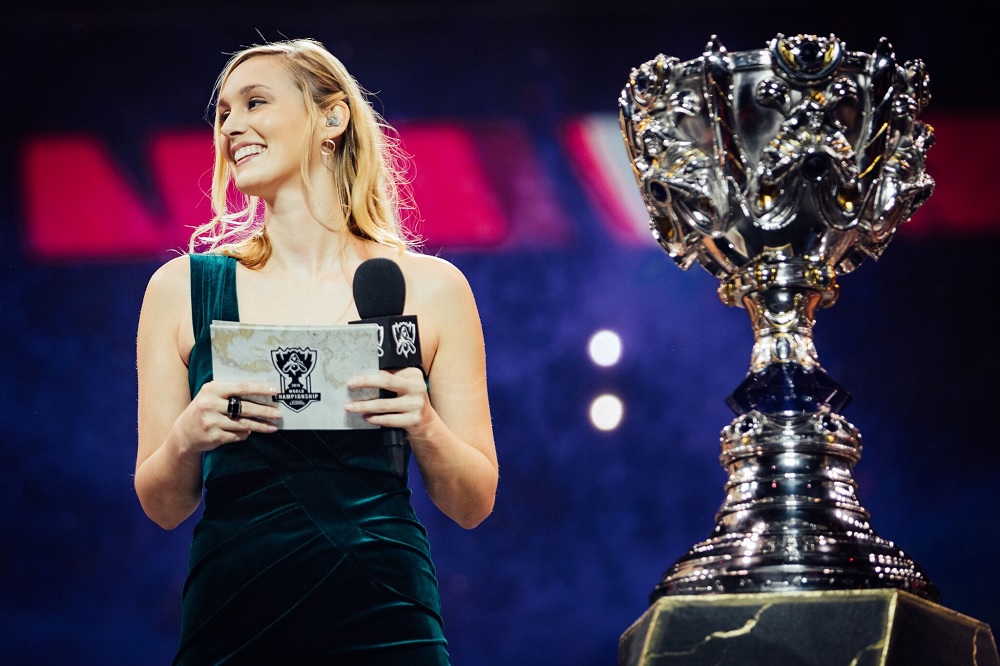 (Credit: Adela Sznajder | ESPAT Media) 
It seems natural to start by talking about the 2019 World Championship as that concluded last week. I think it's fair to say it is one of the strongest contenders for Esports Event of the Year.
Yeah, I agree with you. I'm pretty biased obviously but I thought it was really amazing. I get the chance every year and I pick a couple of other events I get to go to. Sadly this year I didn't get to go to ESL One Cologne but that was a knockout event that was insane too.
The length and operation that is Worlds for League of Legends is the best event bar none when you look at what goes into the opening ceremony, the standard of production across all the weeks. I know we had a couple of hiccups in the beginning in the group stage with audio and stuff like that which really freakin' suck but I think we bounced back pretty well and overall I think it was a fantastic event.
You mentioned ESL One Cologne and this year you branched into CS:GO through two BLAST Pro Series events. Do you think more esports could benefit from talent going beyond their usual games as you have done?
I think that's a great point. Obviously it can't go for colour casters that easily as there's just so much that goes into the prep that it would be weird and quite difficult. Some people have done it, look at Montecristo for instance, but from a host perspective and my experience I definitely think it is amazing.
We are very siloed off into our own esports and naturally very competitive with each other as well which is a good thing.
I do think there should be more visibility and dialogue between esports to prop each other up as it was lovely for me to get to see completely different production, a completely different community and how other talent work. That's only beneficial for both sides plus it was cool to see the crossover so I think it's a good thing.
Do you think that things like the Esports Awards help bring everyone together to create a neutral ground to socialise and share ideas?
It's definitely an important event. That's one of the main things about it but it is also a cool, swanky event and that's always fun. It always feels like a celebration of everyone's hard work during the whole year, how esports has grown year-over-year and you get to chat to other people and talk about your experiences.
Celebrating the excellence of what has been achieved and the fact it might not always be who you expect means you might watch the show and say 'hey, I had no idea about this person because I was so focused on watching the Overwatch League all year' so that's awesome.
You are an Esports Awards winner yourself, does winning an award feel gratifying in itself as a sign you have reached a high level or does it make you feel more motivated to prove yourself further?
In the moment when you win, you're just like 'oh my god yes!'. It's sometimes very hard to stand still and look at your own success and even though you could also say it's just an award and it's a body of work that's important, nobody is going to deny that it's freakin' awesome to win.
In the same vein, just one second after that feeling comes the 'am I ever going to win again? I have to keep going, I have to keep pushing' so for me, it definitely works more as a motivator.
It's interesting you mentioned that feeling of continuing to push yourself as many people have been shining a spotlight on the tough side of work like the long hours that talent puts in that isn't always seen or obvious to viewers. Have you found that the community has started to recognise those factors?
From my perspective, especially in League of Legends, I do think there is a lot of respect for the talent and I think the trouble lies more in that there is credit for talent when it's really the people behind the scenes there five hours before them, staying there late, getting the calls in the middle of the night when shit was broken and things like that.
Spent the last days listening to all the music of League and watching the ceremonies through the years... It can't be overstated how fantastic Riots music department is. I hope we get another concert for the 10th Worlds or a show with many of the artists!

— Eefje Depoortere (@sjokz) November 14, 2019
What people sometimes don't really realise is the social pressure and community pressure we're under constantly. It's part of our jobs as wellbut it's one of the things that does get to me and people really underestimate it. They're like 'you're done with work' and it's like yes, you're done, but you don't ever switch off and you're constantly interacting, reading the flame.
The good does outweigh the bad but sometimes it's really mentally hard to deal with the vitriol.
How do you counter that negativity on social media?
I'd love to say that I can switch off, but if you follow my socials (laughing)... you can see that I have a very hard time doing that completely as I do like being connected to the community.
For me, it's throughout the years just spending more time on the critical feedback I need with my peers that I know and trust as opposed to a comment on Reddit that might be correct but doesn't really give me more to work with other than one line.
I would say I'm dealing with it better but it just keeps filling up and you deal with it, you deal with it, you deal with it and then there's this one percent of the time where you just get absolutely tilted off the face of the Earth by something you would have dealt fine with the day before. That's also the name of the game and in that moment I just take the thing that made me really upset and will go to a peer or colleague.
Poor PapaSmithy has to listen to me very often about these things and people who can give a different perspective is very important because you can get stuck in the negative bubble.
The Esports Awards has categories recognising areas such as Cosplayer of the Year and you mentioned how many people work behind the scenes for little recognition. How crucial is it that this continues in order to give credit to those not always seen or celebrated?
I think there's still a lot of work to be done and I was actually talking about this earlier how for example Videographer of the Year or Photographer of the Year nominees end up being the ones who have a very strong social media personality and you could argue that there are people who are never on there who make better stuff perhaps in my opinion or someone else's opinion. They're not as prevalent on social media so is that then unfair? That's some thing the Esports Awards are trying to figure out going forward.
You could also argue that being on social media is part of their job but I don't think that goes for everything.
I would definitely like to see more categories like how the Oscars also have visual effects and make-up artists and all that stuff but I don't want to throw the Esports Awards under the bus because they work very hard. We would need 200 categories for everything but I like that they're keeping it fresh and introducing new categories. They listen to feedback from the community and people on the board very well and take it all into account. 
I'm happy in the direction it's going but you are right, I'd like to see not only the famous pro players up there but all of the other people who contribute.
The Esports Awards 2019 ceremony will be broadcast tonight from 2:15am UK time (8pm CST / 6PM PST) on Twitch, YouTube, Mixer and Twitter.