A new Future Stars Squad Building Challenge has arrived in FIFA 22, allowing players to earn their preferred version of a FUT card.
As the name suggests, Future Stars are based on up and coming talent spread out across the best European leagues. As such, they also serve as a prelude to what their future might look like. In modern football, versatility reigns supreme, and these players can change and evolve throughout the course of their careers.
This time around, AC Milan's Brahim Díaz has been selected as the next Future Stars Squad Building Challenges recipient after impressing with the Rossoneri in the Serie A the past couple of seasons. 
At 22 years of age, the Spanish midfielder already has an incredible playing resume, debuting professionally for Manchester City before signing with Real Madrid in early 2019. However, a lack of continuity for the youngster saw him search for opportunities elsewhere, landing on Milan. 
After initially given a one-year loan, he became an integral part of the Rossoneri. The Italian side later extended his loan for two more seasons, adding a buyout clause in the process. In 2021, he also earned his first cap for Spain, scoring a 4-0 win over Lithuania. 
So, if you're keen on adding Brahim Díaz's Future Stars card, then stick around to find out everything you need to know about it, including the stats for both versions of the Spanish playmaker.
Brahim Díaz Future Stars SBC - cheapest solutions
Players must exchange three unique cards for obtaining the Brahim Díaz Future Stars card. Depending on your preferred console, the total cost can go from 305k to 310k Coins.
Note: All prices are courtesy of FUTBIN and are subject to change.
Tactical Emulation SBC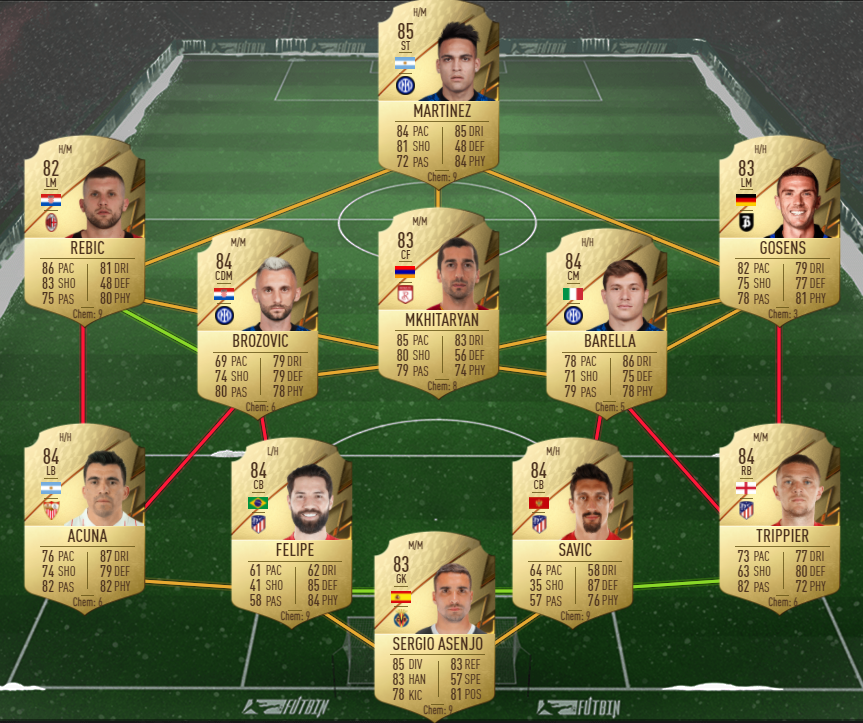 # of players from Milan: Min 1
Squad Rating: Min 84
Team Chemistry: Min 70
# of players in the Squad: 11
Reward: 1 Premium Mixed Players pack
Future Stars SBC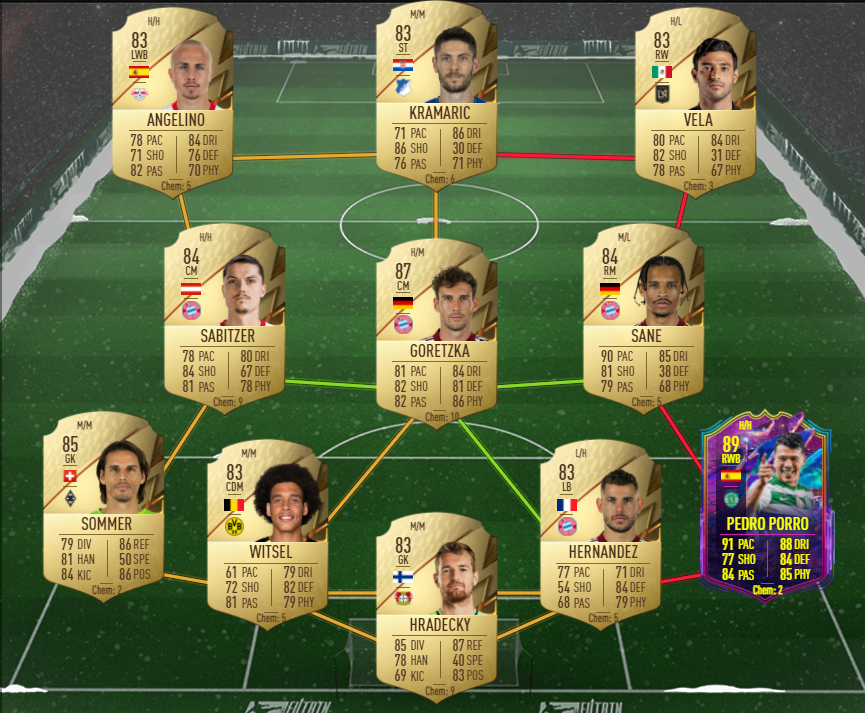 FUTURE STARS Players: Min 1
Squad Rating: Min 85
Team Chemistry: Min 60
# of players in the Squad: 11
Reward: Prime Electrum Players pack
Serie A TIM SBC
# of players from Serie A TIM: Min 1
Squad Rating: Min 87
Team Chemistry: Min 55
# of players in the Squad: 11
Reward: Rare Mixed Players pack
Brahim Díaz Future Stars SBC - Stats
The Future Stars allow players to pick one of two different versions of a card. Once you complete all SBCs, you'll get to pick your Brahim Díaz of choice with varying stats but the same OVR rating.
Take a look at both down below. 
Brahim Díaz LW stats
This card focuses more on Pace and Dribbling stats.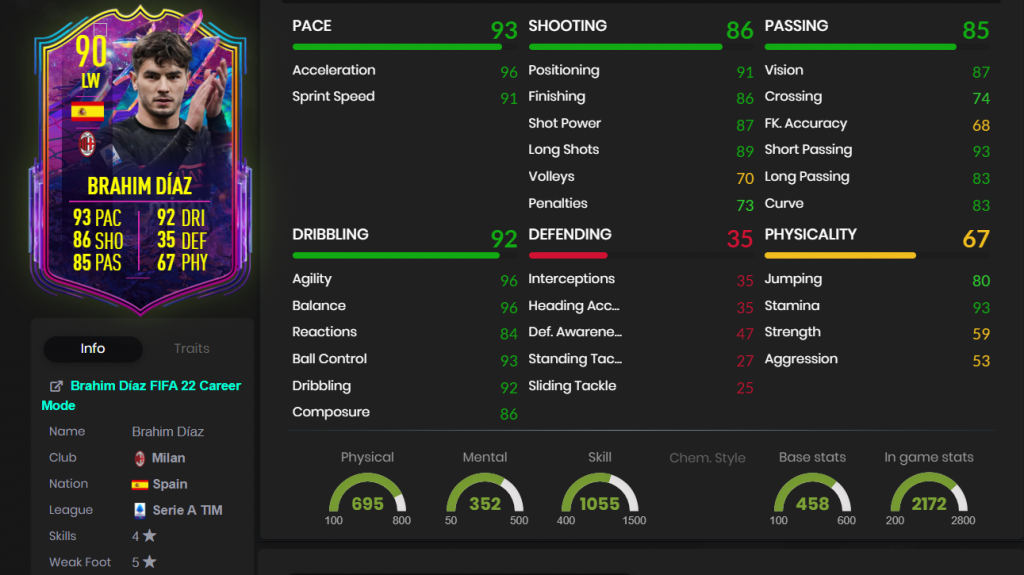 Brahim Díaz CAM stats
This card focuses on Shooting and Passing stats.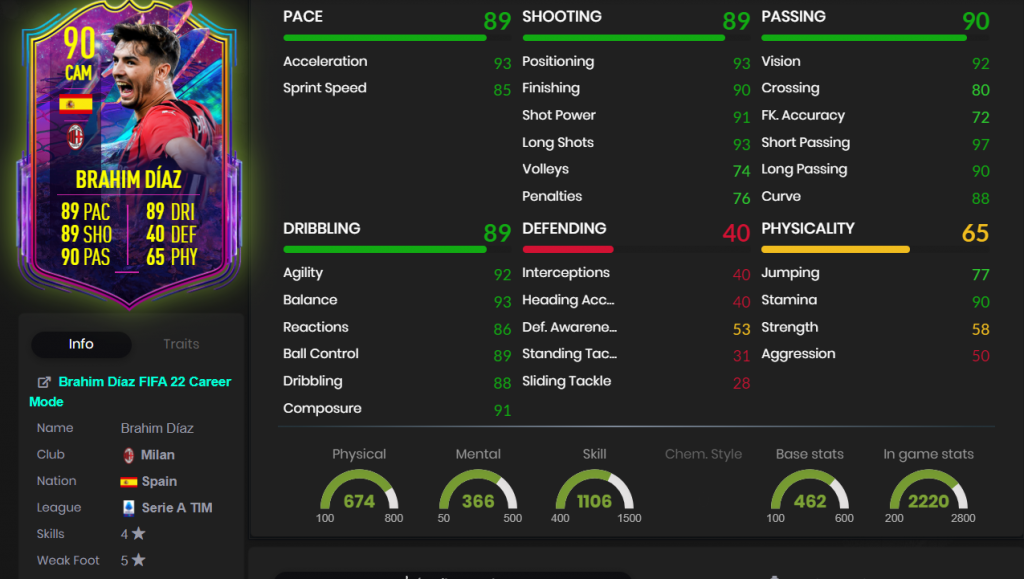 Featured image courtesy of EA Sports.