FIFA eClub World Cup takes place between 7-9 February in Milan, Italy.
Twenty-four teams will compete for $100,000
Clubs represented included FaZe Clan, Fnatic, Man City & AS Roma
It's one of the most anticipated events in the FIFA competitive season - the FIFA eClub World Cup is a chance to see the world's best players team-up to represent clubs and compete for the lion share of a $100,000, prize pool, Global Series Points and the prestige of being crowned the eClub World Champions.
190 teams attempted to qualify, but just twenty-four made the grade - and with players like Xbox No. 1 Donovan "Tekkz" Hunt and FeWC 2017 Champion Spencer "Gorilla" Ealing in attendance, you know the standard of play is going to be high.
The Format
The format of the FIFA eClub World Cup is unique in competitive FIFA.
Groups games are played across three legs, with teams playing 1v1 and 2v2 - with 3 points awarded for a win, 1 for a draw and 0 for a loss. Meaning a team can potentially win 9 points in any one round of matches.
One game is played on Xbox, one on PlayStation and the 2v2 game is played on a console decided mutually by the teams before the tournament.
Teams are initially split into four groups of six. The top 4 from each group will make it through to the knockouts.
During the knockout stages, teams will compete in a single-elimination format that will be played over the course of two games, the first one being 1v1 and second one 2v2.
In the event that one team wins the first game and the other team wins the second game, or both games end in a draw, the teams will play a third game in 1v1 format to determine the winner.
Prize Pool / Global Series Points
With a prize pool of $100,000 make the FIFA eClub World Cup one of the biggest tournaments of the year. The Global Series Points, crucial for qualifying for FIFA eWorld Cup are also on a major level with 2,000 points up for grabs up for the winner - all but guaranteeing their spot at the showpiece event.
| | | |
| --- | --- | --- |
| Standings | Prize Money | Global Series Points |
| 1st | $40,000 | 2,000 |
| 2nd | $20,000 | 1,400 |
| 3rd - 4th | $10,000 | 800 |
| 5th - 8th | $2,000 | 500 |
| 9th - 16th | $1,000 | 300 |
| 17th - 24th | $500 | 150 |
FIFA eClub World Cup 2020 - Ones To Watch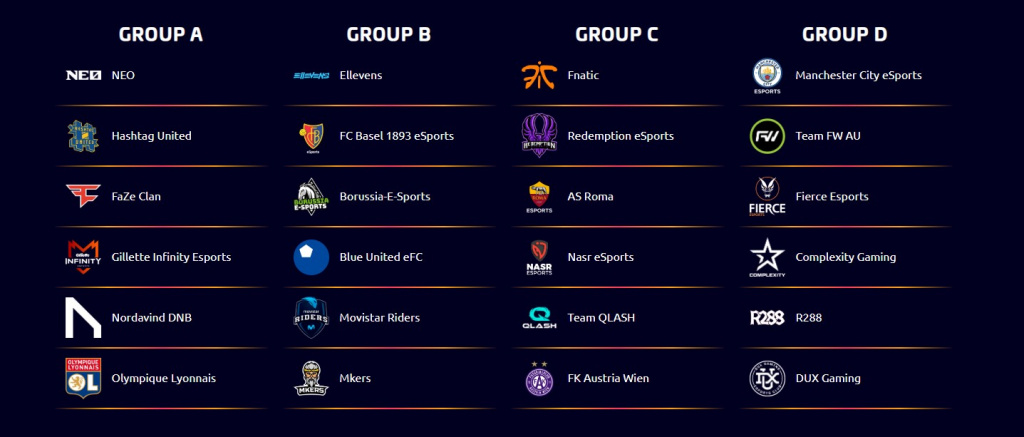 On the first days of the competition, all eyes will be on Group C - which has been dubbed the Group of Death. Featuring both the No.1 ranked PlayStation and Xbox players - Diego "CRAZY" Campagnani, playing for Team Qlash, and Donovan "Tekkz" Hunt for Fnatic - will make this group tightly contested.
AS Roma are no slouches either and we could very well see one of the big boys knocked out early in this group.
Group A has World Cup winner Spencer "Gorilla" Ealing paired up with Tom Stokes and representing NEO.
The two Englishmen seem to be enjoying time at their new org and will see this tournament as a chance to get their hands on a trophy. Hashtag United with Harry Hesketh and Tom Leese are performing well and playing as a team always brings the best out of the HU boys.
One team to keep a keen eye on is Borussia E-Sports in Group B, they sit atop of the Virtual Bundesliga and their German pairing of Richard "Der_Gaucho10" Hormes and Yannick "Jeffryy95" Reinners are flying high in the global rankings. They may not be favourites, but they play together and win regularly and they have as good a chance as any of winning it all.
Check out our predictions for a breakdown of all the group stage action.
Schedule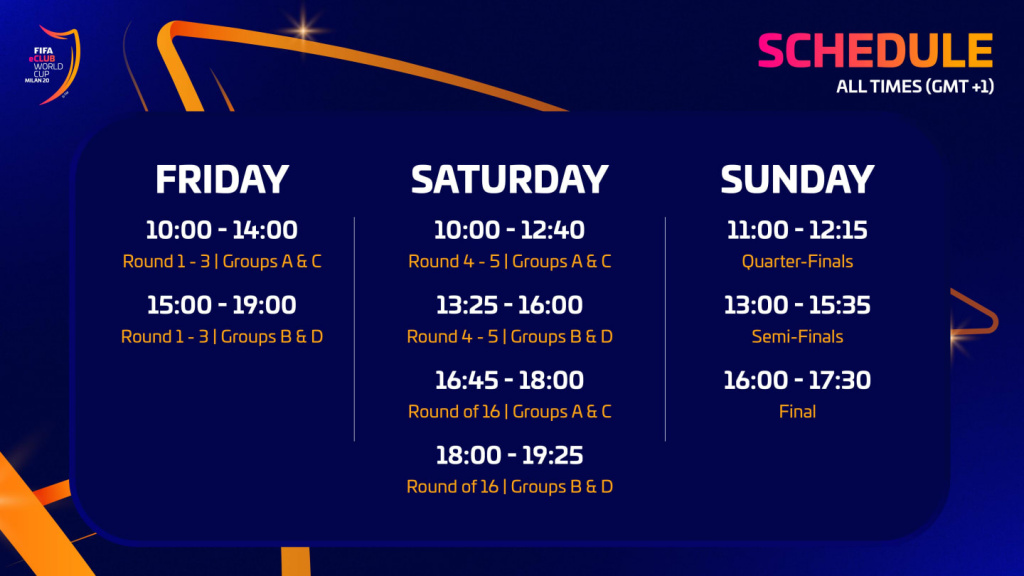 The FIFA eClub World Cup 2020 runs from 7-9 February.
FIFA eClub World Cup 2020 - How-To Watch
You can watch all the action live from the official EA Sports channels