FIFA's career mode is one of the game's most beloved allowing you to take real-world teams and mould them in your image with players' taking control of transfers, training and, of course, match day performances.
However, in recent years the game mode has faced accusations of being riddled with bugs and lacking in features, with each year's iteration of the franchise receiving only minor updates.
It looks like things are changing though with EA Sports actively trying to combat that perception though, releasing a dedicated a trailer to the game mode showing that there are a number of potentially huge changes coming to Career mode.
So let's unpack the trailer and all the other info we can find to give you an idea of what will be different this year.
FIFA 21 Career mode trailer
Interactive match sim
One of the major additions to FIFA 21's Career mode is the brand new interactive match sim. The new feature has two stand-out components, previously when simulating matches the A.I would do everything for you - from substitutions to tactical changes. The new mode will allow you greater control over both of these things, think Football Manager, and you get the idea.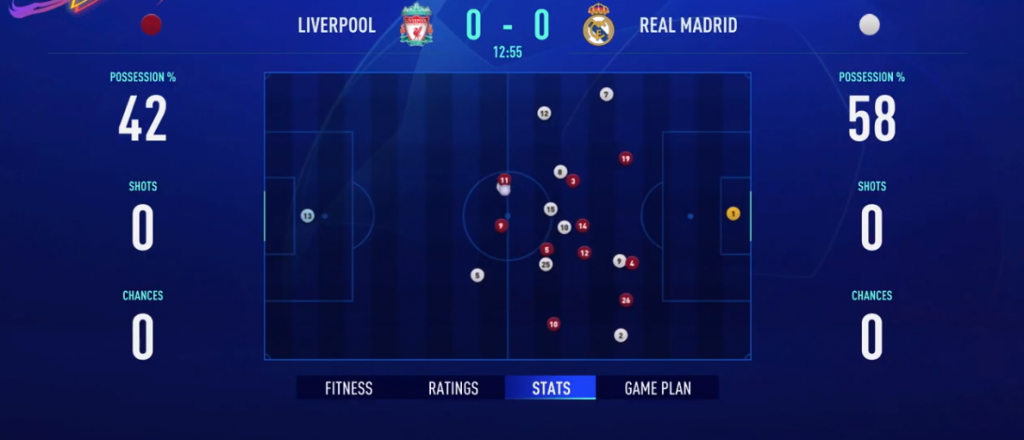 (Picture: EA Sports)
The feature will also allow you to come in and out of simulated matches, previously players could only join games as they were progressing but not come back out. 
So imagine the scenario, you are 2-1 against a side you should really be beating, you were resting your star striker. At half-time, you sub him, and yourself in, and bag a couple of goals. Feeling confident of getting the result? Then you can come out of the match and let the match simulation finish the tie.
It's a great quality of life feature that should stop results slipping away from you that thought would rather be winning.
New transfer options
Transfers have always been a little strange in FIFA's Career mode. Some opposition teams seemingly signing every possible striker they can get their hands on, with none going the other way. So to the paucity of options given to sign players, an even more glaring omission considering the current transfer market that where loan-to-buys and player-plus-cash deals becoming more common.
That is all set to change with FIFA 21 introducing more transfer options for players to utilize in their quest for the best squad possible. The aforementioned loan-to-buys are now possible, and you will be able to exert greater control in transfer dealings.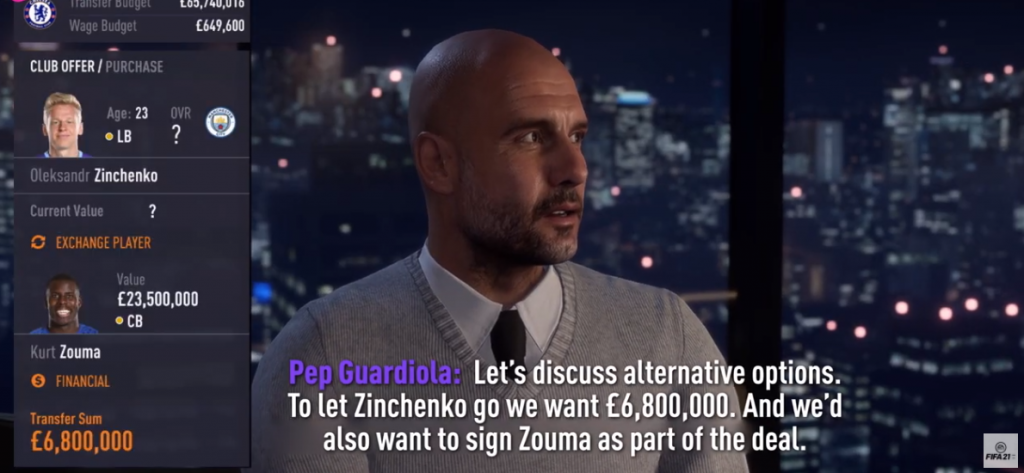 (Picture: EA Sports)
We want to hear more about this update before we make a judgement, but the signs look promising.
Updated player development and training system
Player development and training is also set for an overhaul with three exciting new additions that should make the process more rewarding for players. 
First up is the ability to retrain a player in a new position. Agree that Trent Arnold-Alexander's future is at attacking-mid? Then set him to train there, where he will gradually increase his aptitude in the position before he is ready to show his skills on the pitch.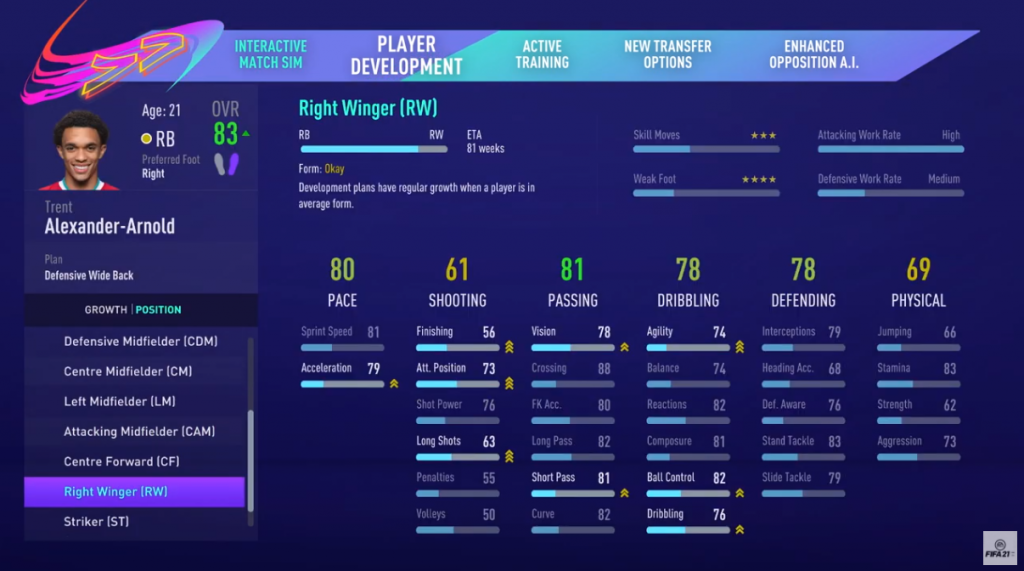 (Picture: EA Sports)
Then there is a new training and schedule system which will allow you to specify what stats a player should be working to improve. You will be able to jump into "active" training sessions so you can take even more responsibility for their results.
This also ties in with the new scheduling system, which will allow you to give tired players a break, or push those that are being left on the bench.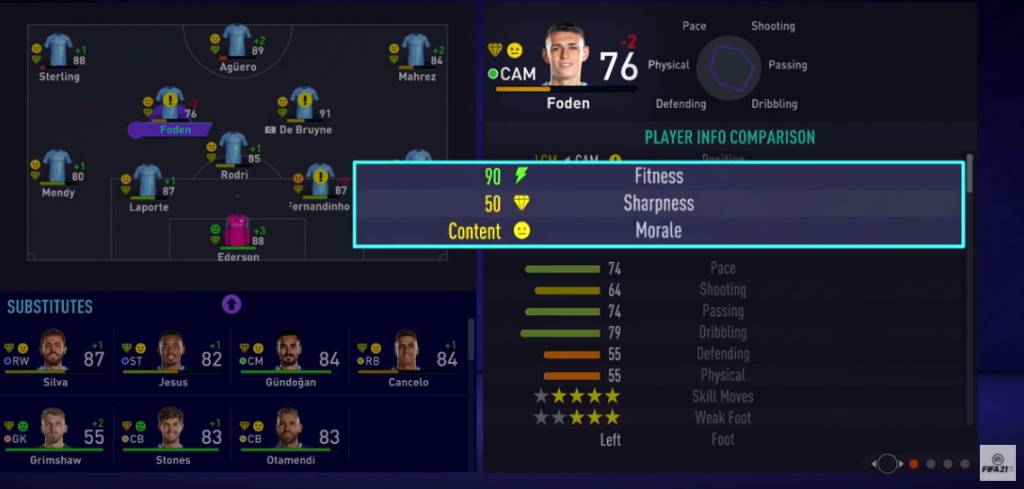 (Picture: EA Sports)
On top of all that, there is a new stat - Match Sharpness - which will give you a better idea of the condition of a player before a game. Those that are match-fit will obviously perform better, while those that are a little rusty could fluff their lines when it matters most.
Enhanced opposition A.I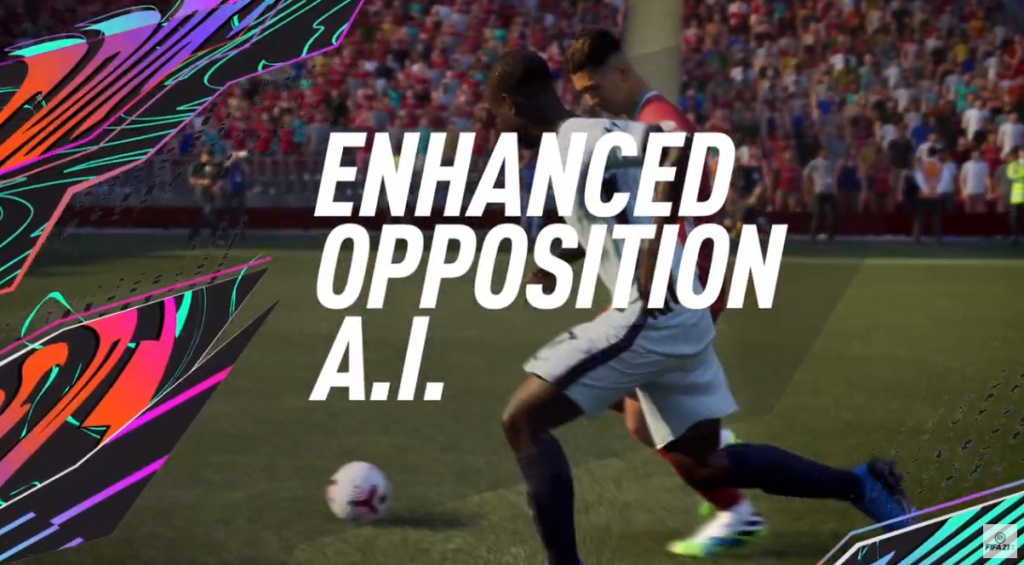 (Picture: EA Sports)
EA also claims that opposition A.I will be improved this year. Improved A.I tackling and player switching is set to make opponents tougher, and at the other end the A.I are set to better utilize dribbling to unlock your defence.
Time will tell if this makes a big difference, but like every year at this time, we are officially on the hype train.