He has been one of the stand out players not only of his team, West Ham, but the entire Premier League.
Built like a bull, deceptively quick, and a real eye for goal, we are of course talking about Michail Antonio.
His performances have already earned him a Player of the Month award, which saw him get a special POTM card in FIFA 22, and now he is once again being recognised on the virtual pitch with a Rulebreakers card.
Rulebreakers are some of the most exciting in the game, taking players drastically changing one aspect of their attributes.
We recently saw Marco Veratti bulk up and Brazillian centre-back Dante rediscover his pace.
For Antonio, the subversion is more 'traditional' but far more devastating, receiving a huge upgrade to his shooting stats which, coupled with his already impressive speed and physicality, will absolutely make him a meta striker in FIFA 22.
Getting him is relatively easy too and requires NO spending. Available through Objectives, all you have to do is complete the challenges, reap the rewards and get one of the most in-form strikers in the world.
Michail Antonio Rulebreakers - stats
Antonio's Rulebreaker is 84 OVR, up five from his base.
Let's dive a little deeper into his stats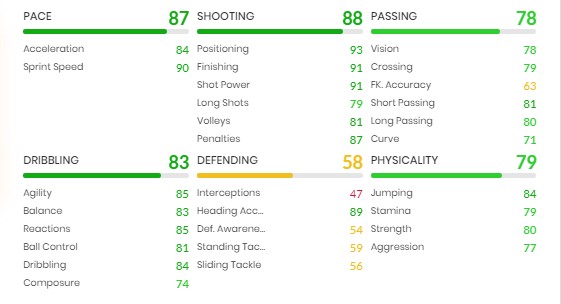 As we mentioned before, the biggest improvements are to his shooting stats.
His positioning, previously 80, is now 93. His finishing and shot power are both now a cool 91.
His pace has also seen a nice upgrade and his sprint speed now tops out at 90.
His dribbling is improved and so is his passing, in fact, the only downgrades he gets are to some of his physical stats with his jumping, strength and aggression all taking a 5-7 hit. 
All-in-all this is a phenomenal card and you will likely see it a lot in-game.
Michail Antonio Rulebreakers - Objectives
Getting Antonio into your Ultimate Team means completing some Objectives. There are four in all and each of them come with their own rewards.
FRIENDLY FINERY

Score a Finesse goal in 11 separate matches in the Live FUT Friendly: Red Links
Reward: 75+ Rated Rare Player + 300 XP
ON THE HEAD!

Score 3 Headers in the Live FUT Friendly: Red Links
Reward: Gold Pack + 300 XP
PHYSICAL PASSER

Assist 4 goals using players with min. 65 OHY in the Live FUT Friendly: Red Links
Reward: Two Players Pack + 300 XP
GO FOR GLORY

Win by min. 2 goals in 4 separate matches in the Live FUT Friendly: Red Links
Reward: Small Electrum Players Pack + 300 XP
Once you complete all four, you will get Michail Antonio's Rulebreaker card. Remember though it is untradeable.
One more thing, you have just 1 day or, at the time of writing, 23 hours to do this challenge. So if you do want one of the hottest strikers in the world -- don't wait.
For more on all things FIFA, check out our dedicated section filled with news, SBC guides, and more.
Featured image courtesy of EA Sports.