The title race for the Serie A Scudetto is heating up, with Inter Milan, AC Milan, and Napoli tightly competing for the trophy this season.
The Gli Azzurri have to thank certain key players that have had to overcome adversities throughout the year in order to become instrumental in their Scudetto hopes. One of them is Victor Osimhen.
Despite being sidelined for almost 10 games this Serie A campaign while dealing with injuries, the 23-year-old striker is showing up big time when he's on the pitch, scoring 11 goals in 20 league matches.
In March alone, Osimhen bagged four goals in three matches. Scoring two braces against Hellas Verona and Udinese. Napoli went on to win both games 2-1.
With such crucial contributions to Napoli, Victor Osimhen was named the Serie A March Player of the Month, earning a special FIFA 22 Ultimate Team card in the process.
Known for his intense physicality, speed, and eye for goal, the Osimhen POTM card promises to be worthwhile for anyone interested in completing this Squad Building Challenge. 
With that said, here's everything you need to know about the Victor Osimhen POTM SBC in FIFA 22.
Victor Osimhen POTM SBC - Cheapest solutions
To get your hands on Osimhen POTM, you need to exchange a single squad. It will cost somewhere between 26-31k Coins, depending on your platform.
Note: All prices are courtesy of FUTBIN and are subject to change.
# of players from Napoli: Min 1
IF Players: Min 1
Squad Rating: Min 82
Team Chemistry: Min 75
# of players in the Squad: 11
Reward: Victor Osimhen POTM card
Victor Osimhen POTM SBC - Stats
The Player of the Month card of Victor Osimhen is his best version so far in FIFA 22. It has a +7 OVR compared to his base Gold version and it even surpasses his previous most complete iteration, the 86 OVR rated Europa League Team of the Group Stage (TOTGS) card.
Some of his best stats include 90 Acceleration, 98 Sprint Speed, 91 Finishing, and 95 Jumping. Sadly, he doesn't excel in certain key categories, such as Ball Control (84), Dribbling (81), Curve (72), and Balance (80).
Still, for such a relatively cheap Squad Building Challenge, getting your hands on the POTM version of Victor Osimhen might be worth your time and money.
Take a look at his full stats down below.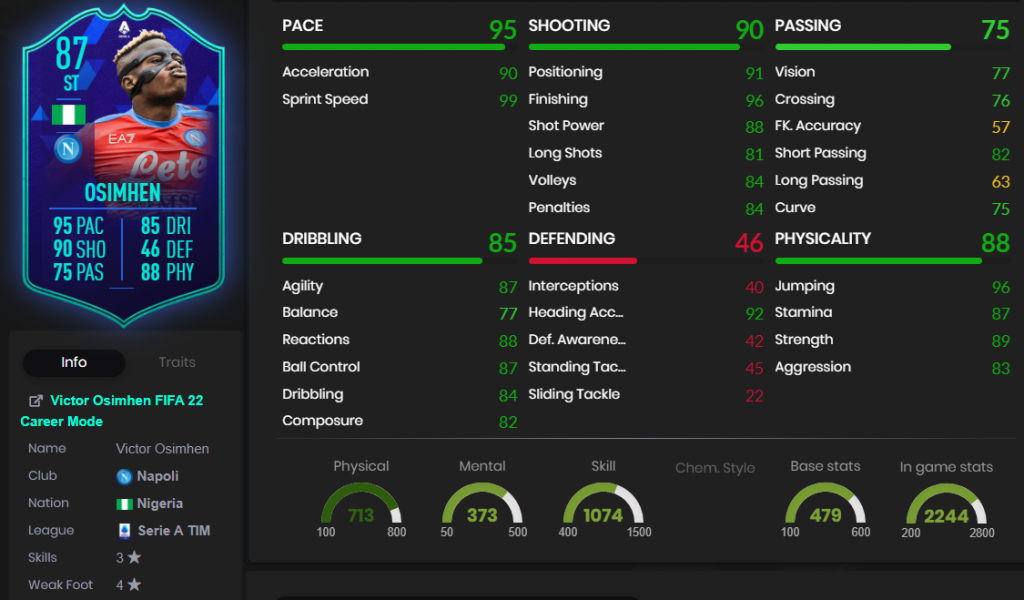 For more coverage on all things FIFA 22, be sure to check out our dedicated section. You'll find SBC solutions, news, and much more to take your FIFA experience to the next level.
Featured image courtesy of FUTBIN / EA Sports.