The Fortnite Championship Series (FNCS) Finals took place on 29th and 30th May 2021. In the European finals, players again had to compete against not only with their world-class opposition but also even more frightening foes: Lag and latency. The FNCS has a history of poor server performance since all the way back to the 2019 World Cup. Therefore, while it isn't surprising pro Fortnite players experienced lag due to servers, it is shocking that Epic Games still haven't fixed the issue, especially with million USD on the line.
Fortnite pros fight lag at FNCS Finals
Motor, from the M10 Esports organization, had a viewing party, watching the top players from the European region competing in the FNCS Finals over the weekend. As he was watching, he spotted multiple incidents of lag thanks to poor server performance.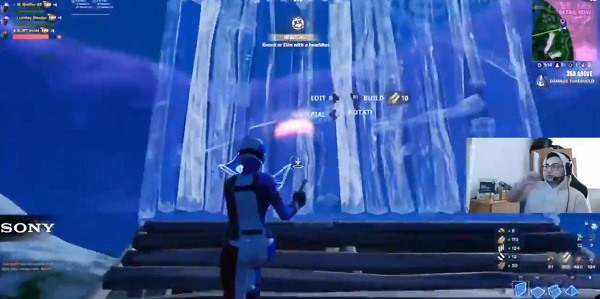 (Picture: Epic Games)
During one of the heats, you can see one FNCS Finals competitor being shot behind a ramp he just put down but due to the laggy nature of the servers, he still got downed.
As the player went down, he said: "Like this game is a f$%king joke" signalling his frustration with the laggy servers.
YOUR SERVERS ARE WORSE THAN 2019 WORLD CUP SERVERS HOW???? FIX THIS SHIT @FortniteGame@FNCompetitivepic.twitter.com/jq65zexPfa

— M10 MOTOR (@FNATIC_MOTOR) May 30, 2021
This wasn't an isolated incident either, as M10's Motor revealed another clip on Twitter showcasing just how bad the server lag was in the FNCS Finals. 
The clip below shows pro Fortnite player Flikk falling into the water and lagging so much the fall didn't register properly.
????? pic.twitter.com/A92rQZeRnA

— M10 MOTOR (@FNATIC_MOTOR) May 30, 2021
Sure, Fortnite servers have improved greatly. However, these weird instances of lag should really not be present in a tournament with a combined prize pool of $3 million USD.
In other competitive titles such as CS:GO, the moment any lag is experienced, a technical pause gets called, and rounds can even get replayed. This is something that is sorely needed in Fortnite esports, as one moment of server lag can be the difference between a big payday or an early exit.
Check out our dedicated section for everything Fortnite, from news to leaks, guides, drama and more.