The
Zero Crisis Finale event
will usher in Fortnite Chapter 2 Season 6 on 16th March 2021, and we are already excited for the
possible new skins
, as well as all the content coming our way. Those who have not levelled up their Season 5 to the desired level yet only have a few days left to do so, with
the latest weekly quests
, and of course, by finding all the Fortnite Season 5 Week 16 XP Coin locations.
Fortnite Week 16 XP Coin locations
If you want to max out your Battle Pass before Fortnite Chapter 2 Season 6 arrives, then you will need to find all the XP Coin locations for Week 16.
There are a total of 10 XP coins to collect. The locations are spread across the map, which means you will very likely need several matches to catch 'em all.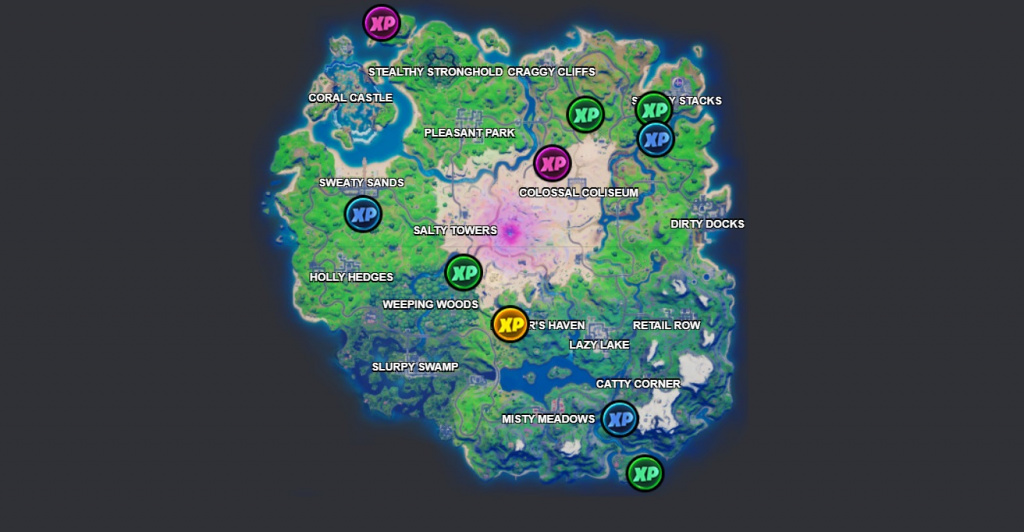 (Picture: Fortnite.gg)
There are four Green Coins, 3 Blue Coin, 2 Purple Coins and one Gold Coin. All these coins together will net you a total of 75,100 XP towards your Battle Pass progression.
Here's how much XP each of the coins will give you towards levelling up your Battle Pass.
Green: 5,000 XP
Blue: 6,500 XP
Purple: 10,300 XP
Gold: 15,000 XP
The Gold coin is, of course, worth the most XP and it can be a bit challenging to obtain.
The excellent video from Perfect Score above showcases how you can find all the XP Coin locations in the final week of Fortnite Chapter 2 Season 5 with ease
Good luck on the hunt for the final Fortnite XP Coins before the Zero Crisis Finale event gets underway.