Fortnite received its festive update today, bringing with it some winter-themed skins, a few new NPCs and couple of weapons.
Both new weapons are in the Exotic class. with The Big Chill launcher and Dragon Breath's Sniper now available in the game.
Getting your hands on them isn't exactly difficult, with both purchasable from the NPCs - you will just need to have the right amount of Gold Bars.
In this short guide, we will be looking at the Dragon's Breath - its stats, cost and where you can find it.
If you want the same info for The Big Chill launcher have a look here.
Dragon's Breath Sniper stats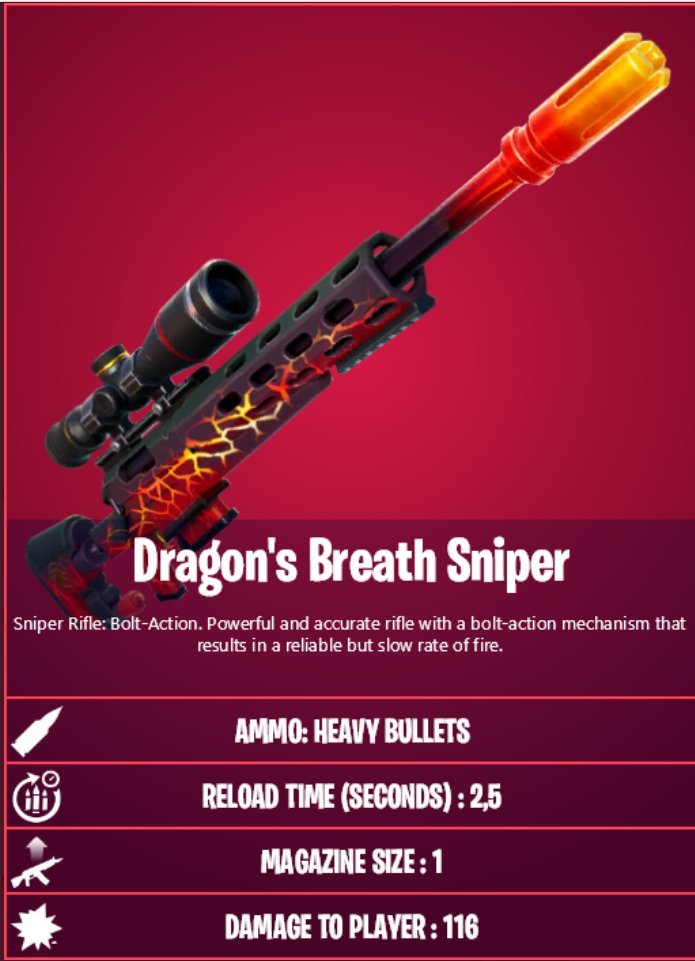 (Picture: Epic Games)
The Dragon's Breath Sniper boasts the same base stats as the Epic Bolt-Action Sniper rifle, with a reload time of 2.5 seconds and 116 Damage to players.
It's the guns after-effects which distinguish it from other bolt rifles, with it dispensing a sea of fire around the player destroying structures and incurring further damage.
How much does the Dragon's Breath Sniper cost?
The Dragon's Breath Sniper will set you back 1,213 Gold Bars.
Where to find the Dragon's Breath Sniper?
If you want to get your hands on this fire-breather you will need to purchase one from the aptly named Blaze NPC.
You can find him in one of two places, and annoyingly he spawns at either randomly - so choosing this as your drop spot will always be a risk.
The two locations you can find Blaze are Timber Tent or Pristine Point.

(Picture: Epic Games)
Land at either of these locations and look for an NPC named Blaze he will have the "..." icon above his head.

(Picture: EveryDay FortNite)
Head up to Blaze select the Dragon's Breath Sniper (there will only ever be one in stock), hand over the 1,213 Gold Bars and enjoy!