Epic Games unleashed the Fortnite v19.30 update filled with bug fixes, the Uncharted collab (coming 17th) and much more of 15th February 2022. Alongside the new content comes something many players did not expect, a fully-fledged Fortnite Gyro Aiming controls feature on all supported platforms. 
In this guide, we tell you exactly how to enable Fortnite Gyro Aiming, what it does, and the settings you can use to decide when this Touch and Motion option is active.
How to enable Gyro Aiming controls in Fortnite
Epic Games, in collaboration with input specialist and flick stick creator Julian "Jibb" Smart, has enabled Gyro Aiming motion controls for on gyro-supported platforms with the Fortnite v19.30 update.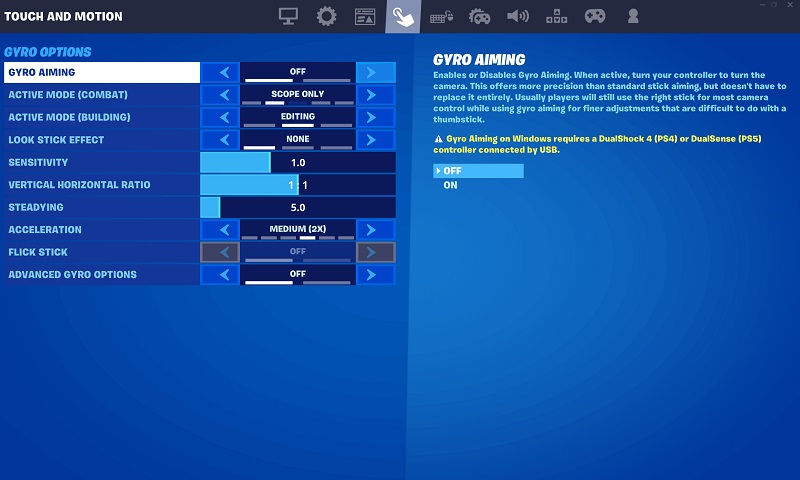 To enable Gyro Aiming in Fortnite, simply head into the settings menu, then "Touch and Motion" and toggle the option to "On". 
This will allow you to move your camera in Fortnite by turning the controller, giving players more accuracy (in theory) than standard stick aiming.
But didn't Fortnite already have Gyro-based controls? Well, on Android and Nintendo Switch it did, but this is a more robust gyro controls, available on Android, Switch, PC (with a DualShock 4 or DualSense controller) as well as PS4 and PS5.
Note that Gyro Aiming is not available when playing Fortnite through GeForce NOW on PC or mobile
Fortnite Gyro Aiming active modes explained
You might not always want Gyro Aiming controls active while playing a match of Fortnite.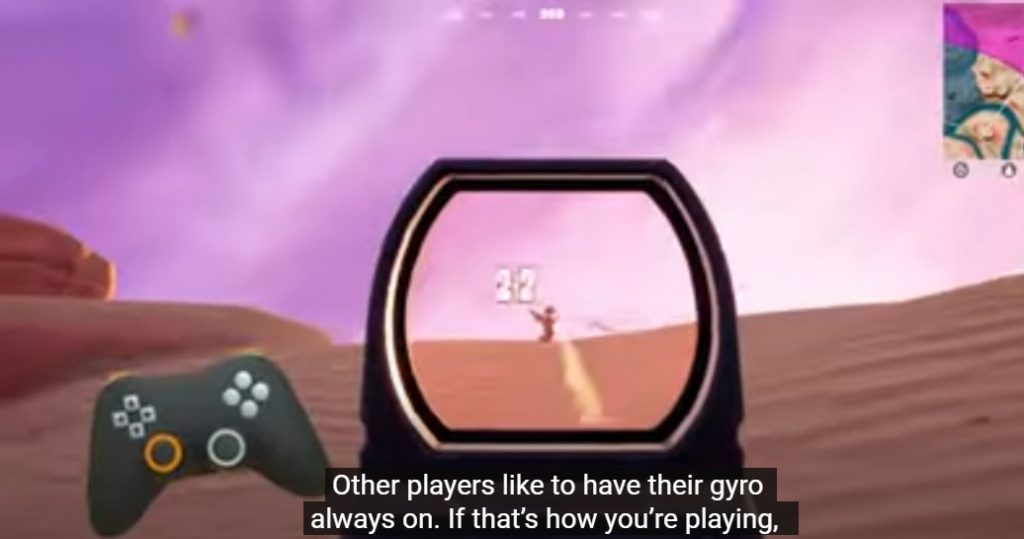 Epic Games has ensured that players can choose exactly in which situations they want Gyro Aiming motion controls, with the following options available.
Active Mode (Combat):
Scope Only: Gyro active only when aiming scoped weapons.
Scope or Aiming: Gyro active when aiming any weapon.
Scope, Aiming, Harvesting: Gyro active when aiming any weapon or swinging your Harvesting Tool.
Always: Gyro active whether or not you're aiming a weapon or swinging your Harvesting Tool.
Active Mode (Building):
None: Gyro active neither when building or editing.
Editing: Gyro active when editing but not building.
Always: Gyro active when either building or editing. 
You can learn about more of the Gyro Aiming control intricacies via the official blog post by Epic Games.
Check out the video from Julian "Jibb" Smart below explaining how both Gyro Aiming and Flick Stick works in Fortnite.
So there you have it, an easy way to enable Gyro Aiming in Fortnite on PC, Nintendo Switch, Mobile and PlayStation systems. Remember, it is sometimes not easy to get used to the Gyro Aiming feature in games, so take it slow and test it out.
Unfortunately for Xbox gamers, there is no Gyro Aiming support on the platform.
Make sure to check back with our dedicated Fortnite page throughout the entirety of Chapter 3. We'll make sure to update you with all the latest challenges, title updates, and more.
Featured image courtesy of Epic Games.
---
For more Fortnite news be sure to check out our dedicated section, or some of our Guides & Tutorials, just below:
Fortnite Guides - All Fortnite Redeem Codes | When Does Fortnite Chapter 3 Season 5 Start?|All Fortnite Twitch Drop Rewards| How To Make Your Own Fortnite Skin |
Fortnite Events - Fortnite Winterfest 2022 | 
The Best Fortnite Creative Codes - Best Edit Course Codes|Best Prop Hunt Codes|Best Zombie Map Codes
Featured image courtesy of Epic Games.