Earlier today Epic Games announced a set of changes coming to their megapopular Battle Royale title Fortnite, which includes a permanent 20% price cut for V-Bucks.
This change also applies to mobile players, but in order to get this discount, they need to select the new "Epic direct purchase" option, which bypasses Apple's and Google's App Stores, and their 30% fee.
And while Google is still being silent about this, Apple reacted briskly and removed Fortnite from their store, because Epic "enabled a feature in its app which was not reviewed or approved by Apple."
It seems that Epic planned all this to happen in advance, as they premiered tonight a new short in Fortnite Party Royale, called Nineteen Eighty-Fortnite.
The short is an obvious parody of a famous Apple Mackintosh commercial from 1984, directed by Ridley Scott.
In that commercial, which itself is a reference to George Orwell's famous novel "1984", Apple is sending a message that their Macintosh will help to break the dystopian future envisioned in the novel.
"And you'll see why 1984 won't be like '1984'", says the message at the end.
Ironically, many are seeing Apple becoming exactly that, an epitome of that dystopian dark future ruled by megacorporations.
And that's exactly the point Epic is making with their parody, pointing out that they will be the ones that will "break" Apple's "evil domination", as they are presenting it in the video.
Epic Games and Tim Sweeney are very vocal when it comes to 30% fee Google and Apple are taking from developers and they think they don't deserve that. The Epic Games Store is taking only 12% cut, and they think that should be the norm for every digital store.

Evil Apple is brainwashing people in Epic's parody (Picture: Epic Games)
Today, they challenged Apple with the decision to bypass their store, quite possibly knowingly what will be Apple's reaction - the removal of Fortnite from Apple's App Store.
They prepared in advance not just this parody video, but a lawsuit as well.
Epic's lawyers are claiming that Apple's domination over app distribution and payment is "unlawful," and that their 30%  cut on sales is "oppressive." 
The lawsuit suggests Apple has violated the Sherman Act, which is an antitrust law that prohibits monopolization.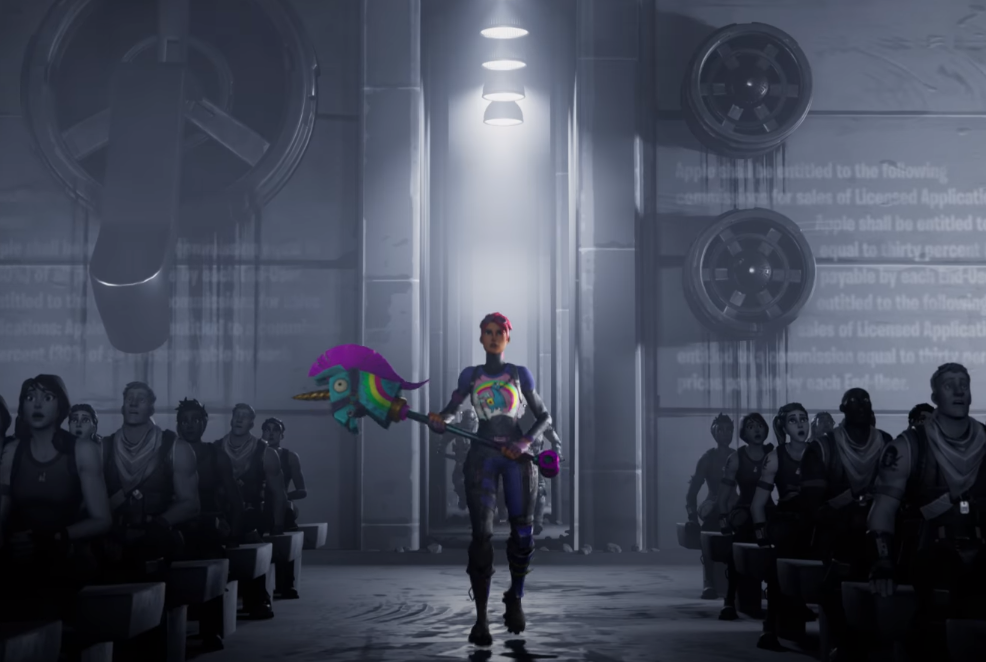 Good girl Epic is coming to save the world from Apple (Picture: Epic Games)
This lawsuit has the potential to be a really big game-changer in the tech industry, depending on how it resolves, because Apple is certainly not the only company that has similar position when it comes to digital distribution of goods.
It can potentially affect gaming platforms and services like PS Store, Xbox Store, Steam, and others, but also similar digital stores and distribution platforms in other areas.