After four weeks of heats, the FNCS Chapter 2 Season 2 Finals kicks off this weekend and it's set to be, if not the biggest, at least one of the most anticipated Fortnite tournaments to date.
That's because so many questions have been thrown up in recent weeks and this weekend might go a long way to providing some answers. 
We have the Tfue vs Chap Grotto grudge match, question marks over Epikwhale's decision to drop the keyboard and mouse for a controller, and we might finally be able to settle the debate of the greatest duo in the game by the end of the European region games.
There is also the question of Fortnite's viability as an esport - in many ways the hype feels over - new games are coming out, namely Valorant, and with a slew of Fortnite pro's making an exit, you get the feeling Fortnite needs a big event to capture the imaginations of the player base once again. We will have a much better idea on Monday morning.
There is also the introduction of Twitch drops - we an exclusive skateboard and spray available for those who are watching selected players streams.
FNCS Chapter 2 Season 2 starts on Friday 17th April and runs until Sunday 19th - the best place to watch it, without any official stream will be the Practice Server Twitch channel which will feature everyone's favourite casters Ballatw and monsterdface.
How do I get the FNCS Twitch drops?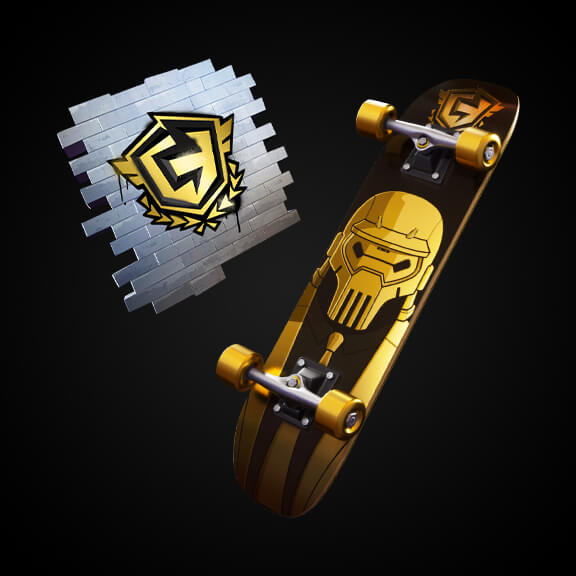 Let's get the important stuff out the way then... to get your hands on these exclusive items, you will have to make sure you're Twitch and Epic account are linked. Then tune in to an FNCS Finals match on an approved Twitch channel during the tournament.
There is a one-time Spray and a Skate Deck featuring this season's FNCS logo up for grabs, which you can see in the image above.
If you are unsure if your Twitch account is linked to your Epic account, follow this guide to make sure.
Format
The FNCS Season 2 Finals will be played in two parts, first, there are the Heats played on Friday and Saturday.
Europe, North American East and West both have four heats, while Brazil, Oceania, Asia and the Middle East will have two owing to them having a smaller population of players.
The top 12 teams from each heat in EU, NAE and NAE will advanced to Sunday's Grand Final, while the top 25 teams from BR, OCE, Asia, and ME will advance.
The Heats and Grand Final will be played across three hours, with a maximum of 6 matches to be played. Points will be tallied at the end of the session with the highest point total being declared the Regional Grand Champion.

Schedule
Europe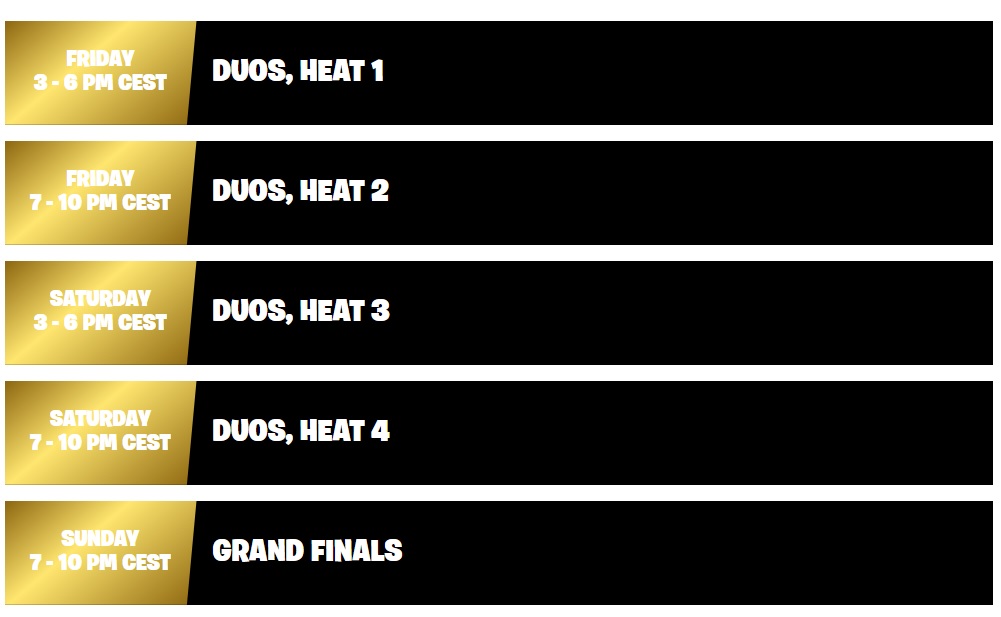 NAE
The complete schedule for all the regions can be found here.
Scoring System
Victory Royale: 10 Points
2nd - 5th: 7 Points
6th - 10th: 5 Points
11th - 15th: 3 Points
Each Elimination: 1 Point
Prize Pool
Europe
Rank    Prize
1st    $70,000
2nd    $60,000
3rd    $55,200
4th    $45,000
5th    $40,000
6th    $30,000
7th    $26,000
8th    $22,000
9th    $18,000
10th    $14,000
 
NA East
Rank        Prize
1st    $44,000
2nd    $37,000
3rd    $34,000
4th    $28,000
5th    $25,000
6th    $18,000
7th    $16,000
8th    $13,500
9th    $11,300
10th    $8,700
 
For the prize pools for the complete prize pools for all the regions refer to the official Fortnite Chapter 2 Season 2 rules.
FNCS Chapter 2 Season 2 Finals: How To Watch
Epic has no plans to do an official broadcast so that means watching it from your favourite streamers point of view or you could decide to watch it from the Practice Servier Twitch channel which is usually casted by Ballatw and does a good job bringing together the different streams.
We have embedded that channel below and also provided a list of our favourite players from each region.
EU:
NAE:
NAW: