The first big Fortnite esports competition in 2021 is behind us, and fans were able to enjoy watching some high-quality Fortnite matches.
Unfortunately, the competition had several unpleasant moments which included some players competing in the tournament's Grand Finals.
Firstly, the player that goes by the name Wrigley told Epic Games' Donald Mustard to "kill himself", which prompted admins to immediately remove both the player and his team from the FNCS, with further sanctions pending.
This incident occurred in the North American region, but the European FNCS S5 Grand Finals did not pass without incident as well.
A player named Fredoxie was playing in the FNCS S5 Grand Finals along with his teammates NicoAyy and Meldgaard. It seems that behind the scenes there were some accusations of cheating and using hacks, which prompted Fredoxie to defend his team on Twitter.

(Picture: Twitter/Fredoxie)
In a now-deleted Tweet, he admitted using cheats at some point before but claims that he and his teammates were clean during the grand finals.
"Meldgaard never bought/used softaim. NicoAyy and I used it for 2 days and deleted insta. Sry boys," Fredoxie said.
Fortnite pro player and streamer Saevid expressed his discontent with the current state of anti-cheat in Fortnite, stating that the game is in dire need of a better anti-cheat system.
softaimers made it grands and only got caught because they leaked dms on stream...

WE NEED A GOOD ANTI CHEAT

— EP Saevid 🇮🇪 (@saevid) March 15, 2021
There is a Discord screenshot currently circulating around, from NicoAyy's stream where his correspondence with Fredoxie can be seen. This supposedly shows evidence of them using softaim.
Although they write in Danish, the word "sofatim" is clearly seen, but further context and translation are needed.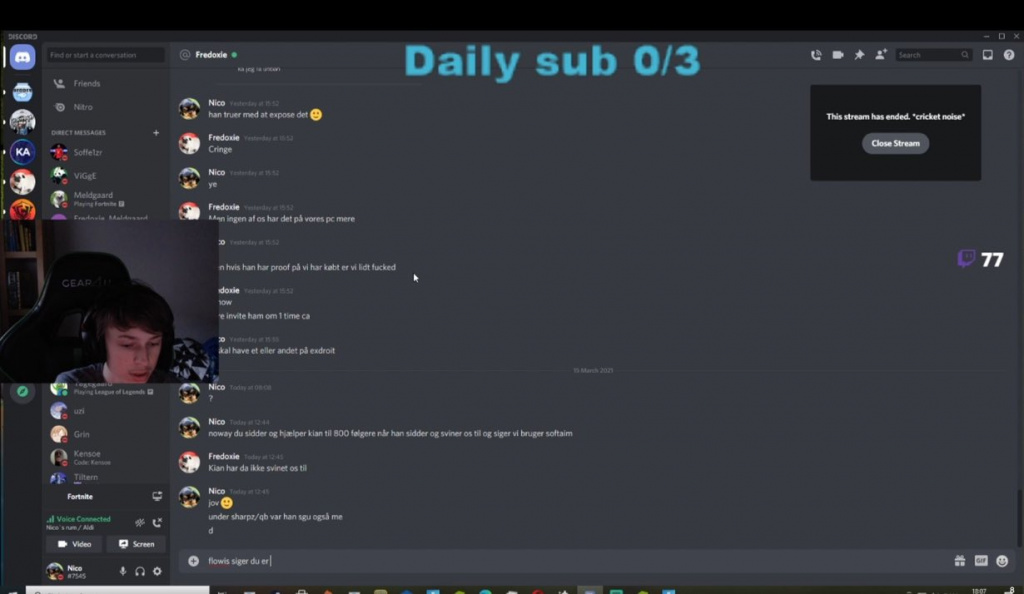 (Picture: NicoAyy)
The soft aim is a well know type of hack that doesn't affect the motion of the player's aim, but instead acts as an auto-trigger, which looks much less suspicious and it is much harder to detect just by watching the player. It looks like the player simply has great reflexes.
Fredoxie and his teammates ended up being 22nd in the grand finals, which earned them $6,000 of prize money. While they claim that they only used cheats "for two days", this definitely casts doubts on their performance and other players are rightfully demanding stronger measures against cheaters.
At the time of writing, Epic Games has yet to respond to the situation.
---
For more Fortnite news be sure to check out our dedicated section, or some of our Guides & Tutorials, just below:
Fortnite Guides - All Fortnite Redeem Codes | When Does Fortnite Chapter 3 Season 5 Start?|All Fortnite Twitch Drop Rewards| How To Make Your Own Fortnite Skin |
Fortnite Events - Fortnite Winterfest 2022 | 
The Best Fortnite Creative Codes - Best Edit Course Codes|Best Prop Hunt Codes|Best Zombie Map Codes
Featured image courtesy of Epic Games.