The Fortnite Championship Series (FNCS) for Chapter 2 Season 5 kicked off on 13th or 14th March depending on your timezone. In the North American regional FNCS tournament, one team in the NA East region didn't get to play, as they were kicked from the tournament following a player's social media indiscretion against Epic Games' Donald Mustard.
Fortnite team kicked from FNCS
Donald Mustard, for those who don't know, is Epic Games' Chief Creative Officer. The FNCS team in question had the following three players: Dictating, Userz, and Wrigley.
Taking to Twitter, Wrigley tagged Donald Mustard in a tweet, saying: "Like literally f%$king k!ll your$elf".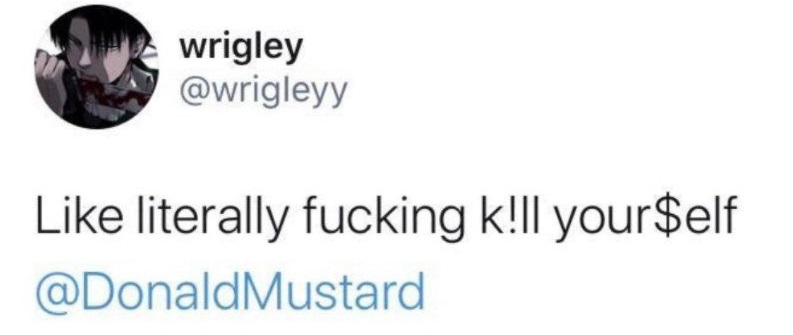 (Picture: Twitter via Wrigley)
Following this outburst from Wrigley, Epic Games kicked the Trios team from the FNCS, which means they couldn't compete for their share of the 690,000 USD prize pool for the NA East region.
According to an image posted by another of the team members, Dictating, the team was sent a message by Epic Games, informing them of their removal from FNCS.
The notification explains: "We are writing to inform you of your team's disqualification and removal from the Chapter 2 Season 5 FNCS competition, effective immediately. Based on an internal investigation, a member of your team has violated Section 8.1.2 of the official rules."
(Picture: Twitter via Dictating)
The rules section which was violated says players need to be respectful to event administrators, other players, and tournament sponsors.
Clearly, telling anyone to go kill themselves is over the line, and directing this at Donald Mustard from Epic Games is really asking for a ban.
---
For more Fortnite news be sure to check out our dedicated section, or some of our Guides & Tutorials, just below:
Fortnite Guides - All Fortnite Redeem Codes | When Does Fortnite Chapter 3 Season 5 Start?|All Fortnite Twitch Drop Rewards| How To Make Your Own Fortnite Skin |
Fortnite Events - Fortnite Winterfest 2022 | 
The Best Fortnite Creative Codes - Best Edit Course Codes|Best Prop Hunt Codes|Best Zombie Map Codes
Featured image courtesy of Epic Games.