As
expected
, the Captain America skin has now entered Epic Games' ever-evolving Battle Royale, Fortnite. Every Marvel fan out there will probably want to get their hands on the Fortnite Captain America skin, scream "Avengers assemble!", and rush into the battle with their squad. Here's how you can get the Fortnite Captain America skin.
How to get Fortnite Captain America skin
Unlike both the recently released Aquaman skin, you don't need to grind out those challenges to get the Fortnite Captain America skin. You just need to open your wallet (or you V-Bucks stash) and purchase it via the in-game store.
The Fortnite Captain America skin will set you back 2000 V-Bucks, which is $20 if you don't have V-Bucks saved. It comes with Cap's Shield, which has been seen in the game before. It is called the  "Proto-Adamantium Shield."
Cap's iconic shield can be used both as a Backbling piece and as a Pickaxe. 
The Captain America Fortnite skin is the one used in the Civil War film, and in Avengers Endgame.
The skin comes in celebration of the 4th of July, and it won't be available for long. You need to head to the in-game store as soon as you hear about it, as it will reportedly only be on sale until the end of 4th of July.
If you want the full package, there's a "Grand Salute" emote. This emote costs 300 V-Bucks, and can be used to get Steve Rogers to stand at attention to salute the 4th of July fireworks.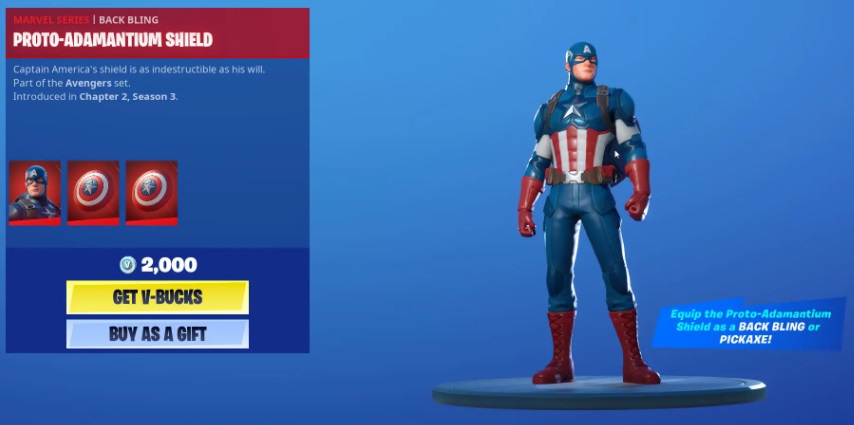 The Captain America skin in the Fortnite store (Picture: Epic Games) 
Lastly, the trailer teases something right at the end, pointing towards a Fortnite Thor skin.
At the end of the trailer, Cap arrives at the Asgardian Biofrost, and you can see the burn patterns on the ground, which points towards someone (Thor!) getting teleported in.