Following the destruction of the alien mothership in Operation: Sky Fire, players can now enjoy a new season within Fortnite. Fortnite Chapter 2 Season 8 brings with it a plethora of new features, including new places to loot, a new type of wildlife, insane mechanics and (as always) a new Battle Pass, packed with tonnes of rewards to unlock.
So, if you want to see all the content available in the Chapter 2 Season 8 Battle Pass, then you are in the right place! Here's everything you need to know about it, including all 100 Tiers and Extra Rewards.
Fortnite Chapter 2 Season 8 Battle Pass: Overview
The Fortnite Chapter 2 Season 8 Battle Pass will feature the same system introduced during Season 7, known as Battle Stars. In a nutshell, you will collect five Battle Stars each time you level up. These stars can be used to unlock each of the rewards available in the Battle Pass.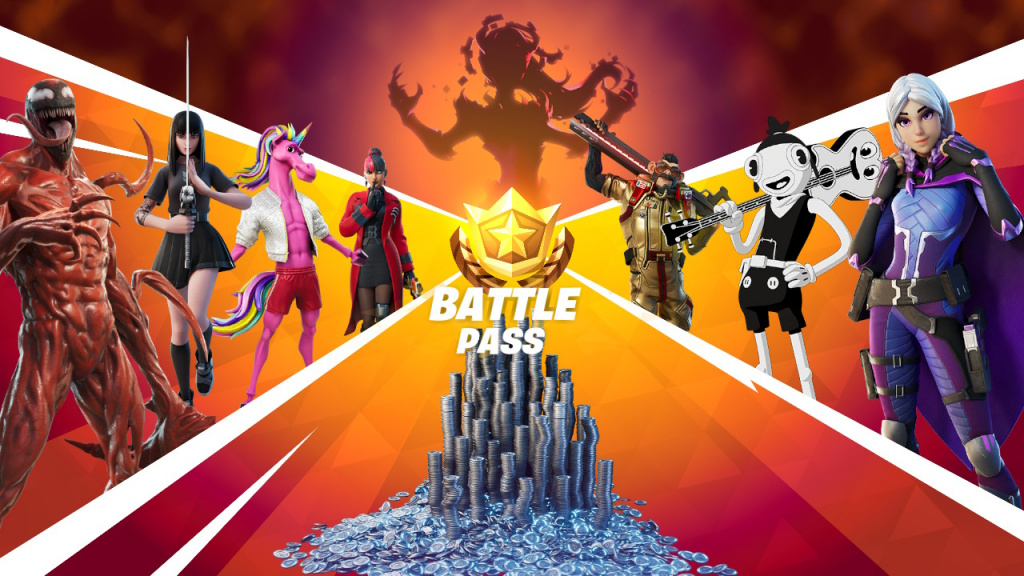 Instead of tiers, the Battle Pass has been divided into pages that can be unlocked either by levelling up or by unlocking a certain number of rewards. With that said, you will find every reward available in the Battle Pass pages listed below. So, let's take a look.
Page 1: Charlotte
Page 2: Demonslayer Blade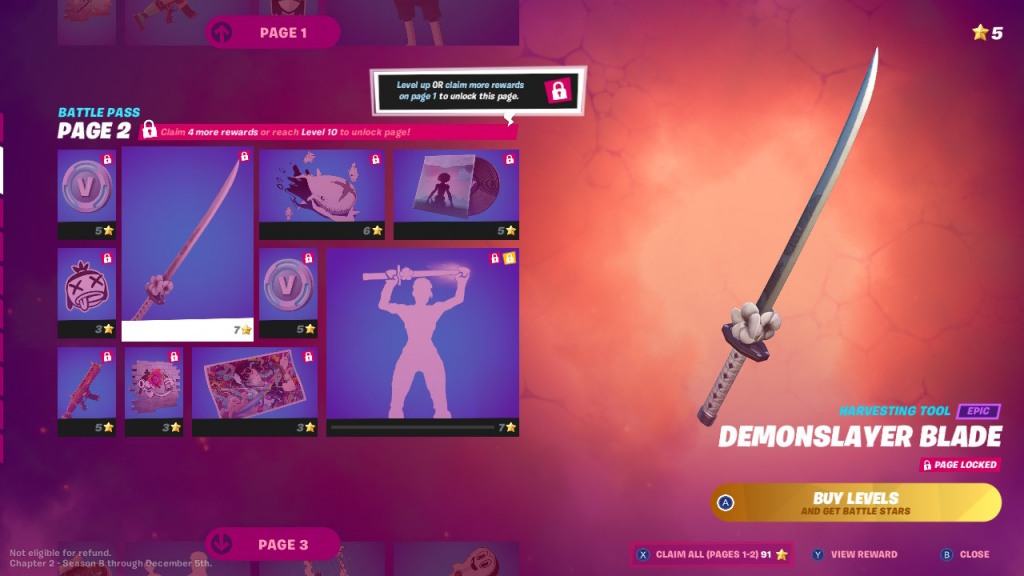 Page 3: Charlotte (Enchanted Spirit)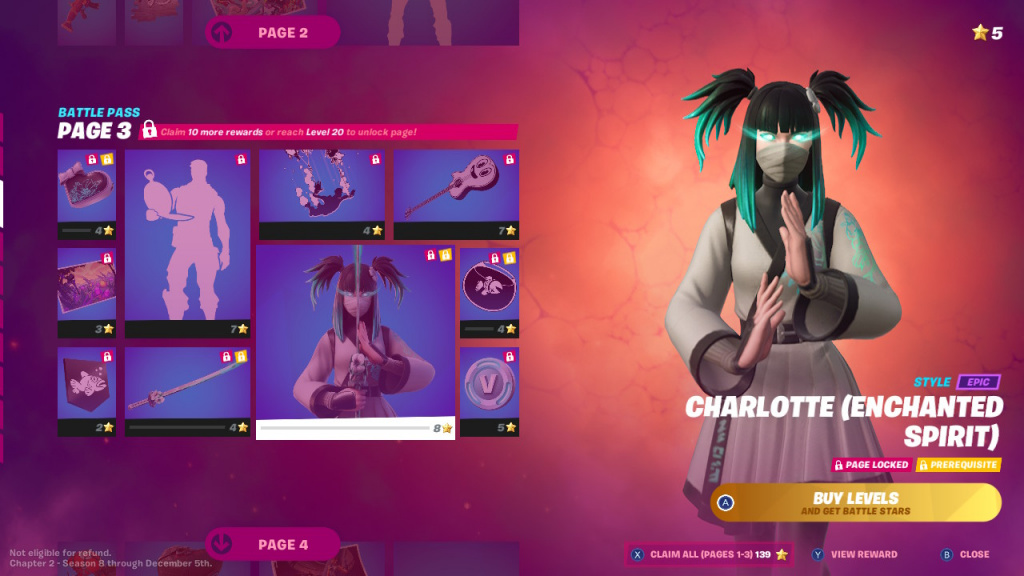 Page 4: Kor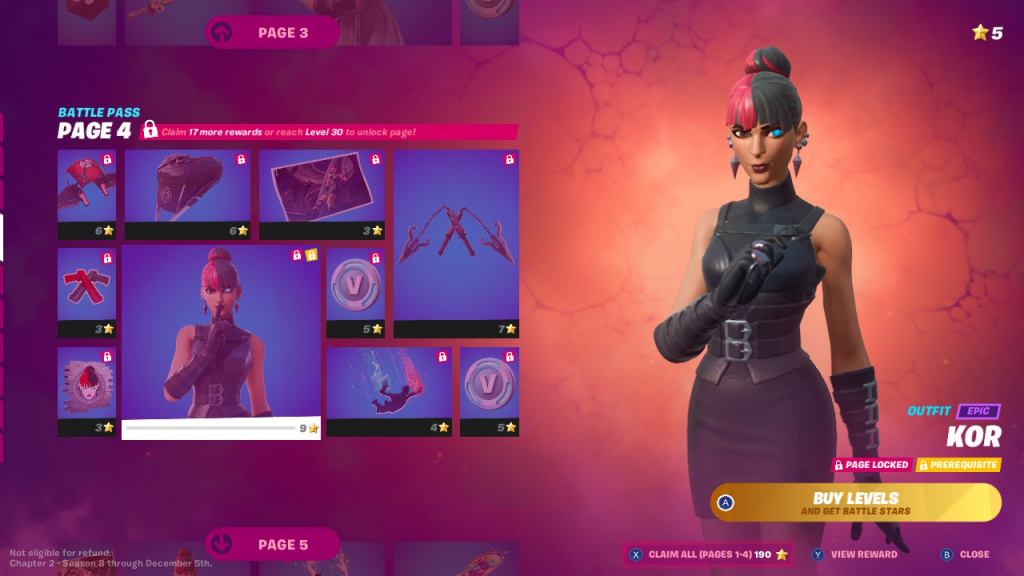 Page 5: Fabio Sparklemane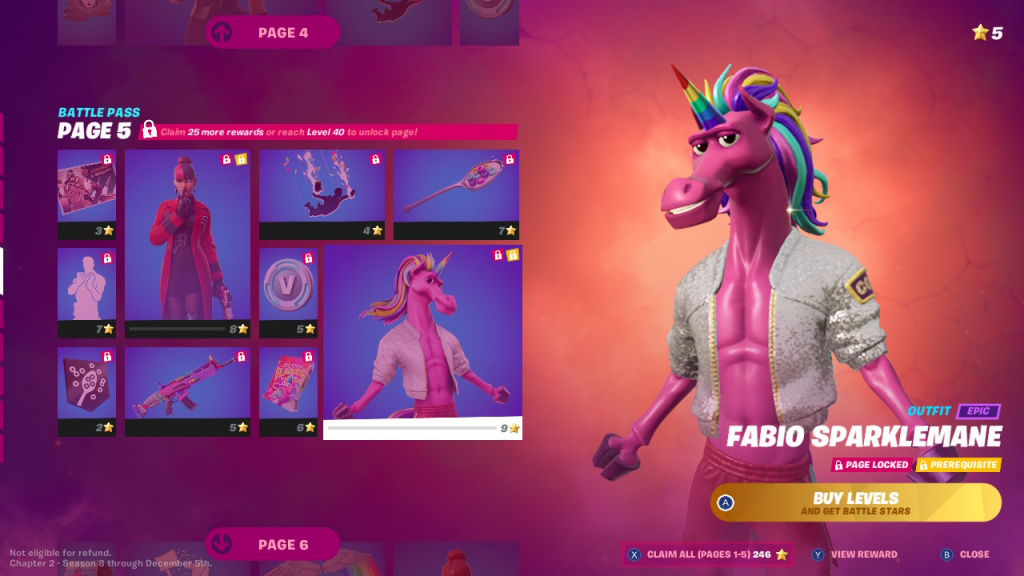 Page 6: Fabio Sparklemane (Golden Crunch)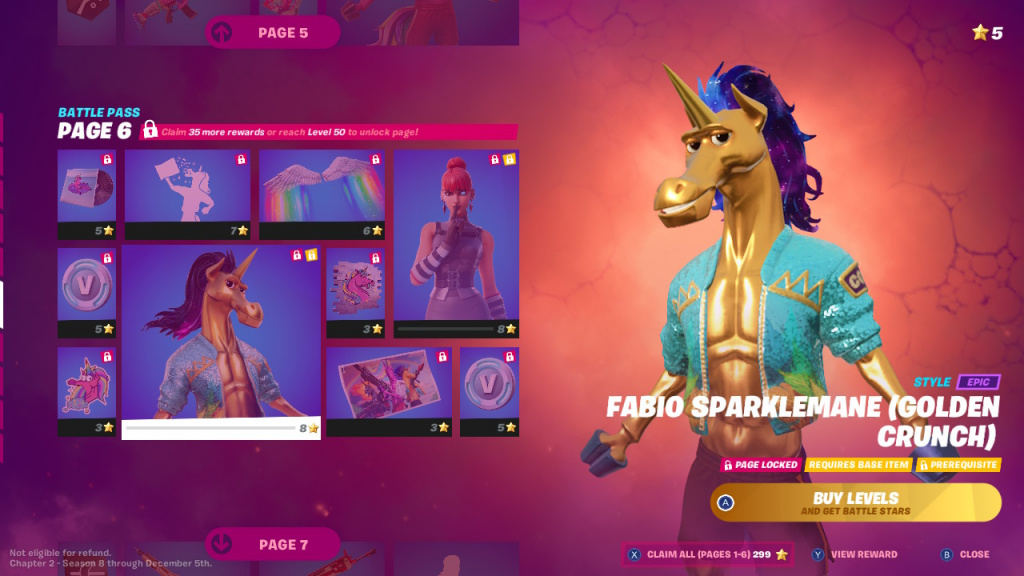 Page 7: J.B. Chimpanski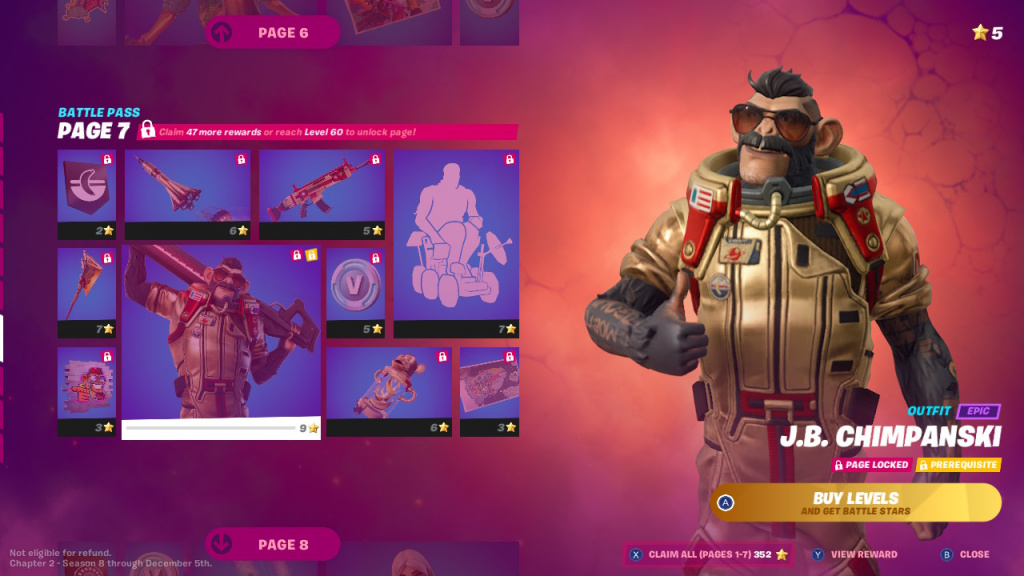 Page 8: Torin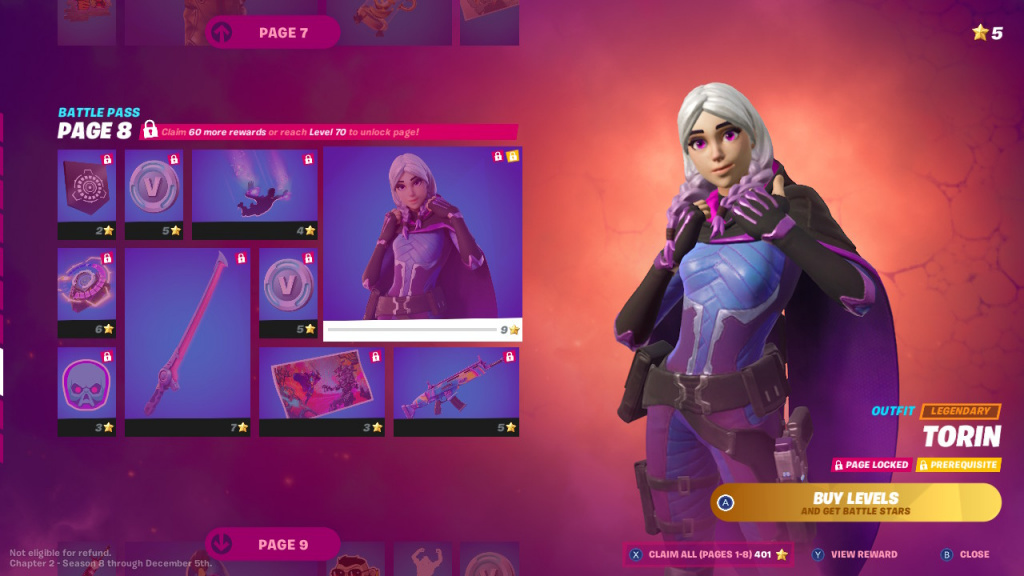 Page 9: Sideways Shift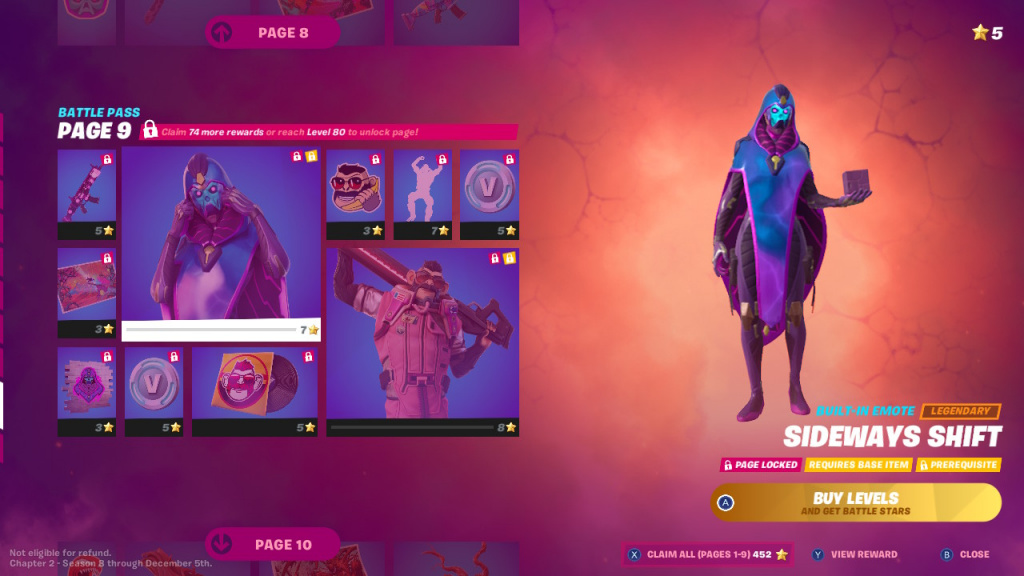 Page 10: Carnage
Fortnite Chapter 2 Season 8 battle pass - Extra rewards
So far, two pages full of extra rewards have been revealed, bringing alternative styles for some of the battle pass skins and a few additional cosmetics.
Page 1: Charlotte (Tattered Spirit)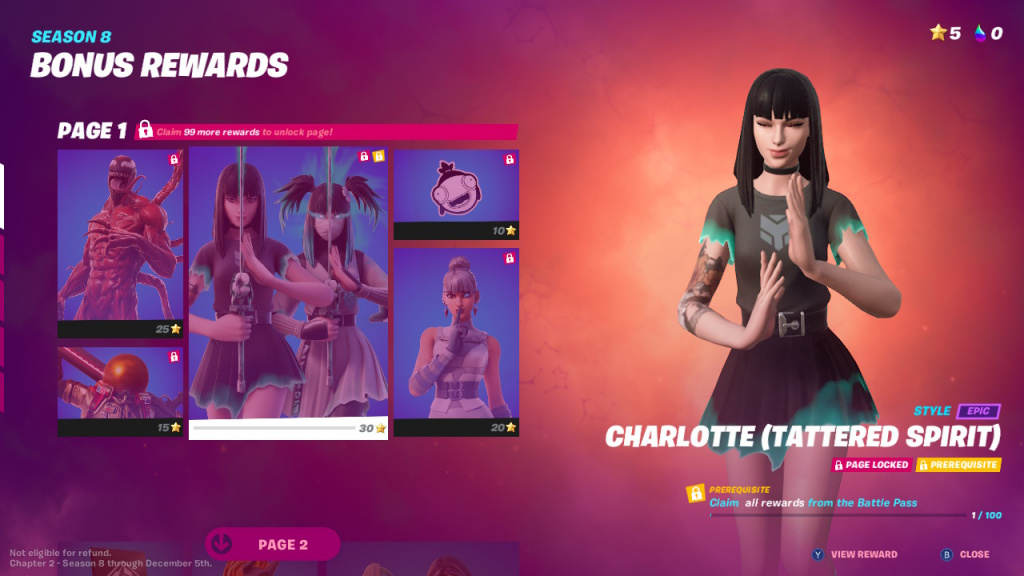 Page 2: Torin (Sideways Stalker)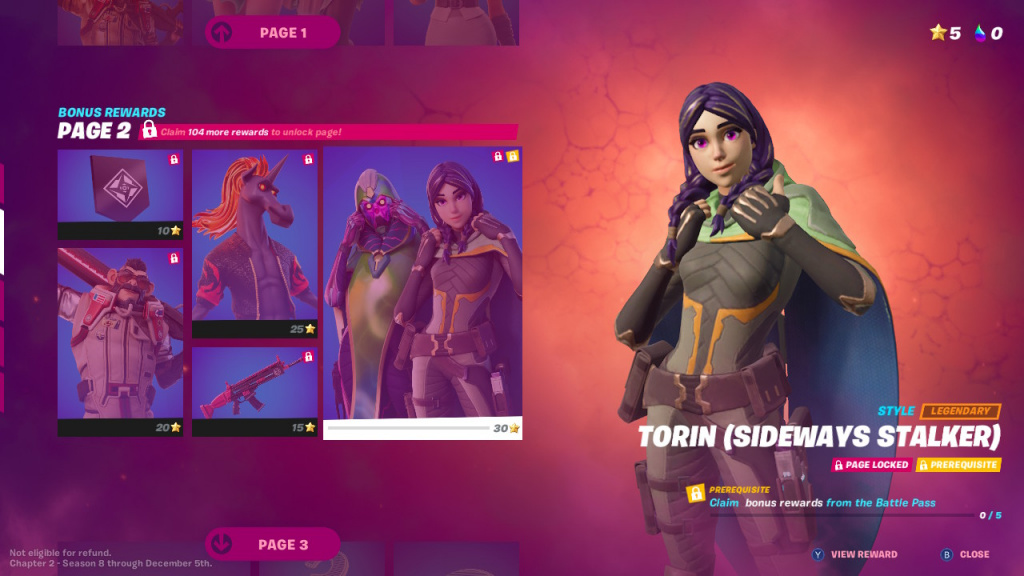 More of these will be revealed throughout the season, including the featured skin from this battle pass.
Fortnite Chapter 2 Season 8 Battle Pass: Price and end date
The Fortnite Chapter 2 Season 8 Battle Pass, aka "Cubed", is set to cost 950 V-Bucks. Considering the current price of the smallest V-Bucks bundle (of 1,000 V-Bucks), the Battle Pass will set you back about US$ 7.99. Otherwise, you can always sign up for the Fortnite Crew subscription service at US$ 11.99 per month.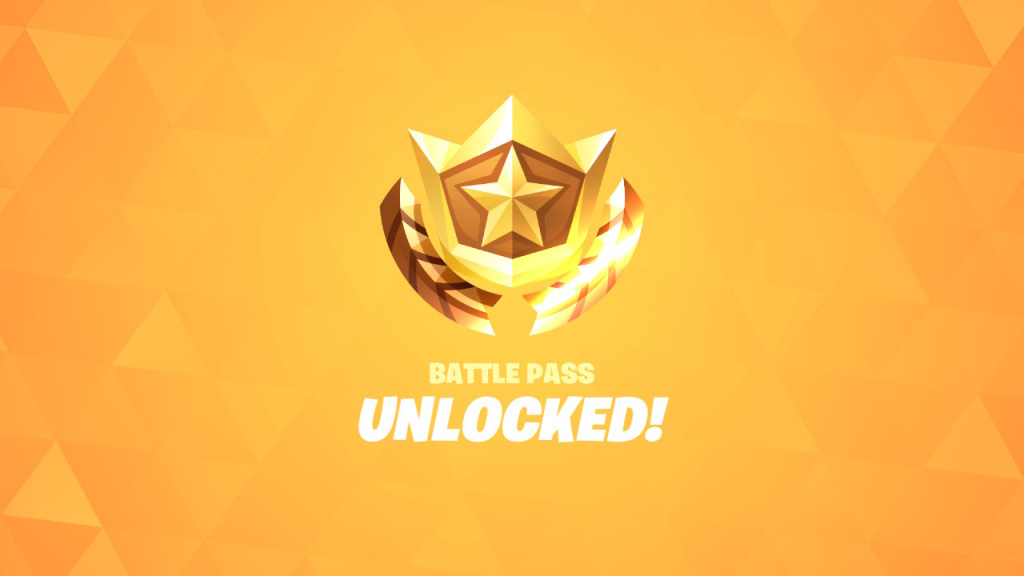 As always, there is also a 25-Tier Battle Pass bundle at 2,800 V-Bucks, with which you can get both the Battle Pass and a big boost to kick off the season. With this Battle Pass, you can earn up to 1,500 V-Bucks back by playing the game and levelling it up.
If you are loving the new content in Fortnite Chapter 2 Season 8 but you have neither the V-Bucks nor Fortnite Crew subscription, don't worry!
The end date for Fortnite Chapter 2 Season 8 is slated for 5th December, giving you more than enough time to grind through all the great new Battle Pass rewards, unlocking all the tiers in the process.
Remember, you will have to complete weekly challenges and play a tonne of matches to unlock it all. But don't worry because we will have guides available to help you throughout the season, so stay tuned.
Check out our dedicated section for everything Fortnite, from news to leaks, guides, drama and more.
Header image via Epic Games.
---
For more Fortnite news be sure to check out our dedicated section, or some of our Guides & Tutorials, just below:
Fortnite Guides - All Fortnite Redeem Codes | When Does Fortnite Chapter 3 Season 5 Start?|All Fortnite Twitch Drop Rewards| How To Make Your Own Fortnite Skin |
Fortnite Events - Fortnite Winterfest 2022 | 
The Best Fortnite Creative Codes - Best Edit Course Codes|Best Prop Hunt Codes|Best Zombie Map Codes
Featured image courtesy of Epic Games.