Cody "Clix" Conrod is one of the most recognizable names in Fortnite. The pro player, at just 15 years of age, joined NRG with the famous basketball player Shaquille O'Neal. Clix signed an exclusivity deal with Twitch back in October 2020, and now, he has received his third ban on the streaming platform.
Clix banned on Twitch
In the early hours of the morning on 15th February 2021, Clix took to Twitter to announce he was banned on Twitch, simply stating: "Bro what the f$%k I'm banned on Twitch". 
It appears Clix has no idea why he has been banned. This ban follows a successful stream peaking at 108k viewers with a great run in Fortnite Championship Series (FNCS) Week 1.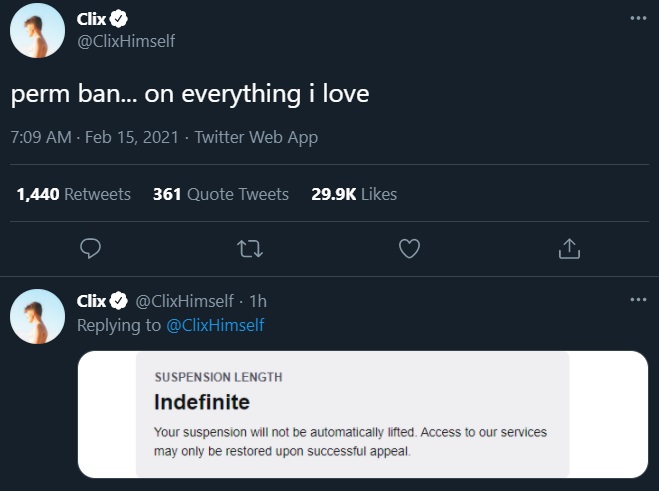 (Picture: Twitter)
There are fears that Clix's latest Twitch ban could be permanent. A message from Twitch shared by Clix reads: "Your suspension will not be automatically lifted. Access to our services may only be restored upon successful appeal."
Is Clix permanently banned from Twitch?
The third strike on Twitch could very well mean a permanent ban. Clix's first ban happened back in November 2019 after streaming with a player who was permanently banned from Twitch, called Zayn.
Clix's second ban came in November 2020, when he was hit with a DMCA ban wave alongside several other big streamers.
While there are fears (including that of Clix himself) that this Twitch ban might be permanent, NRG is looking into it.

(Picture: Twitter)
It appears that CEO and Founder of NRG Esports, Andy Miller, will get an appeal launched to unban Clix on Twitch.
An appeal to a permanent Twitch ban, taking into consideration this is Clix's third strike, could take quite a lot of time. At the time of writing, Twitch has not made an official statement as to why Clix was banned.